June 30 marked the end of an era at the University of Central Florida. A leader stepped down after leaving an undeniable mark on the university and the community and creating a lasting legacy. I am happy to call President Emeritus John C. Hitt my colleague, friend and, of course, for my entire 25-year tenure at UCF, my president.
The true mark of a leader is a crystal-clear vision when you take over the helm. His goals from 1992 formed the guideposts for this fledgling commuter school to find its way among many educational entities in a state that was exhibiting remarkable growth. He took the helm when UCF was not on the radar of many – even within our state – never mind having a presence nationally or internationally.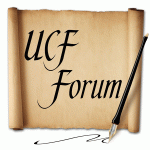 His inheritance did include a strong engineering/technology background through the partnerships with the space industry, an emerging presence in the world of lasers and simulation, and a growing athletics program located in the midst of one of the hotbeds of recruitment. With these ingredients, he was able to provide the leadership and direction to bring this university to a remarkable level of prominence and reputation.
We are now certainly in the conversation as being one of the best schools in the state and emerging towards preeminence, by whatever definition or metric that is measured. And his original goals are equally relevant now as they were then.
In particular, his vision of UCF as "America's Partnership University," which is now a registered trademark, has yielded fruits beyond any imagination. Whether it is through private sector partnerships in Central Florida Research Park, with Lockheed Martin, Harris Corp. and Siemens, with the military-simulation industry or with the public sector through our city and state entities, UCF partnerships have benefited the community in a truly significant manner. It has certainly resulted in great opportunities for faculty like myself and my students to perform applied research and gain valuable experience through internships and cooperative education. Underlying all these opportunities, our partners always mention, is the high quality of our graduates and the clear vision and unyielding focus of President Hitt.
On a personal note, I had the rewarding experience of leading the faculty senate of UCF from 2005 to 2009 and serving on our Board of Trustees. During that time, I was able to observe his clarity of vision, focus on integrity, and passion for the well-being of the faculty and students. On a bus ride to play USF in football in Tampa, as we were traversing an undeveloped stretch of land next to State Road 417, he remarked: "This is where we are going to build our medical campus." This was early in the planning stages of what was to become our College of Medicine, but his focus and determination was clear.
He has often remarked that "the impossible just becomes the inevitable." I was truly honored to be next to him and other trustees when we ultimately received the approval for the medical school by the Board of Governors. One can now see the fruits of his vision at the thriving Medical City in Lake Nona.
Subsequently, as I was elected to serve as the faculty representative on the Florida Board of Governors for two years, I once again had the opportunity to see this remarkable leader in action. He was a relentless advocate for the university, based on the idea of access and opportunity for students to receive a university education. He wanted UCF to be known for its values of striving for excellence and for "being known for who we include not exclude."
He also supported accountability measures that were logical for academia as the state was transforming toward a funding model based on metrics for productivity and preeminence. My admiration for his dignified responses to many difficult questions during the deliberations of the BOG grew manifold. Critics of his vision came around after seeing how well UCF was doing in most areas of these metrics. Of course, there continues to be room for improvement, but the foundation is strong for us to build upon.
When he asked me to take over as the NCAA faculty athletic representative for UCF to look after the overall well-being of all our student-athletes, I jumped at the opportunity to serve in this role. For me, nothing was more important than having integrity and passion while giving my best effort, as it was a presidential appointment and I did not want to let him down. The heights that our athletic program has been able to scale in the brief history of this university at the Division I level are another testament to his leadership, and I was happy to be along for the ride.
Count me as a lifetime member of the "Hitt Squad."
I could continue to write much more about my interactions with this remarkable person, about his sense of humor and candor, and about his compassionate approach to difficult times, such as the Pulse shooting or the impact of the hurricanes on our students. But I must save that for another time.
I will conclude with an expression of my admiration for another wonderful person who will also leave the university along with Dr. Hitt, first lady Martha Hitt. My wife and I have become very close to her and will always appreciate the love and friendship that we have received from her the past two decades.
So, one can ask: Are we better off having had Dr. Hitt as a leader? My response is – most certainly yes!
Thus, I am happy to raise my glass to Dr. John C. Hitt and say: Godspeed, John, and thank you!
Manoj Chopra is a professor of civil engineering in UCF's Department of Civil, Environmental and Construction Engineering. He can be reached at Manoj.Chopra@ucf.edu.