The origin story of the next big superhero franchise is taking place at UCF thanks to the combined efforts of Limbitless Solutions, the School of Visual Arts and Design (SVAD) and 12-year-old Zachary Pamboukas.
Two years after creating the first issue of The Bionic Kid comic book series, Bionic Kid Zachary and his older brother, Christo, return in an epic sequel to stop super villain Norman from wreaking havoc, while delivering an important message about disability and representation. The second issue of The Bionic Kid released July 1 to coincide with disability pride month.
"Representation comes in all forms, and Zachary wanted to offer a superhero born with congenital limb difference for kids like him all over the world to see," says Matt Dombrowski '05 '08MFA, SVAD associate professor, creative director at Limbitless Solutions, and editor of the Bionic Kid comic series.
Zachary and his family came up with the idea to start the comic book to help generate money for Limbitless, a non-profit and direct support organization at UCF dedicated to increasing accessibility and empowering children and adults in the limb difference community. Zachary, an arm recipient, says he didn't have money of his own to donate, so he started the comic book with the help of his family as a way to pay it forward.
All proceeds and donations from the comic's publication will benefit another child receiving a bionic arm.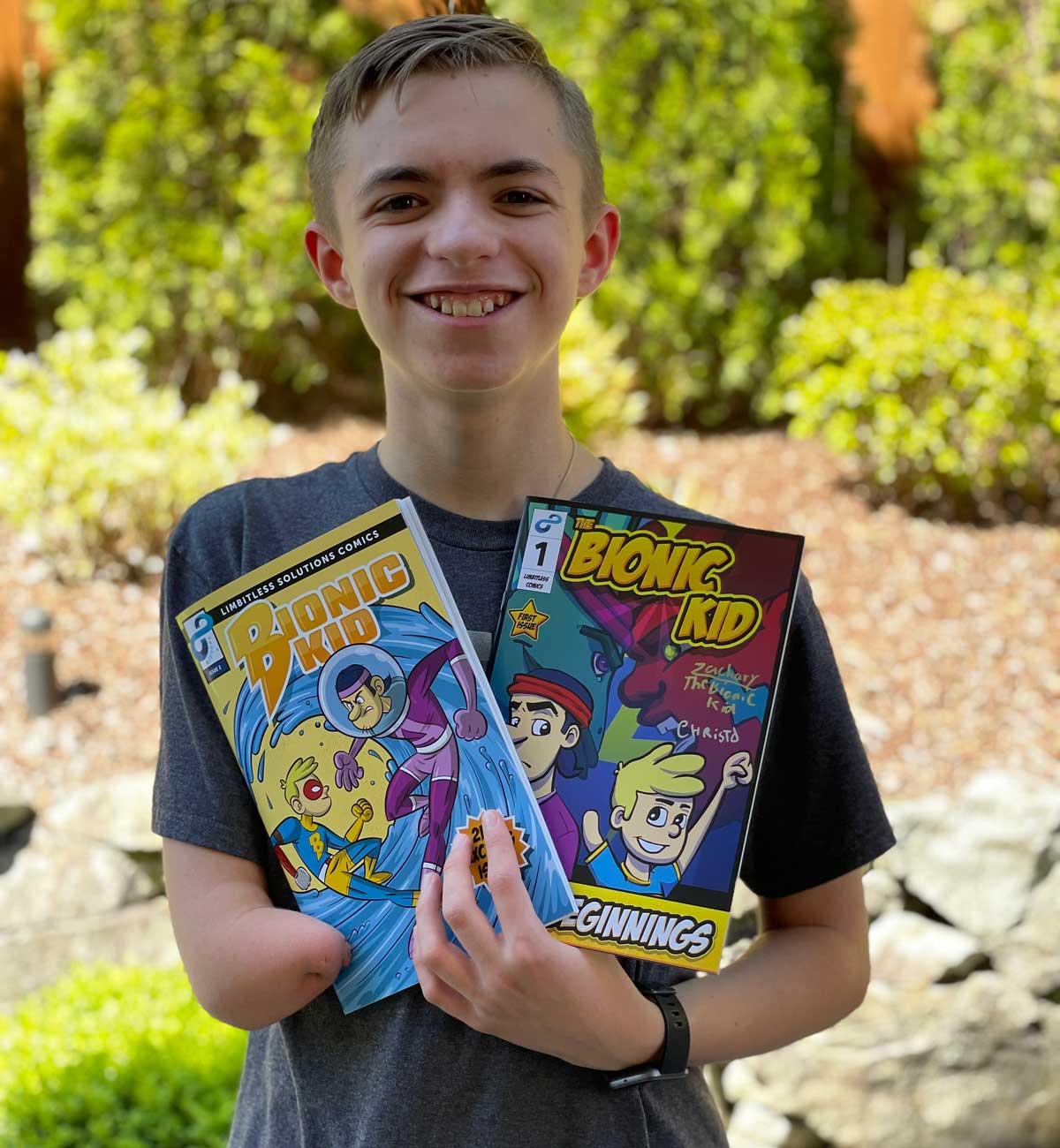 The Pamboukas family, who live in Washington state, partnered with faculty and student interns from SVAD to design the comic, which features a heroic protagonist with a limb difference. They wanted to offer an alternative to the usual narrative of a limb difference caused by tragedy or associated with villainy.
"We've had the opportunity to hear words of encouragement from so many families and individuals after the first issue," says Niko Pamboukas, Zachary's father. "We wanted to make sure the second issue continued building upon what made the first issue so great. Our family is excited for everyone to read this next chapter in our hero's journey."
Bionic Kid comic illustrator and SVAD Associate Professor Victor Davila '97 '07MFA and the Limbitless creative team brought the hero's story to life while delivering the message that heroes come in all shapes and sizes.
The importance of inclusive representation of disabilities in media aligns with the mission and provides inspiration to the Limbitless Solutions team.
Real-life bionic kid Zachary has been hard at work since the 2019 release of the first issue of the comic book as an advocate for the limb difference community, sharing his story to thousands through conferences and conventions, and even live on social media. Zachary's eagerness to raise awareness prompted him to make some new friends, including Smallville's Michael Rosenbaum, who makes an appearance in the comic's second issue.
This project has been monumental for everyone involved.
"Our No. 1 goal at Limbitless is to empower the individuals we serve," says Dombrowski. "The ability for a young person like Zachary to enact such positive change while also empowering others is exactly why we do what we do."
The Bionic Kid Issue 2 is available through multiple platforms and available in a standard edition or the Signature Series — including the comic signed by both Zachary and Christo plus two limited edition trading cards available exclusively from thebionickid.com. A digital copy of Issue 1 and 2 is available for purchase on Amazon.