"Live Like Bella," a new Florida Department of Health pediatric cancer initiative, is bolstering efforts of a College of Medicine researcher who is seeking treatments for a debilitating childhood tumor disorder.
Dr. Cristina Fernandez-Valle received a $200,000 grant for her research into Neurofibromatosis type II, a genetic condition that causes tumors to grow in the brain and along the spine and nerves.
The funds were made possible from the Live Like Bella® Childhood Cancer Foundation created in memory of Bella Rodriguez-Torres. At 10, the Miami girl succumbed to stage four alveolar rhabdomyosarcoma, an aggressive childhood cancer. The foundation has made possible 17 research trials and assisted families in 47 states and 13 countries.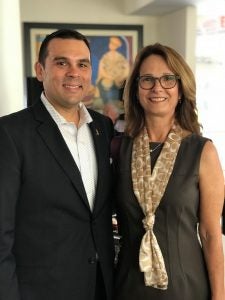 "I am so grateful for this Live Like Bella grant through the Florida Department of Health," said Fernandez-Valle, "and I am so inspired by reading about her life and how the parents have kept her memory alive by creating this foundation that funds researchers throughout the U.S. We have never been closer to finding a treatment for NF-2 and this grant will help make that possible."
Neurofibromatosis is a group of three genetically distinct disorders that causes tumors to grow in the nervous system. Fernandez-Valle researches Type II or NF-2, which affects 1 in 33,000 people. People usually begin getting the tumors in childhood.
Currently, there are no approved drug treatments for NF-2. Patients usually undergo surgery to remove tumors, but that's risky because the tumors are in such delicate locations. Tumors typically grow on both nerves that control hearing and balance so surgical removal often results in hearing loss and facial paralysis. Radiation therapy is also used but that too can cause hearing loss, and in some cases, worsens the condition.
"Radiation can cause DNA damage and is sometimes not enough to kill the cells," Fernandez-Valle explained. "When this happens the cells get 'angry' and undergo additional mutations that make them grow more aggressively."
Fernandez-Valle is part of a consortium of scientists called Synodos NF-2 who are conducting collaborative research to identify drug therapies. Her work has been funded by the Children's Tumor Foundation, the U.S. Department of Defense, and the National Institutes of Health.
Creating a new drug to treat the disease would take decades. So the team is examining whether current FDA-approved drugs to treat cancer can reduce tumors in NF-2 patients, even though their tumors are benign.
"Hopefully, that's a much faster route to clinical trials," she said.
Fernandez-Valle says data from previous research suggests that a combination of two FDA-approved drugs might slow the growth of NF-2 tumors or kill them. Funds from the Live Like Bella Initiative will continue the next phase of drug screening which will be done in a partnership with Drs. Amy Smith and Ana Aguilar-Bonilla, pediatric neuro-oncologists at Orlando Health's Arnold Palmer Hospital for Children.
Fernandez-Valle met Bella's family and said meeting patients with NF-2 provides inspiration. I want to have a clinical impact on NF-2," she said. "I am no longer satisfied with results made at the bench. It is time to move to bedside as they say. My ultimate goal is to develop a single drug or a series of drugs that a patient can take over the long term to manage their tumors and go on living a beautiful life. I want children and adults with NF-2 to have a quality of life equal to those that deal with diabetes or high blood pressure."