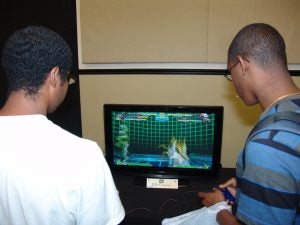 Recently the Office of Multicultural Academic and Support Services along with the Multicultural Student Center and the Student Government Association hosted the MASS Extravaganza Faire 2011. The MASS Extravaganza Faire offered students the opportunity to ask questions and engage in conversations with diverse groups of registered student organizations, departments, colleges and area businesses. Although the extravaganza is open to all students, the event is designed to welcome the new and returning multicultural and first generation students to UCF and expose them to various services that UCF provides.
The first 300 students attending received goodie bags with personal care items and coupons from Waterford Lakes Shopping Center. Additionally, free T-shirts from Big Top were provided to the first 50 students. Local vendors included Terrace 390, Metro PCS, Sprint, AT&T, Chase, Wells Fargo, Oviedo Injury & Wellness, Huey Magoos, Smoothie King, Inroads, Big Top, State Farm Insurance and Electronic Sports Association.
Over 950 attendees were entertained by riveting performances by the Diversified Greek Council, Omega Psi Phi Fraternity, Rukus, Tremolandos Steel Orchestra, Thomas O'Neil and the Disciples of Christ Step Team. Students were also entered to win raffle items from Sweet Cupcakes, Jeremiah's Italian Ice, Congo River Golf, as well as the grand prizes of two Blackberry Torch phones from AT&T and four suite tickets to "So You Think You Can Dance" at the Amway Arena.
MASS is an office in the Division of Student Development and Enrollment Services.