McKenzie Milton '19 is moving on.
The Hawaii quarterback — who led the UCF football team to arguably its most successful seasons in program history and inspired fans everywhere with his incredible comeback story following a devastating leg injury — is headed elsewhere to continue his college football career.
Despite all his success with the Knights, he's doing this with the most unselfish of motives. He still believes he can play football—and he has no interest in competing for the UCF quarterback job against his best friend, Dillon Gabriel.
So he has decided his best move is to say his good-byes in Orlando, enter the transfer portal and find an opportunity somewhere else.
Yet, as UCF head coach Josh Heupel says emphatically, he qualifies as "the most influential person in the history of our program."
As hard as it is to leave a place that has become home to him, Milton has decided to move on.
Success, Setback and Comeback
To understand Milton's priorities is to appreciate the totality of his five years with the Knights. He made the long trip from Hawaii in early 2016 for official visits to Navy and UCF and fell in love with the Knights' campus and program.
He became the starting quarterback three games into what became a 6-7 freshman season in 2016.
"It was a rollercoaster, trying to win a team over with a bunch of seniors and a bunch of upperclassmen who really did not know a lot about me," he says. "I thought we could have done a lot better, but you have to go through those woes sometimes. It was an interesting journey, for sure, that first year. I felt like I had to go through that to take the next step the next year and then the year after that."
Milton decided quickly his sophomore season that big things might well be on the horizon. He placed his trust within the leadership of the team and had a good feeling about the Knights' schedule.
His gut feeling was validated after the Knights finished the 2017 season undefeated, capping the perfect season with a victory over No. 7 Auburn at the Chick-fil-A Peach Bowl.
"My favorite memory was just being with the boys on the plane-ride back — it was the last time that group was going to be together," he says. "The wins and losses come and go, but the relationships you build with your teammates and coaches, that's forever."
He has continued to be a leader and draw strength in those relationships with his teammates after he was sidelined in 2018 with a traumatic injury at USF that nearly cost him his leg.
A week after the injury UCF dedicated the 2018 AAC Championship Game victory over Memphis to Milton, distributing 40,000 leis to fans at the Knights' stadium.
UCF player helmet bumpers read 808 (for the Hawaii area code), with stickers on the back that said 10hana, a combination of Milton's jersey number and the Hawaiian word "ohana" (it means family).
"This place will be ohana forever with the Miltons," Heupel says.
What came next was a two-year story of rehabilitation and visits to the Mayo Clinic—but, more than anything, endless and painstaking work by Milton to give himself a chance to play again. During that time, he remained as dedicated to finishing his bachelor's degree and earned his diploma in sports and exercise science last fall.
"To see someone walk that mountain and pick themselves up every single day and fight and strive—it's lessons I'll forever take with me and it's something that's been demonstrated to our entire football team," Heupel says.
Making the Decision
Over the last two seasons, one of Milton's closest friendships has been with fellow Hawaiian quarterback Dillion Gabriel.
As Gabriel's on-field performance this season skyrocketed him to the top of the national leaders for passing yardage and total offense, Milton was slowly but surely reaching the point where he could think seriously about being able to return to competition. And that scenario prompted Milton to consider another option.
Milton approached Heupel in early November to have one of the most difficult conversations of his life.
"I didn't want to blindside him at the end of the season," Milton says. "With the trajectory of our team, Dillon has earned the right to be our quarterback. And yet I have one shot to chase a dream. If I was a coach, I couldn't make [Dillion Gabriel] take a back seat. He's earned it. But, at the same time, I want to play, too.
"I told Coach, 'It's hard, one of the hardest things for me to do. But it makes the most sense.' "I tried to think about it more logically than emotionally because I bleed black and gold — this is where my heart is at. At the same time, I've got one shot to go get it.
"It's DG's team now—I feel like the torch is passed. …. DG is like a little brother to me, and with the trajectory he's on, I wouldn't want to slow down his momentum."
The two continued to have conversations, and after the regular season finale at USF on Nov. 27. Heupel sat down with the Milton family where the quarterback made his final decision.
"I said to him, 'I love you fiercely. This will always be your home,' " says Heupel.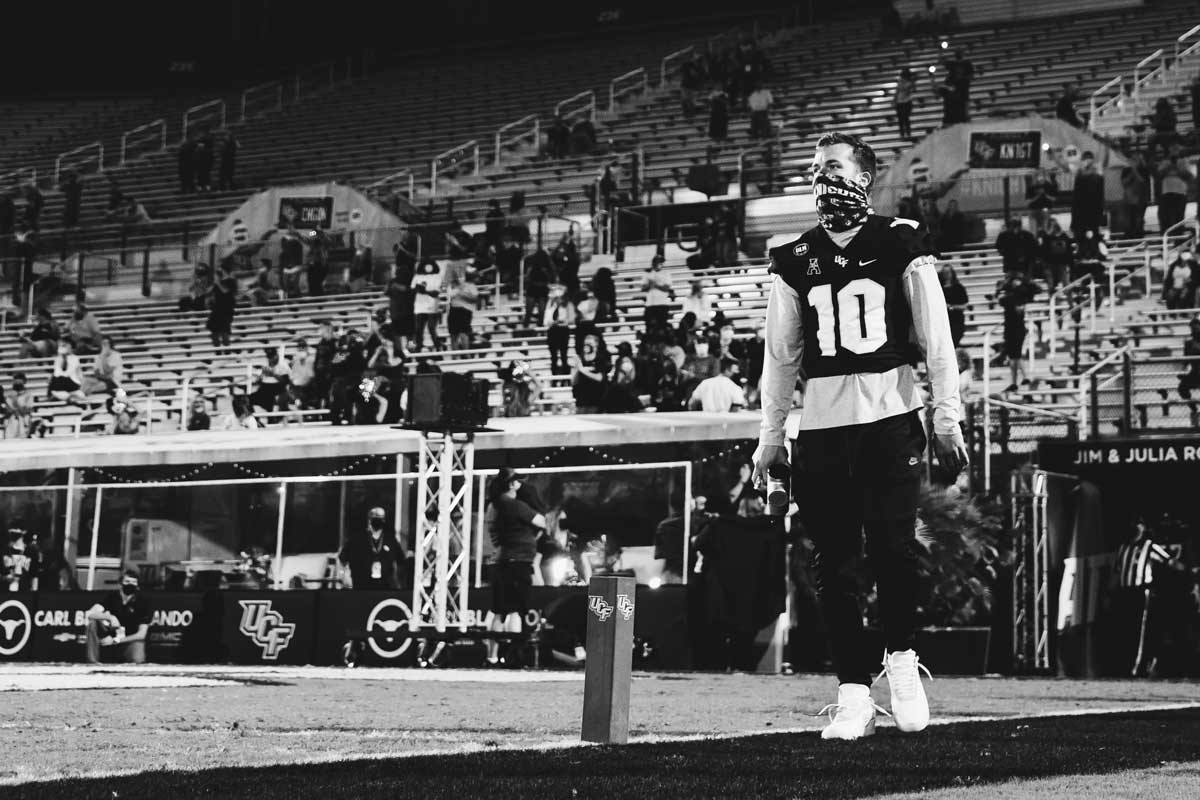 Leaving a Legacy
Milton will forever be remembered at UCF for his relentless pursuit of greatness in every aspect of his life.
"When I stepped between the lines, I gave UCF everything I had," he says. "When I look back, I'd do it all the same — I wouldn't change a thing, pre-injury, post-injury. That's why I am who I am today because of all that."
And he is appreciative for the love and support that Knight Nation provided to help him through some of the toughest days of his life.
"I say thank you for your support through the good times and bad, thanks for the prayers. I would not have the opportunity to play football again without the thoughts and prayers of so many people. I'm forever indebted and grateful to Knight Nation for all the love.
"But I was just one cog in the wheel of success. There's no McKenzie Milton without all the other players and coaches."
Heupel believes Milton has cemented his status as one of the greatest players in the history of the program.
"You look at the UCF brand before he got here and the brand as he's leaving—and it's a tribute to him," he says. "KZ leaves UCF a better place."
And then some.