One performer dedicated his song to a late friend who inspired him to become a physician. Another received a standing ovation for her rendition of "Somewhere Over the Rainbow" to raise awareness about Down Syndrome.
The College of Medicine's annual holiday showcase, presented by the Arts in Medicine student interest group, was a chance for students, faculty and staff to demonstrate their artistic talents. This year's event, on November 17, also showcased the emotions that healthcare advocates share.
For the past four years, Patricia Moody has worked with the Down Syndrome Association of Central Florida and has inspired first-year UCF medical students with her story. She has Down Syndrome, attends UCF and has sung at events for the March of Dimes, Special Olympics and American Cancer Society.
Her joyful rendition of "Somewhere Over the Rainbow" brought cheers from the audience, as her parents watched from the front row with joy.
"Thank you so much for letting me sing for you," Patricia said from the stage, beaming as she accepted hugs from students.
"I've learned a lot from Patricia," said her father Mike. "She's the 'happy advocate.' She's getting the word out that Down Syndrome can be productive."
Arts in Medicine members work to bring artistic expression to patient care. By immersing themselves in the visual and performing arts, they say they can become better communicators – with their patients and other healthcare providers.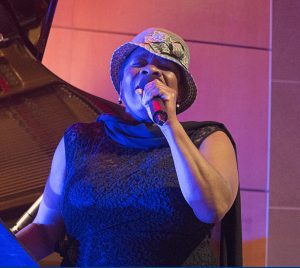 "As physicians, we spend most of our lives in the world of science," said Dr. Deborah German, vice president of medical affairs and founding dean of medical school as she welcomed performers and guests to the event. "Yet the world of art enriches what we do. Experiencing the arts can be a bridge that connects our hearts and minds, for the good of those we serve."
First-year UCF medical student Ethan Hartman is sure his friend Santiago would have made a great physician, if he hadn't perished in a car accident a few years ago.
"He was kind, compassionate, intelligent and funny, and he really cared for people," Hartman said. "He was a good friend back in high school. I saw where he was going and it was a great direction."
At the showcase, Hartman emotionally dedicated his song "Santiago" to his late friend because "I just wanted to help carry on his legacy."
"We're not guaranteed tomorrow. Life is on loan to us. And we have to make the most of it. The fact that he is no longer with us really inspires me to do what I can to fill that gap, that void, that's missing now."