Jeffrey Stout joined UCF as an associate professor in January 2012 and is the coordinator for UCF's Sport and Exercise Science program, which is housed in the College of Education and Human Performance.
When he's not writing about exercise performance, teaching sports nutrition, or overseeing research as director of UCF's Human Performance Lab, Stout practices judo—he's a black belt. But Stout says his most important role of all is doting dad to Nicole, 16, and Jeff, 13.
When did you first know that the science of fitness was your calling?
I have been interested in sports and conditioning for as long as I can remember. However, when I was a pre-med undergraduate student at Concordia University in Nebraska, I read a brochure describing a master's and doctorate program in exercise physiology. I knew on that day—August 10, 1988—that I was going to get my Ph.D. and become a professor someday.
How are proper nutrition and training tied to athletic performance?
You can't have one without the other. The latest science tells us that proper sports nutrition can enhance performance and training adaptations. For example, training to become bigger, faster and/or stronger is enhanced with proper sports nutrition.
What kind of research is done in UCF's Human Performance Lab?
We've been focusing on healthy aging, elite athletic development and nutritional methods to enhance recovery from intense exercise. Recently, 14 of our students presented their research at the American College of Sports Medicine. In addition, four of our students received awards for their research at the UCF Graduate Research Forum.
What is your favorite part of your job?
I enjoy mentoring graduate students. There is no better feeling than seeing your students' expression when they get their first publication. In addition, I enjoy providing guidance to former students who have gone on to successful roles in academia, industry and clinical settings.
When did you earn your black belt?
I received my black belt six years ago. The only reason I started judo was to see if my son Jeff would enjoy it. I fell in love with the Olympic sport and continued to practice and compete. In addition, it was a great way to spend a lot of time with my kids, who are the No. 1 priority in my life.
How did Nicole become involved with Judo?
Nicole was an elite rhythmic gymnast who competed in Europe and trained at the Russian Olympic training center. When we moved from Oklahoma to Florida in 2008, it became difficult for her to continue rhythmic. So I asked her, "What sport would you like to try?" She had been watching her daddy and brother practice for four years, so she said she wanted to "play" judo. My first reaction was "No, you don't want to do that."
Since then, she has been rated in the top 5 in the country for the past three years and won the bronze at the Australian Youth Olympics this past January.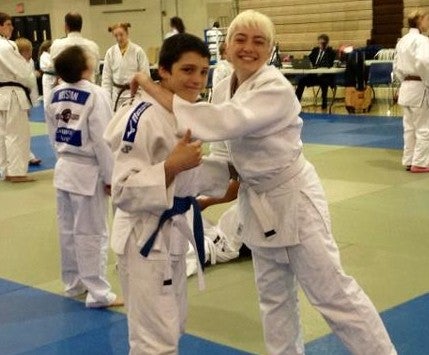 What advice would you give to other parents who want their kids to be active and healthy?
Make exercise fun! Also, be a role model. If your kids see you working out and enjoying it, then they will appreciate it, too. Be active with your kids. Play catch, shoot hoops, hike or bike with your kids instead of watching TV. Eat well, but not perfectly. No one is perfect, and those who are, are usually no fun. For example, we try to have healthy meals most of the time, but we will have some ice cream, popcorn or candy every once in a while. That's OK.
Any plans for Father's Day?
Dinner and a movie with my family. We're going to see Man of Steel.