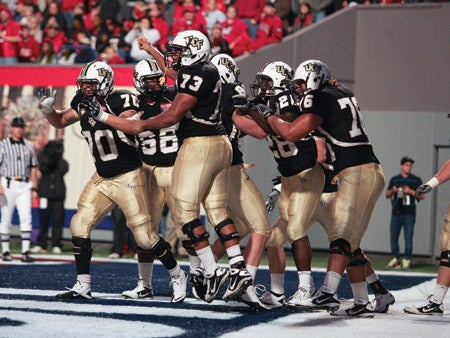 I have seen it too many times. I have witnessed too many unhappy endings. After all, UCF is not supposed to win these games, right? We are not supposed to have the breaks go our way in the end. There is supposed to be that one play that breaks our hearts and denies us the moment we have dreamed about. Isn't that how the script is supposed to play out?
I have witnessed those types of endings against Ole Miss, Auburn, Texas and most recently at Kansas State.
So when Georgia took over with 2:20 to play from their own 20 trailing 10-6, every UCF fan had that feeling in their stomach and mind. It's coming. That one play to break our back is looming.
Fourth-and-8 from the 22, all the Knights defense needed was a stop and the game was over. Aaron Murray hit A.J. Green for 14 to the Georgia 36. Oh no, not again, is it really going to happen?
Fourth-and-5 from the Georgia 41, all the Knights defense needed was a stop and the game was over. Murray rolled out right and threw back to the middle of the field and hit Kris Durham for 30 to the UCF 29. Oh no, really? This can't happen again.
Admit it, there was a part of you that just thought for a moment, Green was going to catch a deep ball and our hearts would be broken. Why? Because we have seen the movie so many times before. We know how it ends.
But wait. Bruce Miller sacks Murray back to the UCF 38 and the clock is running. Georgia has no timeouts and the seconds keep evaporating. Murray scrambles to get a play off and throws deep into the end zone incomplete. WE WON!!!! Or did we?
Of course, there are two seconds left. It can't be easy for us. Something has to make our stomach churn even more. There's one more play.
Murray rolled left and hoisted a pass that felt like it was in the air for minutes. And not until Kemal Ishmael smacked the ball down and it hit the Liberty Bowl turf that it hit all of us. WE WON!!!
The celebration was on and the monkey was off the back. No more can anyone tells us we haven't won a bowl game. No more can anyone say we didn't beat a BCS team in a bowl. No more can anyone say we are dreaming to believe we can be in the top 25 at season's end. Because now we can believe, dreams come true.
How did it happen:
Dave Huxtable and the UCF Defense: The Knights threw many looks Georgia had not seen. They confused Aaron Murray throughout the game. UCF shut down Georgia's ground game, although why the Bulldogs abandoned it I will never know. They got enough pressure and disguised blitzes to keep Georgia guessing all game. And despite being outweighed 50 pounds per man, UCF was far more physical than the big Bulldogs front.
Josh Robinson: A.J. Green will be among the top 10 picks in the upcoming NFL Draft. He had eight catches for 77 yards. But Josh Robinson was an all-pro in covering the talented Georgia wideout. Green's size almost guarantees him five or six catches a game. But how many times did Aaron Murray look to Green only to look away because Robinson and also Justin Boddie were on him like a blanket. Even Green admitted UCF's defense was awesome and they kept him in front of them all game. Every time Georgia went deep to Green, Robinson and company were there.
Bruce Miller: Two Sacks, numerous pressures and he was held and tackled on that final hail mary. Miller played like…Bruce Miller. He was everything he has been and no one deserved this win more than him.
UCF's Offensive Line: They too won the physical battle. We all remember last year's bowl loss to Rutgers and how UCF's front was manhandled. One year later, UCF took over the game up front. On the Knights' touchdown drive, this group pushed, shoved and drove Georgia's front back.
Brian Watters: Mr. Clutch pulled in four catches on the touchdown drive, including two third down receptions.
Jeff Godfrey: If you only knew the pain UCF's young leader was in with his ankle injury early in the game. "I'm not going to let my teammates down. I am going to fight through the pain." And did he ever. On the touchdown drive, Godfrey threw an incomplete pass on the first play. He then went 6-for-6 for 55 yards and saw the massive Georgia blitz on third-and-4 from the Bulldogs 20 and hit Brian Watters for 10 to set up LT's run.
George O'Leary and his staff: UCF outplayed and outcoached Georgia at the right times. The Bulldogs had no adjustment for UCF's run play in which a receiver came in motion and Jeff Godfrey faked the end around and handed off to Latavius Murray. It was there all day. Did Georgia not see that before? Yes. Auburn ran the same play all day against the Bulldogs back in November. The defensive game plan shut down an offense that was averaging over 40 points a game in the second half of the season. With the exception of the second fourth down conversion for Georgia on their final drive, they had no play for more than 18 yards.
Can't explain: Why Georgia did not go for it on fourth-and-1 from the UCF 3. The Bulldogs shoved UCF around on their opening drive and I was shocked when the field goal unit came out. Mark Richt said he felt there would be a lot of points available so he opted to kick. Sounds nice. But maybe Richt also felt his offense may not convert.
Can't explain II: Why Georgia stopped running. Although 32 of their 70 offensive plays were on the ground, the Bulldogs seemed to give up attempts to run which I thought played right into UCF's hand. After UCF took a 10-6 lead with 9:01 to play, Georgia threw three straight incomplete passes on its next possession.
Leftovers from Memphis: Amazing UCF turnout for the Liberty Bowl Parade on Thursday. UCF easily outnumbered Georgia fans and we all had a blast…Amazing scene on Beale Street Thursday night. Watching thousands of the UCF fans pressing refresh on their cell phones keeping up with the UCF-Princeton basketball game. Then watching those same fans celebrate the win up and down the street…To the many, and I do mean many, fans that I got to meet for the first time, you are all to be commended for your efforts last week. It was different than the bowl game in 2007. UCF fans seemed to get it. We were not just happy to be standing next to this SEC team and glad to be there. We walked with confidence up and down and the streets and proudly showcased our love for our Knights…Is there any BBQ place on Beale Street that does not claim to have the "Best Ribs in Memphis"?…No, $10 per drink is not a fair price no matter if it's New Year's Eve or not…The Big Man above and Mother Nature have to be UCF fans. Why else would they allow the game to end, UCF to celebrate with its fans and then open up the heavens for a storm that could have been named.
Knights notes and more: Memphis basketball played a game right off Beale Street at the Fed Ex Forum on Thursday night. When the game ended a few of their fans shouted to our radio crew how they could not wait for the UCF game. Anyone know why that was a great moment? Because now they care about our game…Amazing fan turnout for the UCF Holiday Classic last week for hoops. And now the momentum needs to continue. UCF opens league play against….Marshall. Pack the house . Trust me again, this one is a little different for obvious reasons…Final thought: Be loud. Be proud. Stand with pride. You have earned it. It is a special time for UCF and you should enjoy every moment of it.
Source: Marc Daniels' From the Press Box runs several times per month on UCFAthletics.com. Listen to Marc during UCF football, men's basketball and baseball radio broadcasts on the UCF Sports Network. Each weekday, Marc hosts "The Beat of Sports" on ESPN 1080 in Orlando from 9-11 a.m.