It will take more than astronauts, engineers, and scientist to live in space. It will take clothes designers, food managers, communicators, artists, and a lot more.
That was one of the messages NASA Administrator Bill Nelson and several fellow former astronauts delivered Friday during a 90-minute presentation about leadership and ethics at the Plaza Live near downtown Orlando.
About 50 students from the University of Central Florida joined others from Bethune-Cookman, UF, USF and several local high schools for the free panel discussion, which was part of the Nelson Initiative on Ethics and Leadership based at the University of Florida. Nelson, a former U.S. Senator who flew on a space shuttle mission in 1986, moderated the discussion. The speakers included:
Charlie Bowden, pilot, and former NASA Administrator
Robert Lee "Hoot" Gibson, who flew with Nelson and served as chief of the Astronaut Office from 1992 to 1994
Rhea Seddon, retired astronaut and a surgeon
George Pinky Nelson, who is also a physicist and astronomer
Brewster Shaw, retired astronaut and former Boeing executive
Jim Weatherbee, retired U.S. Navy officer and former test pilot and aerospace engineer
The speakers talked about what it takes to be a leader, the courage needed to do the right thing and the many challenges they faced. For example, Bowden who is African American, couldn't get any of his state representatives to appoint him to the Naval Academy. He eventually became an astronaut. Gibson first became a surgeon because the astronaut program was closed to women until the late 70s. She was among the first six women to join the NASA corp.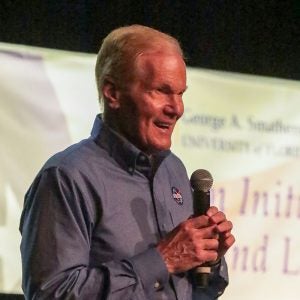 "Don't listen to people who say you can't do something," Bolden said at the event. "You will always find people who don't like you for one reason or another. Don't waste your time explaining why you are there. Just do your job."
Bolden also said people need to think about space in broader terms, as in STEAM, not just STEM.
"Of all the 18,000 people at NASA a very, very small percentage are engineers, scientists and payload specialists," he said. "It takes everyone in a lot of different roles."
All the astronauts encouraged students to pursue their passion and to be leaders in their own lives.
Weatherbee said the best leaders in extreme industries share three traits, which can be adopted into any field. These leaders have an intense commitment to a mission. They care about their people as people, not for what they can give the mission, but because you are interested in their individual success. And lastly, leaders are highly competent in their technical field and know how to communicate.
Parker Hatten, a first-year student studying aerospace engineering at UCF, found the lecture to be worthwhile.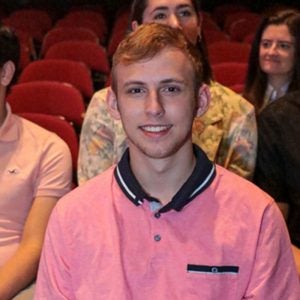 "I want to be an astronaut," Hatten says. "This was a once in a lifetime experience of seeing and hearing all these astronauts speak about leadership and space."
The Lakeland, Florida, native says his passion has never wavered.
"I still remember when I was five or six years old watching a shuttle launch from my home," he says. "Ever since, I wanted to be an astronaut. I want to be one of the people that gets us to Mars."
Jamie Mihelich, a sophomore also studying aerospace engineering, says there is no way she's getting on a spaceship.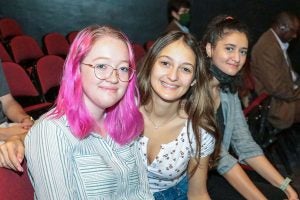 "No thank you," she says. "I want to work in the space industry providing the technical support to get astronauts there. They don't need me up there."
For Johanna Noel, a junior studying marketing, hearing that there's room for everyone in space exploration was music to her ears.
"I'm a big fan of space, but what do I want to do?" she says. "I want to blend all my interests in marketing, design, history and art into my passion. What that looks like, I'm not sure yet."
Abigail Glover, a junior studying mechanical engineering says the time to think of siloed approaches to careers is over.
"I like engineering and I want to work for NASA someday, but I also like theater, outreach and I'm looking at how we use technology and entertainment as a way to engage and learn. That's all blended," she says.
Many of the astronauts on the panel are part of a rock band called Max Q, named after the engineering term for the maximum level of dynamic pressure from the atmosphere experienced by an ascending spacecraft. Max Q will be performing with the Orlando Philharmonic Orchestra in its spring concert in Longwood, Florida, Saturday night. The April first panel discussion was co-sponsored by the Orlando Philharmonic and the George A. Smathers Libraries at UF.
Parks Easter, who is studying civil engineering and wants to help design a future lunar base, was thrilled about the opportunity to hear the astronauts, but he was equally excited to catch the musical performance Saturday.
"I'm a big fan of Max Q and they almost never perform outside Houston," Easter says. "I'm so excited."