Junior Danielle Mathis spent the past six months in England, "learning all I could" and taking in new cultures through the University of Central Florida's study-abroad program.
Computer science sophomore Deepak Gunturu of India is carrying a family torch, of sorts, as he studies through the Global UCF program. His father is a 1992 alumni.
And for El Salvadoran Carlos Reyes, mastering English during two semesters in UCF's English Language Institute paved the way for him to enroll as a freshman at the university to earn his bachelor's in international and global studies.
The students, their experiences and cultures, enhance UCF's campus in the best way, connecting the university to the world and helping students develop into global citizens, said Cynthia Young, vice provost for Faculty Excellence and International Affairs and Global Strategies.
On Wednesday, the university officially will inaugurate the most outward sign of its commitment to internationalizing its campus: the opening of the Global UCF building, a $16 million, state-of-the-art facility on Memory Mall that will serve as the campus' international hub. Within its walls are classrooms, meeting space and technology to help international students study here, and local students go abroad as they earn their degrees.
"It's a big, bold statement," said Young, whose office is leading the university's efforts. "To weave all these international cultures into our campus is at the core of our mission. It represents UCF's strong commitment to the comprehensive internationalization of our campus and curriculum."
International students and programs aren't new to UCF. In 1996, the Barbara Ying Center was dedicated on campus by Dr. Nelson Ying, a Chinese-American philanthropist who donated $250,000 in honor of his late-wife, Lady Barbara Ching Oung Ying. With the opening of the new Global UCF building, the center will continue to offer social and cultural activities for international students and welcome international delegations and visitors.
Increasingly, , UCF is harnessing the power of what international students add to the university – cultural, racial and religious diversity – to enhance the educational experience and sense of community. Currently, students come to UCF from 122 countries, strengthening the cultural competency of native students, faculty and staff.
"We are building a community at UCF that is truly global, and it's not just with the building it's's by growing our international students, bringing research and faculty from abroad and enhancing the experiences of our U.S. students when they study abroad," said Nataly Chandia, assistant vice president for International Affairs and Global Strategies.
The Global UCF building is the culmination of work over the past two years to bring international programs, which were spread out across the campus, under one roof.
Housed in the new building are the Global UCF program, which recruits international students in partnership with Shorelight Education; the English Language Institute (ELI), which helps local students and recent arrivals from abroad strengthen their English proficiency to enroll and be successful at UCF; International Affairs and Global Strategies (IAGS), which helps international students enroll at UCF and faculty from abroad teach or conduct research here; and the UCF Abroad Program, which seeks to put more UCF students in high-impact international experiences, such as learning or researching outside the United States.
UCF has set some bold strategic goals for international programs. These include increasing the number of international students to 3,000; sending 3,000 UCF students abroad for study, research and internship experiences; and growing the number of ELI students to 600.
Other goals include growing partnerships abroad, where student and faculty exchanges can help expand UCF's curriculums and research. Increasingly, the focus of recruitment and partnership efforts is the Caribbean and Latin America.
Under the university's new model of harnessing the power of its size and continued pursuit of excellence, leaders such as Young and Chandia know these efforts will make a long-term impact.
"We know it's vital to our students to have these transformative experiences," Young said. "Internationalization is part of our culture at UCF, and it's aligned with our mission to make sure our students are ready to enter a global workforce."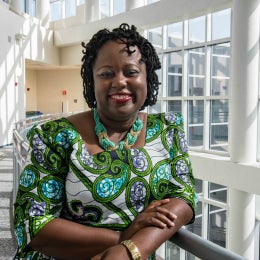 IAGS: Hannah Acquaye
Please call her Dr. Hannah Acquaye.
Traveling all the way from Cape Coast, Ghana, Hannah Acquaye earned her Ph.D. in counseling this summer after three years at UCF, and it didn't come easily. Had she followed the advice of her elders, and not her heart, she might not have those letters behind her name, or a teaching job or the scars of working hard for all of it.
"My country, we don't put too much stock in girls," she said. "I was a sickly child, missed school, so I equated that with being stupid. And no one told me differently."
Her family would have preferred she raised a family. She wanted a college education. But Acquaye defied everyone and earned a bachelor's degree and then a master's from Cape Coast University. Later, while teaching at a university in Accra, a visiting American professor told her she should apply abroad and earn a Ph.D.
She debated with him about it for a year.
"He said I was smart. I did not believe him," she said. "But I took his advice and now, earning my doctoral degree became the greatest accomplishment in my life."
So what drew her to the University of Central Florida?
"I remember choosing UCF because it was in Florida and it wouldn't be too cold. And I liked their colors," she recalled, smiling. "And then I saw the slogan, 'UCF Stands for Opportunity' and I thought, 'Well, they have opportunity and that's what I need!' "
As an international student, she used the services and help from the Barbara Ying Center, and remembers how easy they made it for her to get her visa and enroll at UCF. When she struggled to adjust to a new life, she reminded herself that folks in Ghana had it worse.
"I feel so grateful for everything. My life. Having hot water!" she said. "I'm grateful to the USA for this education. And for UCF and my professors who helped me so much, even when I didn't think I could do it, they kept me going and pushing me. I am so fortunate."
Acquaye joins the faculty at Western Seminary in Portland, Oregon, this fall. In the years to come, she said she will travel home to Ghana and help her country provide mental health counseling and maybe teach. "I want to encourage other students to pursue an education, even a Ph.D."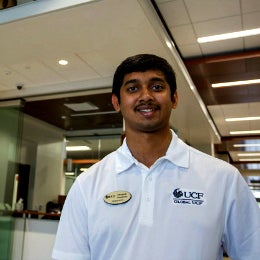 Global UCF: Deepak Gunturu
Deepak Gunturu is excited to start his sophomore year at UCF. The shy, unassuming 18-year-old from India said he chose the university, enrolling through the Global UCF program, because it has a great computer science program.
He should know. Back home in Visakhapatnam, India, is his father, a 1992 UCF alumni who also studied computer science. He is now an entrepreneur running his own business.
"I guess that makes me a legacy," Gunturu said. "He says UCF is what helped him launch his business, his career. He loved it here."
Gunturu has traveled to Orlando before, and made it to campus in 2011 when his family was on vacation.
"Orlando is like a second home to me," he said. "We were drawn to the city because it felt like home."
He calls UCF's computer science program "one of the strongest in the U.S," adding that the university has offered him the best resources, a great campus and strong professors.
"I know this was the right choice for me," he said.
Because of the Global UCF program, he learned to handle the culture shock of being away from home and feeling alone. The streamlined course work helped him acclimate to the UCF community more easily, he said, and he has made many friends.
"I realized we all have similar motives and ideas. Our experiences and perspectives might be different but I felt I could connect with other students," he said. "Global did that for me."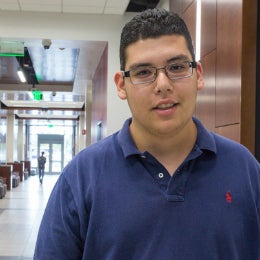 ELI: Carlos ReyesUCF freshman Carlos Reyes plans a long career in international affairs, maybe even politics.
The 19-year-old from El Salvador sees the need for strong leaders and new ideas in his economically struggling country. So with encouragement from a cousin who had enrolled at UCF, he took a giant leap and landed in Orlando last year, enrolling in the English Language Institute.
Like the hundreds of other students at ELI, he had a goal: English proficiency. Unless he could test well enough in reading, writing and comprehension, he could not enroll at UCF to pursue his bachelor's degree in international studies and global affairs.
And that's what ELI does. Students take English classes every day until they can pass the tests that determine they're ready for college-level work. This fall, after two semesters at ELI, he formally enrolled in the Global UCF program to pursue his degree.
"It's intense," he said. "It was scary at first, being in another country without my family or friends. But UCF was different. Once I was here a little while, the teachers were so good, I said, 'I'm home.' It's truly like home for me now."
He plans to work hard back home when he finishes his studies.
"I feel super proud to be here. By studying at this great university I feel I can go home and help others," he said. "It's what I feel I must do."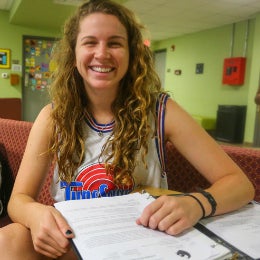 UCF Abroad: Danielle Mathis
Danielle Mathis is a busy 21-year-old hospitality management major who spent four months this year studying abroad at the University of Surrey in Guildford, England.
Her biggest achievement?
"I visited 13 countries," she said, rattling them off, including "France, Germany, Greece, Sweden. I met people, experienced their cultures. It was great."
"If I hadn't looked at UCF's study-abroad programs, I would have never had this experience."
She said she was surprised that the costs of her studies abroad were about the same as a semester's tuition at UCF, and the classes all counted towards her credits. And that's what UCF Abroad wants to tell students. In some cases, study abroad can be covered by scholarships, among other sources of funding. Sometimes the out-of-pocket cost are as low as plane fare.
Mathis, of Lake City, Fla., took four hospitality classes at Surrey. "I have friends in Barcelona who now say to me, 'Come visit' and I still can't believe I made friends all over the world and earned college credits while doing it."
Expanding scholarships to send more students abroad, and funding some of the costs for students who need it most are among a series of initiatives launched by the university to send 3,000 abroad by 2020.
Mathis encourages other students to ask about studying abroad, and then to go for it.
"I learned not to waste this opportunity to travel on my own. I wasn't waiting around for other people to explore the region. I learned to be on my own, make my own plans and really pushed myself to experience as much as I could."