UCF's College of Health Professions and Sciences has again expanded its state-of-the-art Rehabilitation Innovation Center with the addition of a new immersive, mixed reality room that will be used for both student learning and patient care.
The Blended Learning Interactive Simulation Suite, or BLISS, uses 270-degree, floor-to-ceiling touchscreen walls that display curated video and audio, providing an immersive view of any event, location or experience — either real or created. The technology was funded by a philanthropic gift from the Paul B. Hunter and Constance D. Hunter Charitable Foundation.
Acquired to better prepare students for the frontline roles they'll encounter as healthcare practitioners, the technology serves as a unique and hands-on learning tool.
"It allows us to create environments that have a higher level of realism," says Bari Hoffman, associate dean of clinical affairs for the College of Health Professions and Sciences. "We want students to be used to the sights, sounds, stressors and energy associated with hospitals, clinics and other locations where they will be providing treatment."
BLISS is unique in that the user is fully immersed in the room with no headsets or tethers. Plans are in place to add smells and a floor that can vibrate and rumble, bringing another dimension to the experience.
The suite joins a host of other digital health technology tools already housed in the Rehabilitation Innovation Center, including a hologram machine, a maker space with a 3D printer used to adjust toys and household items for patients with rehabilitative needs, and a "Smart Home" room designed to train clinicians, patients and caregivers how to adapt a home for safety and better navigation.
BLISS can be used to demonstrate a medical procedure, recreate an emergency or incident, or display anatomical models in greater detail. Students can be transported virtually to any environment in the world, enabling them to respond to treatment scenarios or practice skills in a more realistic environment. Faculty can lecture, demonstrate techniques and then engage students in applying their knowledge through exercises and skills stations.
For example, students studying to become speech language pathologists can examine anatomical models using touchscreen technology to rotate, zoom in and view inside the jaw, neck and throat. Skills stations for pre-med students in health sciences can take place in a mock hospital room where they can learn to navigate and gain information through patient charts and medical equipment. And students studying athletic training can practice first aid skills in a crowded football stadium with the roar of the crowd and the presence of anxious teammates, coaches and fans looking on.
"We can give students access to locations and experiences that might not be possible in person due to cost or geography considerations." — Bari Hoffman, associate dean of clinical affairs for the College of Health Professions and Sciences
"We can give students access to locations and experiences that might not be possible in person due to cost or geography considerations," says Hoffman. "We can provide the backdrop for any clinical or non-clinical setting. It can be a patient's home, the inside of an ambulance or a medical clinic … and it could also be a roadside traffic crash, a crowded airport terminal or an entertainment venue. The backdrop, combined with the use of our manikins and other high tech, hands-on equipment in the center, is what makes this truly unique."
Faculty are developing new scenes and scenarios for students, as well as tailoring existing healthcare lessons developed by hospitals and universities in the United Kingdom who are using the same system there.
Associate Professor Jennifer Tucker teaches a coursework on neurological physical therapy in which students study the evaluation and treatment of patients with movement problems due to disease or injury of the nervous system. This semester, her students will examine patient cases involving stroke, conduct a comprehensive assessment and develop short and long-term recovery treatment protocols. Their classroom will be in BLISS, giving them an up-close look at the course content.
"The space just lends itself to a higher level of student engagement," says Tucker, who has already taken students in for any early look and a basic skills exercise. "It felt very real, very quickly for them and I could see how the environment required them to actively think on their feet and react and respond to what's happening around them."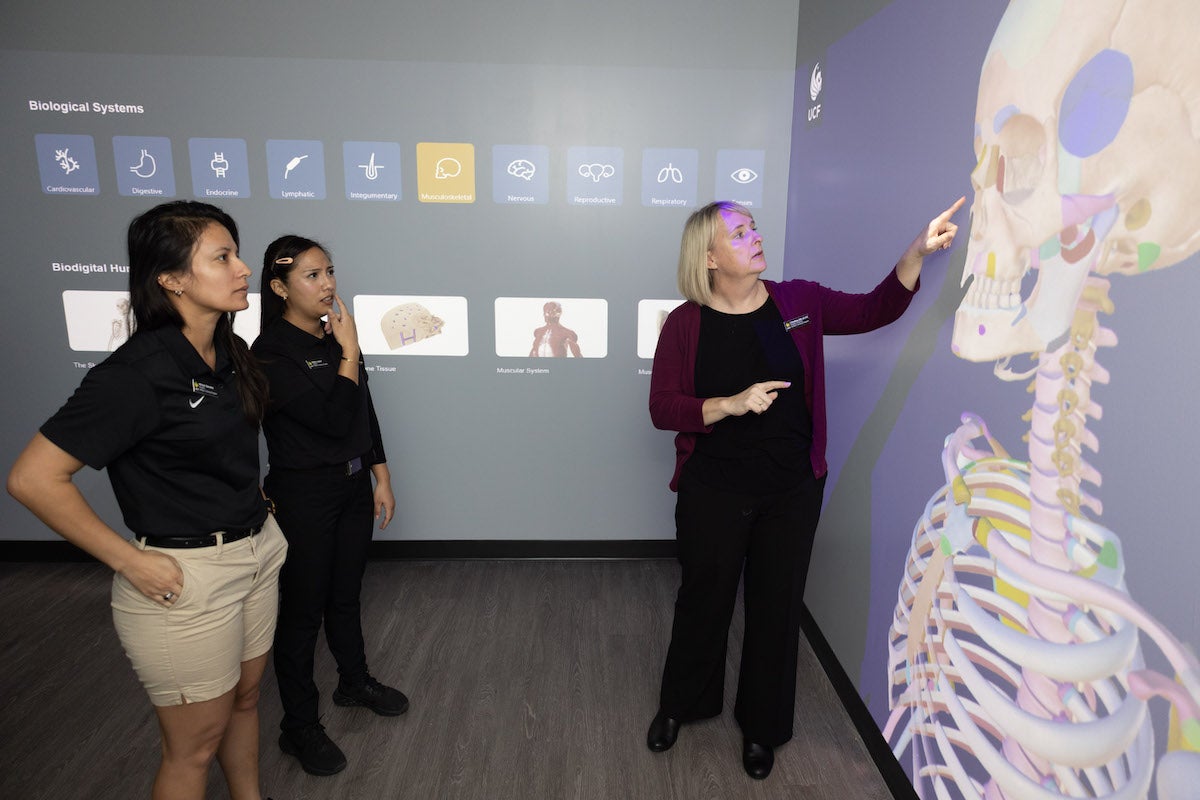 Research on the use of simulation in healthcare education supports that the more "real" the simulation, the more engaged students become, and the better learning outcomes they have. Having hands on and immersive experiences helps close the gap between the classroom and the real-world experience that students will encounter as health care practitioners.
In addition to serving as a learning lab and classroom for students, BLISS will also be a therapy tool for patients served by the college's community clinics, including the Communication Disorders Clinic. Clinicians there assist patients who have communication and hearing challenges and they'll incorporate the tech in therapy sessions.
For example, a patient struggling with stuttering could undergo therapy at a simulated movie theater ticket counter, or a patient being treated at the Aphasia House might practice interacting with the cashier immersed in a grocery store setting.
The space can be transformed into a dentist's office, barber's shop or noisy shopping center to help children with autism adjust and manage heightened sensory reactions. Children with mobility impairments in the Go Baby Go! program can test drive their specially retrofitted cars against the backdrop of a simulated racetrack.
The new space is also expected to be a site for the clinic's summer programs for children with reading challenges. Youth in the camp will be able to see their storybooks come to life and interact with the words and the characters.
"The possibilities are endless," says Hoffman who is working across UCF's Academic Health Sciences Center to help make the technology accessible for faculty and students across all health-related disciplines to practice team-based care. "The only limitation is your imagination."