Researchers from the University of Central Florida are conducting a study to determine if mini robots used in the classroom to teach children coding skills can also help students diagnosed with autism spectrum disorder improve their communication and social skills.
These minibots, also known as social robots, are designed to interact with humans through speech, noise, movement and facial expressions. Using a tablet or computer and mobile apps, children can enter code to program the robots to perform various tasks such as singing, racing across a room or navigating a maze.
STEM lessons that integrate these robots can provide students with collaborative problem-solving opportunities while teaching them appropriate social-communication skills, such as taking turns while participating in a group activity or responding appropriately to their peers.
With the support of a $2.5 million Department of Education grant, researchers from UCF, Georgia State University and the University of North Carolina at Charlotte will explore how these social robots can be integrated into classrooms more effectively and how their use can translate into improved social skills. They will develop specific curriculum with best practices derived from the five-year study and will make the curriculum and resources available to teachers nationwide.
People with autism spectrum disorder and intellectual disabilities often have challenges with communication and social skills. The skills level can range from being nonverbal to strong verbal skills with difficulties engaging in conversations and reading social cues. This impacts their ability to make friends, work with classmates in groups, and collaborate in team settings, which is necessary for successful employment.
"Unemployment among adults with autism is typically higher than other individuals," says Eleazar "Trey" Vasquez, director and professor of the Toni Jennings Exceptional Education Institute and co-principal investigator of the project. "Those on the autism spectrum have an affinity to be hyper-oriented toward specific, repetitive tasks and often perform these duties better than other people."
However, collaborating and socializing with others can be challenging for people with autism spectrum disorder. "Several STEM positions require teamwork," says Vasquez. "This project will approach social communication through a team-based approach, which will hopefully result in long-term employment."
How the study will work
The project aims to improve the social skills of elementary school students with autism spectrum disorder and intellectual disabilities through the development and use of a social robotics curriculum as well as instructional materials implemented by teachers during STEM-learning activities.
Setting up learning environments, where teams of students work together to solve authentic programs, can facilitate a space for social communication while providing students with disabilities an opportunity to use their expertise. "In our earlier studies, we found kids with disabilities, including those with autism spectrum disorder, tend to be as good or better experts in gaming and programming than their typically performing peers," says Vasquez.
The research team plans to work across multiple types of elementary schools in Georgia, North Carolina and Florida, including rural, urban and charter schools. The classes' makeup will vary, but the researchers are looking to work with teachers and students in inclusive classrooms that have students with autism spectrum disorder and intellectual disabilities.
For the first two years of the project, the team will work with a small sample of schools to create and refine professional development modules and differentiated instructional materials.
The last three years of the project will include piloting and implementing the curriculum with more schools by testing and refining the materials based on the implementation data. During the last year of the study, the curriculum and materials will be implemented at multiple school sites across the three states at a larger scale.
At the conclusion of the study, the research team will make the professional development modules and instructional materials openly available for teachers through various partner websites, including a list of affordable social robots and other technologies.
The team will also work on offering micro-credentials to show that participating teachers met the professional development competencies after completing the modules.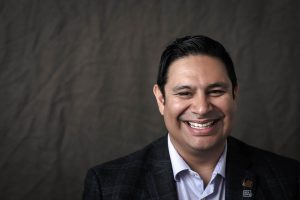 "We want to recognize teachers for spending their valuable time away from their classrooms for professional learning by offering some type of credential through a digital badge. This can build enthusiasm while distinguishing themselves as teachers with professional competencies in social robotics instruction," says Vasquez.
"One advantageous outcome of technology is access: It allows us to provide students with multiple means of representation and expression when their disability limits their verbal communication. We can now equalize the playing field and give these kids, who have typically been marginalized, the chance to be equivalent partners in a team-based situation," says Vasquez.
Vasquez is a professor of exceptional student education and director of the Toni Jennings Exceptional Education Institute in the UCF College of Community Innovation and Education. He also has a joint appointment in the Learning Science Cluster and is an affiliate faculty member for the Synthetic Reality Lab and the Lockheed Martin/UCF Academy for Mathematics and Science. He received his doctorate in disability disciplines from Utah State University and has extensive experience designing and evaluating academic programming for students with autism, particularly in the areas of STEM.