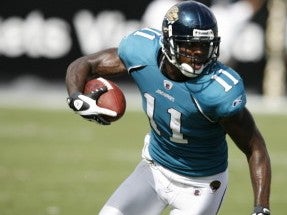 Former UCF wide receiver Mike Sims-Walker added another accomplishment to his career this weekend, although this one did not take place on a football field.
Sims-Walker, who plays for the Jacksonville Jaguars, hosted the first Playmaker 11 Scholarship award ceremony on Saturday afternoon at the Fairwinds Alumni Center.
He created the Michael A. Sims-Walker Scholarship Foundation following the death of his father —Mike Sims — who lost his battle with colon cancer in December 2008.
Sims-Walker presented 10 finalists with a $100 book stipend and one student with a $1,000 book stipend.
"He's a very influential person in my life," Sims-Walker said of his father. "Between him and my mom, they're the reason I am on this Earth. He passed away hurting, and I just don't want to see anyone go through the pain and the process that he went through — the cancer, the chemo."
Sims-Walker's parents separated when he was a child, but that did not stop Sims and Barbara Walker from raising him and his siblings with the proper values.
"Although his father and I may have not been together, we raised him together," Walker said. "I tried my best to bring him up in a well-rounded household."
The 6-foot-2-inch, 214-pound Orlando native who went to Edgewater High School attended UCF and became a sensation on the field.
Sims-Walker — who was just Mike Walker when he played for the Knights from 2003-06 — led the Knights, turning into one of the better wide receivers in program history.
His junior and senior years at UCF were difficult for Sims-Walker.
His father was diagnosed with colon cancer and had begun chemotherapy, causing him to miss many games with the exception of senior day, when the Knights closed out their final game at the Citrus Bowl.
On that day, Nov. 25, 2006, Sims-Walker broke the single-season receptions record when he made his 90th catch.
For Sims-Walker, making it out of a rough neighborhood, getting his degree and playing football at the next level was just part of the process.
With his foundation, he gives high school students opportunities that he found hard to come by.
His mother could not be more proud of the man Sims-Walker has become. Her message is clear: It is better to give than to receive.
"Today is a wonderful day for me, and for him as well," she said. "He has shown me the man that he is. We just want him to continue to give back, because when you succeed, the more you give, the more you receive."
Of the 11 finalists in attendance, Aaron Johnson of Jacksonville was thrilled to receive the $1,000 scholarship from one of his favorite players on the Jaguars, his favorite team.
Johnson was dressed for the occasion with a matching teal suit.
Johnson's father heard about the contest on the radio and told him it was a good idea to apply.
Applicants had to submit an essay of no more than 500 words or a YouTube video no longer than 11 minutes about the prevention of colon cancer.
Before applying for the scholarship, Johnson had second doubts. He felt that with other students doing the same thing, there was no way he could win.
"It means a whole lot," Johnson said of winning the scholarship. "When I found out, it was surprising, but I am glad to receive the award."
The event took place the day before Father's Day, which helped Sims-Walker get through it.
"It makes me cope through with the day a little bit better," Sims-Walker said. "It's going to be a hard day for me tomorrow, but for me to be giving out these scholarships and putting smiles on peoples' faces is going to make it easier for me tomorrow."
Source: Central Florida Future, Football alum Mike Sims-Walker passes out scholarship, by Carlos Pineda, Editor-in-Chief. Published: Sunday, June 20, 2010, updated: Sunday, June 20, 2010.