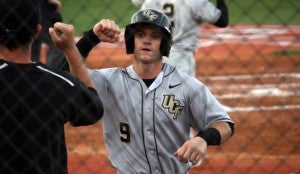 The No. 13 UCF baseball team kept its weekend-series unbeaten streak alive after routing Southern Miss 12-3 Sunday afternoon at Pete Taylor Park. The Knights, as of Sunday afternoon, became just the fifth team to win 30 games in Division I this season.
UCF, winners in five of its last six in Hattiesburg, smacked 13 hits, including five of the extra-base variety, and had Ryan Breen, D.J. Hicks and Chris Taladay all notch multiple-RBI performances. Senior Ray Hanson went 6 2/3 innings and allowed just two earned runs while striking out five for his third win of the year.
"Our theme on Saturday and Sunday was to play like we had something to prove. These guys responded (after Friday) the last two days, and I couldn't be prouder of them," UCF head coach Terry Rooney said. "What a resilient group of guys."
One of the more impressive and painful records fell on Sunday as center fielder Ronnie Richardson (3-for-4) was hit in back-to-back at-bats to give him 23 on the year, and 53 for his career. He passed Shane Brown for the single-season record in the category.
The Knights, leaders of Conference USA at 9-3, will have a short turnaround as they host Florida Atlantic on Tuesday night at 6:30 p.m.
After each pitcher made it through the first two innings with ease, USM's Boomer Scarborough ran into trouble in the third after he walked Hicks (1-for-4, 2 RBI) and Taladay (2-for-3, 2 RBI) to lead off the frame. Alex Friedrich laid down a sacrifice bunt that left all the runners safe. After a balk to bring home a run, Breen (2-for-5, 4 RBI) smacked his third triple of the year down the right-field line to end Scarborough's afternoon. Travis Shreve would tack on one more run on a RBI-groundout.
UCF extended its lead in the top of the fifth after Southern Miss put up two runs in the previous frame. Taladay extended his hitting streak to eight games with a double to the wall in right-center and was brought home on a RBI groundout by Breen. JoMarcos Woods tacked on a run-scoring single over the shortstop's outstretched glove in shallow center to make it 6-2.
The Knights added exclamation points to the triumph with three runs each in the sixth and seventh frames on seven hits. Taladay took a 0-1 pitch to center field for a pair of RBI in the sixth and Hicks smashed a two-run homer, his 10th of 2012, over the left-center wall in the seventh to give him 54 RBI on the year.
Jimmy Reed and Bryan Brown finished off the contest that saw all three arms allow just five Southern Miss hits on the day.
News & Notes
-Coming into the year, UCF had never won consecutive Conference-USA series to open a season, but the Knights have won all four league series in 2012.
-Breen, Friedrich and Taladay extended their hitting streaks to eight games.
-On the week, UCF's pitching staff put up a 1.99 ERA, and it has a 2.83 earned run average this year.
-Brown made his 68th-career appearance, seventh all-time at UCF.