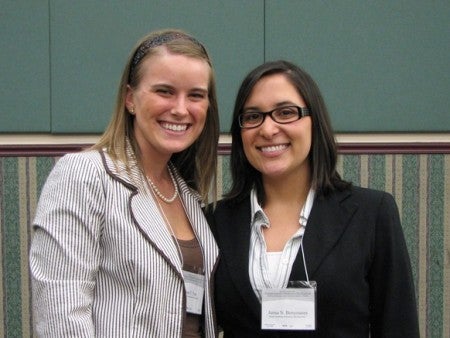 Two Honors in the Major (HIM) nursing students placed at UCF's Showcase of Undergraduate Research. Senior Lauren Yon took first place in her research category against 20 other UCF students. Her research on "Integrating Mobility into the Plan of Care in the Intensive Care Unit" won her a $600 scholarship.
Competing against 21 other students in her research category, Jenna Benyounes, also a senior, received an honorable mention and a $150 scholarship for her presentation on "Interventions to Prevent Perineal Trauma During Childbirth."
Yon and Benyounes will graduate with Honors in the Major from the Bachelor of Science in Nursing program on May 8, 2009. Dr. Kelly Allred and Dr. Nancy Ahern respectively served as their faculty mentors on their HIM capstone research projects.