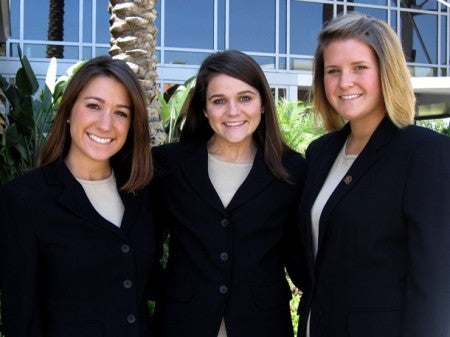 Three students from UCF's College of Nursing are currently serving on President Hitt's Leadership Council (PLC) for the 2009-2010 academic term. This is the first time senior Kearstin Kelley has served on the council, while seniors Laura Farina and Andrea Long are serving a second term. Long is also serving as the council's Vice Chair. The three nursing students are candidates for graduation in May 2010 with their Bachelor of Science in Nursing degrees.
The council, whose members serve UCF as official student ambassadors, was established in 1977 to recognize outstanding students for their accomplishments in leadership, scholarship and service. Chosen by a committee of faculty, staff, and students, the members of the council serve as ambassadors for the university and for the president's office. Together, these nursing students make up nearly ten percent of the entire PLC for 2009-2010.
"I feel privileged to be chosen as part of this unique council where I can respectfully represent the university, the President's office, and the College of Nursing," said Kearstin Kelley.
The President's Leadership Council was established for the dual purpose of serving the university while educating and developing each PLC member. The council serves UCF as official student ambassadors, both on and off campus.
When asked about her experience, Laura Farina explained, "Through PLC I've learned the importance of hard work, what it truly takes to be a good leader, as well as the importance of school and education."
According to a letter written by President Hitt and posted on the PLC's Web site, "The President's Leadership Council has proven to be a valuable asset to our institution and community. It has assumed responsibility for hosting university functions and touring distinguished guests of the university, and its members are also very active in the recruitment of new students. The accomplishments of the PLC members, as well as their commitment, energy, and positive attitudes about UCF and its development, are truly distinctive."
Andrea Long, the council's Vice Chair, also feels honored to have been chosen to serve on the council that represents the Office of the President. "It is an amazing opportunity to grow professionally while giving service to our university."
For more on the President's Leadership Council, visit their Web site at www.ucfplc.com.