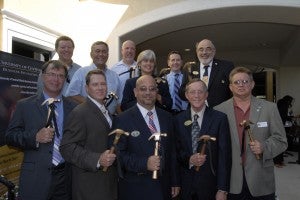 Osceola County, the City of Kissimmee and UCF Business Incubation Program officials participated in the ground breaking of the UCF Business Incubator-Kissimmee on Thursday, June 24.
UCF partnered with Osceola County, the city of Kissimmee and Kissimmee's Community Redevelopment Agency (CRA) on the facility that will offer support services to help start-up companies accelerate their growth and generate jobs in downtown Kissimmee. "This incubator highlights everything that is making downtown Kissimmee a must-visit destination," said County Commission Vice Chairman Brandon Arrington, whose district includes the incubator.
"Just around the corner there will be a SunRail stop to help connect us with the rest of the region. Simply put, this incubator delivers on all the planning that has been going on locally and regionally for a number of years to link jobs and transportation in our urban core," added Arrington.
"This is a win-win situation for the City as we partner with UCF and Osceola County. The City is committed to reviving the downtown and attracting more enterprises, such as the UCF Incubator," said Kissimmee Mayor Jim Swan.
The city and county are making matching contributions totaling $405,000 each for three years. Additionally, onetime payments are being made by the City for $57,000 and $183,000 from the CRA for the facility's build out. The incubator will be managed by UCF.
Gordon Hogan, director of operations for the UCF Business Incubation Program, said the new 8,000 square foot facility to be built out on the fourth floor of the City Centre Kissimmee will open in September with office and administration space for promising enterprises selected to join the UCF Business Incubation Program.
Research has shown that 87 percent of incubator graduates are still in business five years after graduating from an incubation program, said UCF's Business Incubation Program Founder/Executive Director Tom O'Neal.