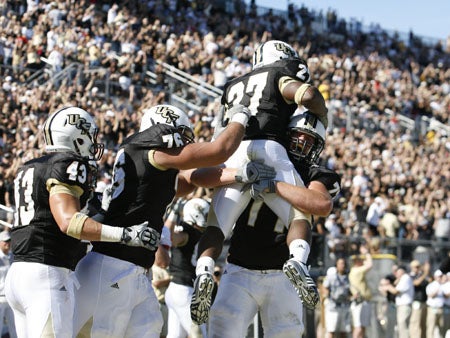 Conference USA has been sponsoring football since 1996. Only once has a team from the league run the table and post a perfect season.
The 1998 Tulane Green Wave went 12-0. Led by quarterback Shaun King, whose head coach was Tommy Bowden and offensive coordinator was Rich Rodriguez, Tulane finished seventh in both major polls and was one of two unbeaten teams that season with national champion Tennessee as the other.
That season, Tulane did not post a single win over a ranked team yet moved up in the national polls with a high octane offense that scored over 30 points in 10 of 12 games.
But that's the only time a C-USA team ran the table. In fact, only once has a league champion had just one loss. In 2004, Louisville went 11-1 and finished sixth in the polls.
The group of league champions that had only two losses includes only Louisville in 2001 and TCU in 2002.
UCF's two championship seasons saw the team post 10-4 and 11-3 records. So the numbers show that going through a season unbeaten as a member of C-USA is not easy.
Yet it may take perfection for the league to pick up the nationwide coverage it yearns for. But going undefeated is not easy and there are many reasons behind that.
Critics of C-USA point to the successes of Boise State in the WAC and TCU in the Mountain West. But one argument to be made is compared to the WAC and Mountain West, C-USA has been a more balanced league. Each year, since UCF has been a member, C-USA has had 4-5 teams with a realistic shot at winning the league crown. Over the last decade, Boise State has been a heavy favorite in the WAC with an occasional challenge from Nevada or Hawaii. The Mountain West has been a three-team battle over the years with TCU, Utah and BYU, but few others.
Where C-USA has struggled over the last six seasons is non-conference games against BCS teams. The league has not been able to develop a consistent run of benchmark wins and teams that end up contending for the conference title have not been as strong against BCS schools as you would like.
Any UCF fan can easily remember last year's games with NC State and Kansas State. Both were games the Knights could have won, but did not.
George O'Leary has never hid his feelings about games against BCS teams and the importance of winning those games.
"We as a league need to start getting these games," said O'Leary. "If you win those games, you get more exposure and that gets you more games on television and it makes it easier to get into and stay in the polls."
For UCF, it's no longer about playing money games. The arrival of Bright House Networks Stadium now provides a home where revenue can flow for games. Current and future schedules include contracts where BCS teams must come to Orlando. But there is not a game on a football schedule for years to come that anyone can say is not winnable.
UCF's program has advanced to where it can compete with anyone and opponents know that. This year's two big non-conference games are against Boston College at home and at BYU. Both are quality foes and both are games that can be won.
A 4-0 UCF team headed into conference play would likely be ranked. From there, the Knights will certainly be challenged in the league but will face no team where victory is not feasible. But going undefeated is not that simple. You cannot predict weird bounces, costly turnovers, weather or a bad call.
The WAC and Mountain West have had unbeaten teams several times over the last decade. Both Boise State and TCU, a future Big East member, have had seasons that put them into contention to be among those battling for a spot in the BCS National Championship Game. C-USA has not had a team enjoy that ride yet. Perhaps that can change in 2011.
Knights notes and more: Seven UCF baseball players were selected in the recent amateur draft. Catcher Beau Taylor was the highest Knight selected. Taylor was a fifth-round pick of the Oakland A's. Taylor hit .325 this season and says the change to the bat used in college will be a big plus moving to the pro game. "There is no question it helped. Batting averages were more honest and it made me a better hitter," said Taylor, who expects to go to Vermont for his short season of summer ball. Senior Jonathan Griffin went in the 21st-round to the Arizona Diamondbacks. With true power in his offensive arsenal, Griffin might have a chance to move up the farm system quickly…Joi Williams added veteran assistant Bob Starkey to her staff. Starkey comes to UCF from LSU where he was part of five Final Four teams.
Source: Marc Daniels' From the Press Box runs several times per month on UCFAthletics.com. Listen to Marc during UCF football, men's basketball and baseball radio broadcasts on the UCF Sports Network. Each weekday, Marc hosts The Beat of Sports on ESPN Radio 1080 in Orlando.