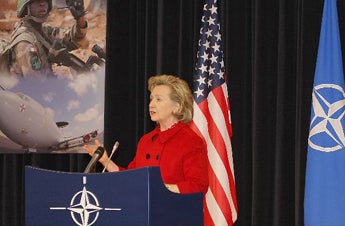 UCF was one of only three universities in the nation to recently participate in a virtual briefing with Secretary of State Hillary Clinton on issues associated with U.S. relations in sub-Saharan Africa.
Among the questions asked was how the United States could ensure a long-term focus on the region after the World Cup ends next month.
"Much of the world will be paying attention to Africa because of the World Cup in a way that they perhaps have not in the past," Secretary Clinton answered recent UCF graduate Amal Khan, who works in the university's Global Perspectives Office.
"But there is so much more that needs to be done," she added, including expanding food security and health programs.
UCF was invited to the June 14 diplomacy briefing because of its Global Perspective Office's longstanding ties with the U.S. State Department. Among the many connections that have benefitted UCF students are several public forums, class presentations and videoconferences with State Department leaders, as well as the service of retired U.S. Ambassador Harriet Elam-Thomas.
Elam-Thomas now directs UCF's Diplomacy Program after acting as the university's diplomat-in-residence.
The first conference in the series, held December 2009, focused on U.S.-Latin American relations.
The Department of State is organizing the Diplomacy Briefing Series, which highlights U.S. relations with various regions across the globe.
To watch a videoconference and read a transcript of the briefing, visit the Department of State's Web site.
For more information on the UCF Global Perspectives Office, visit www.ucfglobalperspectives.org.