Michele McGlamory, '10, thought she was going to spend the evening of Friday, Nov. 21 ice skating at Light Up UCF with her longtime boyfriend, Oviedo Police Officer Rob Brunjes, '11, but he had other plans.
On the way to the rink, he casually suggested they stop by the Knights Terrace at the UCF FAIRWINDS Alumni Center, so they could look at the personalized bricks and possibly buy one as a Christmas gift to each other.
At first, Michele, a children's behavior therapist, was weary of approaching the back of the building, which was fenced off for the SMU tailgate the following day, but Rob assured her it would be OK.
Lucky for him, she didn't pay any attention to the curious lighting or GoPro camera mounted outside Ballroom B, nor did she notice the photographer hiding in the doorway of Ballroom A. In fact, Michele was so focused on looking at all of the other bricks, that Rob had to point out his favorite — and the one that would change their lives forever.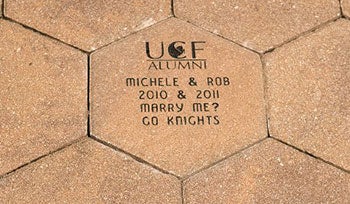 As her eyes scanned the engraving, she saw their names and grad years, followed by a simple, two-word question: "Marry Me?" Taken by complete surprise, Michele immediately covered her face with her hands as Rob knelt beside her, held out the ring and asked her to spend the rest of her life with him. "Yes!" she exclaimed.
Michele kissed and hugged her new fiancé, looked down at the brick and then repeated everything a few more times, all while her hands trembled with excitement and tears of happiness streamed down her cheeks.
Little did she know that some of the alumni staff had been in on the surprise. As we revealed ourselves and our secret, she was thrilled that we captured the moment on camera and video, but promptly and politely asked, "Can I call my mom?"
After telling her mom about the unique proposal, we took some keepsake photos of the newly engaged couple, during which Michele kept stealing a look at the new sparkle on her left ring finger, remarking, "It's perfect, I love it."
She also had no idea about the other big surprise Rob had planned that night — his parents, her parents, her sister and her sister's fiancé were waiting for them at home. Rob was able to get their families to come early for Thanksgiving from Tampa and South Florida to help them celebrate.
Congratulations, Rob and Michele! Thank you for letting the UCF Alumni Association and the Knights Terrace be a part of your legacy!
________________________________________________________
Want to commemorate a special occasion, show off your Knights pride or give an awesome holiday gift that will last a lifetime?
Buy your own brick on the Knights Terrace!
Best of all, now through May 1, 2015, alumni receive $50 off the purchase of a 4 x 8 brick!
Also valid through May 1, 2015, alumni receive $50 off new bookings of meeting/event space at the UCF FAIRWINDS Alumni Center, which is the perfect setting for holiday parties, birthday parties, bridal showers, Bar/Bat Mitzvahs and more!
Contact ann.allen@ucf.edu or 407.823.1978 for more info.