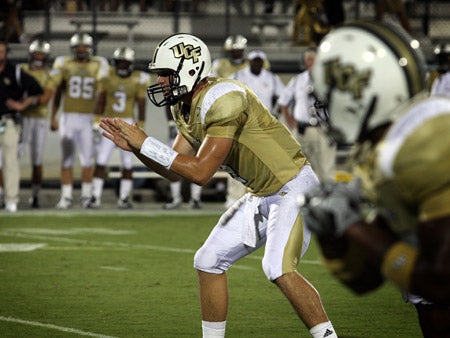 UCF head coach George O'Leary and offensive coordinator Charlie Taaffe announced on Wednesday that Nico Flores will be moving from the quarterback position to a wide receiver slot for spring practice, which begins on Friday. And Flores will be used at times as a quarterback in various formations where he has the option to run or pass.
Flores, a 6-foot-2, 208-pound freshman from Miami, initially came to the coaches and suggested the position change as a way to make more of an immediate impact as a freshman.
Rob Calabrese, a part time-starter last season in three games, will open camp as the No. 1 quarterback on the depth chart. Highly touted freshman Jeffrey Godfrey, the all-time leading passer in Dade County history who enrolled at UCF early, will be the No. 2 quarterback on the depth chart.
The hope is to give Calabrese and Godfrey plenty of reps throughout the spring in order for O'Leary and Taaffe to pick a definitive pecking order at quarterback coming out of spring practice.
"If someone is going to have a real opportunity in spring practice, those first two guys are the ones you are going to really look at," O'Leary said on Wednesday. "We want to give them as many reps as possible."
Stanford transfer L.D. Crow, Fordham transfer Brian Taaffe (Charlie's son) and Andy Slowick will also vie for the job in the spring. Oviedo commitment Blake Bortles will be on campus in the fall.
Flores, who spent much of last season as a wide receiver on the scout team, went to coaches recently and requested the switch from quarterback to receiver. The hope is to get another dynamic playmaker on the field and give the Knights a better deep threat on the outside.
Flores made such an impression on the offensive scout team last season that UCF defensive coordinator called him, "one of the best wide receivers that we faced all year."
"We can only play one quarterback at a time and there's only one football, but Nico is an exceptionally talented player and we want to try and get him on the field," Taaffe said. "And there are a couple of different packages that we can use where he'll be inserted at quarterback. We'll try some things because that's what the spring is for."
UCF opens its highly anticipated spring practice with drills on Friday and Saturday. In all, the teams will have 15 workouts with the Spring Game coming at 1 p.m. on April 17.
Taaffe said he is looking to see if Calabrese, a junior-to-be, has matured to the point where he is a more poised quarterback in the pocket and in the huddle. He said too often last season that Calabrese "was his own worst enemy," because he let his emotions get the best of him. But Taaffe said that Calabrese made progress as last season went along and he showed promise in the start against Texas and in relief against Rutgers in the St. Pete Bowl.
Godfrey was the key piece of UCF's 23-player recruiting class last month. The Miami Central product graduated high school early with an eye toward competing for the starting job at UCF this spring.
Size (5-11, 167) is a concern for Godfrey, but arm strength clearly isn't. He passed for 2,758 and 36 touchdowns as a senior and 7,251 yards in his career to break the mark set previously by University of Miami standout quarterback Jacory Harris.
Said Taaffe: "We're anxious to see if he can step up and meet the challenge as a true freshman."
John Denton's Knights Insider appears on UCFathletics.com several times a week. E-mail John at jdenton@athletics.ucf.edu.