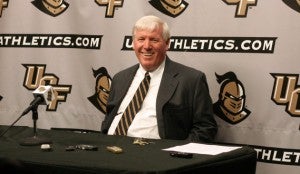 On Wednesday's National Signing Day, UCF head coach George O'Leary scrolled down the dry-erase board just outside his office and picked out nine players he fully expected to be starters for the Knights in the immediate future.
Focused on adding more depth at the quarterback, wide receiver and offensive line positions, UCF signed 19 players on Wednesday on National Signing Day. O'Leary was pleased with the size and with the quantity of talent in the class.
O'Leary feels that the Knights did well despite losing three players to Southeastern Conference and Atlantic Coast Conference schools and having a lot of late turnover among his assistant coaches at UCF. Nearly the entire defensive coaching staff has been remade in the past weeks with Jim Flemming (coordinator), Derrick Ansley (defensive backs) and Tyson Summers (defensive assistant) joining holdover Jim Panagos (defensive line) on the defensive side of the ball.
"I told our coaches with the changes that occurred and the other situations I thought we did an outstanding job of securing talent," O'Leary said. "I think everyone will find that this class will end up being one of the better UCF classes. There are no sexy names, but the history is that most of those (five-star and four-star recruits) don't make it anyway."
O'Leary was disappointed in losing quarterback Jonathan Wallace to Auburn, Harding Harper to Vanderbilt and Beau Hankins to Georgia Tech, but the coach noted that defections showed "that clearly we are on the path with the right kids.'"
O'Leary said UCF acceptance into the BIG EAST helped somewhat, but the true impact of the move into an automatic-qualifier conference will be felt once the Knights are playing BIG EAST games in 2013 and beyond.
"We competed against a lot more BCS schools than we ever have for kids and we won some and lost some," O'Leary said. "When you go up to the Major Leagues, your batting average is going to go down sometimes. We were cherry-picked by some of the SEC schools and I'm sure we're not the only ones that happened to. But I just feel like our coaches did a great job securing a great class."
Foremost among UCF's recruiting class is former Missouri quarterback Tyler Gabbert, former Georgia Tech offensive lineman Phil Smith and a trio of promising linemen from Florida.
Gabbert, the younger brother of Jacksonville Jaguars quarterback Blaine Gabbert, joins the Knights to provide depth and another starting caliber quarterback to the roster, along with promising sophomore Blake Bortles. UCF offensive coordinator Charlie Taaffe led the recruitment of Gabbert and likes that the quarterback comes from a family focused on football.
"With our quarterback situation I thought it was important to find an older quarterback with experience if available," said Taaffe of Gabbert, whose brother was the 10th overall pick of last spring's NFL Draft. "He's been in a college program, been on a college field and he can compete with Blake right away. He's got a strong arm and he's fairly mobile. I sort of compare him to (former UCF quarterback) Brett Hodges because he's a cerebral kid with a very strong arm."
Smith, a 6-foot-5, 292-pound tackle, spent the previous four years at Georgia Tech and comes to the Knights with one year of eligibility remaining. He will be entering a master's program at UCF.
Smith played in 33 games, including 20 as a starter, at Georgia Tech. He was a starter each of the past two seasons for a unit that ranked No. 18 in the country in total offense.
"He was a starter on the (ACC) championship team as a redshirt freshman and he's a veteran who can help us right away," UCF offensive line coach and recruiting coordinator Brent Key said. "He's an intelligent player and he'll be an asset to us as a run-blocker."
Colby Watson, Kelly Parfitt and Michael Campbell should also be big benefits to the Knights along the offensive line. Watson, a 6-foot-5, 320-pound guard/tackle, was highly regarded by recruiting analyst Tom Lemming, who referred to Watson as "a road grader who dominates the left tackle position." ESPN.com rated him as the 16th best guard in the country and the 46th best prospect in the Sunshine State.
The Knights are hoping to have as much success with Watson and defensive end Luke Adams as they did with UCF great Josh Sitton, who was also a Pensacola native. Sitton, who starred at UCF from 2004-07, won a Super Bowl championship ring with the Green Bay Packers last year while starting at guard.
"Colby just told me that he is going to be the next great one to come out of North Florida for UCF," Key said. "He's a big, strong kid who is really tough. I'm stoked about getting him and the other linemen that we have in the fold."
UCF also added some much-needed size to their receiving corps after relying mostly on a smallish group last season. Dareen Owi (6-3), Drico Johnson (6-2), Breshad Perriman (6-3) and Taylor Oldham (6-1) give the Knights a group of big, physical receivers who can go up into traffic and haul in passes.
Owi, a product of Miami Norland, was tabbed by The Miami Herald as the top receiver out of South Florida. Oldham, a Daytona Beach native, impressed the UCF coaching staff last summer in a seven-on-seven passing camp, and they liked what they saw after watching footage of him all season. Orlando's Johnson was a star on the small-school level, while Perriman sat out last season while getting his academics in order.
"The thrust of our recruiting was to get bigger at receiver," UCF receivers coach Sean Beckton said. "We had size prior to last season and we wanted to get back to that. We want those bigger guys like Dareen who can go up and make the tough catch on third down and someone who you can just kind of throw it up and let a kid make a play. We're seeing more and more teams with these big receivers and we know that bigger, stronger guys are better most times."
According to Rivals.com, UCF's recruiting class averaged 2.92 "stars" – the highest such average among schools in Conference USA. But O'Leary warned against fans getting caught up in the ratings systems by various recruiting analysts. After all, some of the best talent ever to go through UCF – namely Bruce Miller, Kevin Smith, Sitton, Jah Reid and Paul Carrington – all came to UCF while flying below the radar as two-star recruits.
Rather than relying on the evaluations of the recruiting analysts, O'Leary likes to judge talent with his own eyes. He has a checklist that grades players based on height, weight and speed and seven other basic categories based on their position on the field. And O'Leary likes what he sees in the 2012 signing class.
"We've always had speed here, but we needed to get bigger. And we needed size with speed and I think we got that," O'Leary said. "I'd say there are six to nine guys in this class who can be three-year starters for us, maybe even more. Then, you surround them with some good, solid football players and you've got yourself a good team. I see some really stout guys and I think we've done well with this class."
John Denton's Knights Insider appears on UCFAthletics.com several times a week. E-mail John at jdenton@athletics.ucf.edu.