The one-size-fits-all approach may work in some situations, but not with reading, according to research out of the University of Central Florida. Beyond the familiar problem of text that is too small for older eyes, researchers have shown that everyone sees the written word differently and that individual text formatting changes can make big differences in reading for work and school.
That's why UCF, Adobe, Readability Matters and Google are collaborating on a new effort to personalize digital reading with the goal of improving people's digital reading proficiency and comprehension.
The collaboration, known as The Readability Consortium, was officially announced today.
Using its members' expertise in machine intelligence, psychology, and vision science, the consortium aims to develop individual reading "prescriptions" for people, which would be contained in profiles that can be distributed across any and all digital reading surfaces.
"We can build you a format to boost your speed and understanding while reading," says Readability Consortium Director Ben D. Sawyer '14MS '15PhD, an assistant professor in UCF's Department of Industrial Engineering and Management Systems.
"We want to link it to your digital reading surfaces as a digital token," he says. "It's like digital eyeglasses for your information, letting you 'see' better because the information is tailored to you."
The work has wide-ranging implications, from improving scholastic abilities in children to assisting doctors poring through medical records, as well as helping to engage the citizenry.
The U.S. Department of Education reports that more than half of U.S. adults perform at the lower levels of literacy, and only one-third of fourth grade students in the U.S. are reading proficiently, making no improvements by eighth grade, according to the National Assessment of Educational Progress Report Card.
Additionally, the United Nations reports that the COVID-19 pandemic has set back educational gains further, with an additional 101 million, or 9%, of children in grades 1 to 8 falling below minimum reading proficiency levels in 2020, with the problem likely not getting better in 2021 and 2022.
The consortium hopes to help reverse these trends, and already the results have been promising, Sawyer says.
"Early studies have shown that individuation of text formatting can accelerate some adults' reading by more than 25%," he says.
And in one study, changing the font cut reading times in half, meaning a massive tome such as Tolstoy's War and Peace could be read in 18 hours rather than about 36, Sawyer says.
Key to these successes is adjusting typography to a person's optimal format.
"This idea of individuating text, matching to the individual the way that we do clothing or eyeglasses, is very new," Sawyer says. "And the gains from it are significant."
To help find a person's reading prescription, researchers are using the Virtual Readability Lab, an online reading test, but they hope to one day make the process automatic, using eye tracking technology and artificial intelligence.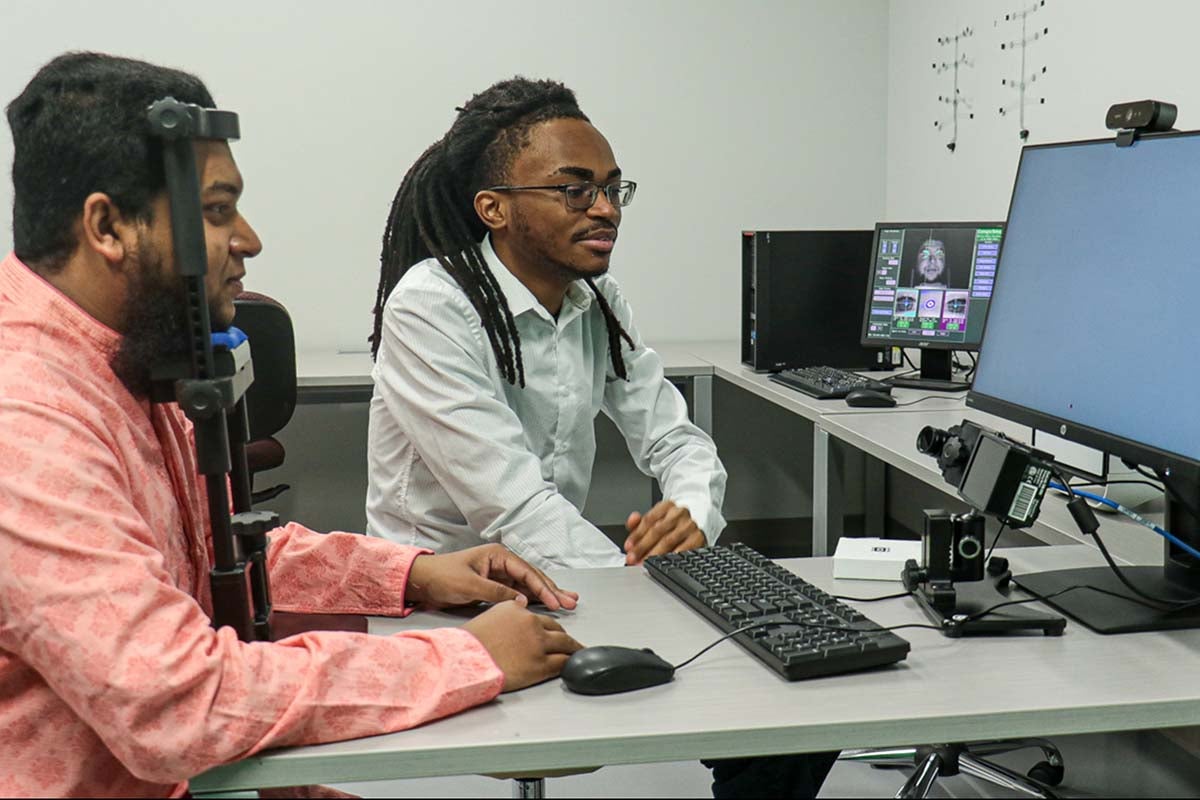 "Ideally, your machine would watch you as you read," Sawyer says. "And it would adjust the text in real time."
Facilitating this process is the ability to change previously fixed digital text, an option available on software such as Adobe Acrobat Reader mobile app through its AI-driven Liquid Mode. The process puts control of the reading format in the readers' hands, allowing them to adjust aspects like font size and character spacing, thereby undoing fixed formatting constraints chosen by a designer.
"Adobe is proud to be a founding member of The Readability Consortium," says Rick Treitman, entrepreneur-in-residence at Adobe. "We're focused on how our technology can transform the world and contribute to society."
Treitman says the purpose of the consortium is to find answers, develop new research techniques, build a data set for reading researchers and inform the creation of new controls for digital reading.
Zoya Bylinskii, a research scientist at Adobe Research and the driving force behind Adobe's readability research, says the effort is about designing diverse reading experiences.
"What better way to do it than to bring a diverse set of experts to the table?" she says.
Itai Vonshak, head of Google Design Platform, says he is proud that Google is a member of The Readability Consortium because of the urgent need to make reading easier, more accessible and personalized.
"Millions of adults and young people lack basic literacy skills," Vonshak says. "And this is personal for me as I experience a form of dyslexia and my first language is not based on the Latin alphabet. The Readability Consortium is championing new approaches to research and bringing the 'reading science' community together in understanding how to increase reading proficiency and digital inclusion around the world."
The impetus for the project came from consortium member, Readability Matters, a nonprofit formed to promote the use of technology to change reading formats and improve reading outcomes.
"We've been involved with this work since the early 2000s," says Readability Matters co-founder Kathy Crowley. "After hearing struggling children read with greater fluency and expressiveness using small changes to text format, I realized that this could be a game-changer for education. It turns out that personalized reading formats can improve reading effectiveness for both children and adults. Technology can really make a big difference in implementation."
Readability Matters has received support for their work from Adobe, who has partnered with Sawyer's lab to help provide rigorous testing and advancement of the readability research and technology.
Current studies the consortium is undertaking include:
Looking at ways to improve reading proficiency in school children
Ways to help physicians improve their reading under time pressure
Understanding how to improve reading in extreme environments, such as Antarctica and space
Stephanie Day, a research scientist with the consortium, is leading the work with school children, which will start this spring.
"We're going to be looking at how personalized reading formats work for them, how recommendations may change over time and look at how this might impact kids who are struggling readers versus kids who have stronger reading skills," Day says.
Sawyer says he hopes the work will help level the playing field for all types of readers.
"Information overload is a huge part of our daily lives, and our ability to engage with all of that information is increasingly tied to our opportunity in life," he says. "It's important for children who are developing their reading skills and for adults accessing information. There's an advantage to being able to read and assess more information effectively."
The consortium is housed at UCF and administered by the UCF Research Foundation. Members currently include Adobe, Readability Matters, and Google, and they hope to grow their ranks with additional members interested in advancing the research, development, and application of the technology.
Elizabeth Klonoff, vice president for the Office of Research at UCF, says this consortium highlights the caliber of UCF's faculty and the power of collaboration.
"At UCF we look for innovative ways to solve problems and improve lives," she says. "We have the potential to make a big impact on reading comprehension, which is the vehicle for knowledge acquisition. I can't wait to see what the collective effort will deliver."
Sawyer received his doctorate in human factors psychology and master's in industrial engineering from UCF and completed his postdoctoral studies at the Massachusetts Institute of Technology. He joined UCF's Department of Industrial Engineering and Management Systems, part of UCF's College of Engineering and Computer Science, in 2018. He is also director of VRL, a readability focused research laboratory, LabX, an applied neuroscience group addressing human performance, and a joint faculty member of UCF's School of Modeling Simulation and Training.