If you were to parachute into the parking lots around Kennedy Space Center (KSC), you might believe you landed on an extension of UCF's campus. Knights license plates and black-and-gold decals are everywhere.
"You should see it here during football season," says Wes Mosedale '07MS, senior test director for NASA. "That's when the colors really come out."
The UCF logos at KSC are symbolic of deeper connections: between the university and the space program, between the past and the future, between Earth and outer space, and between the Apollo missions that sent men to the moon for the first time and the Artemis 2 mission that will send men and women to the moon at the end of 2024.
"There's a lot of work to do between now and then," Mosedale says.
These three UCF alumni are taking it one day and one task at a time. For them, Artemis 2 is as personal as it is historic.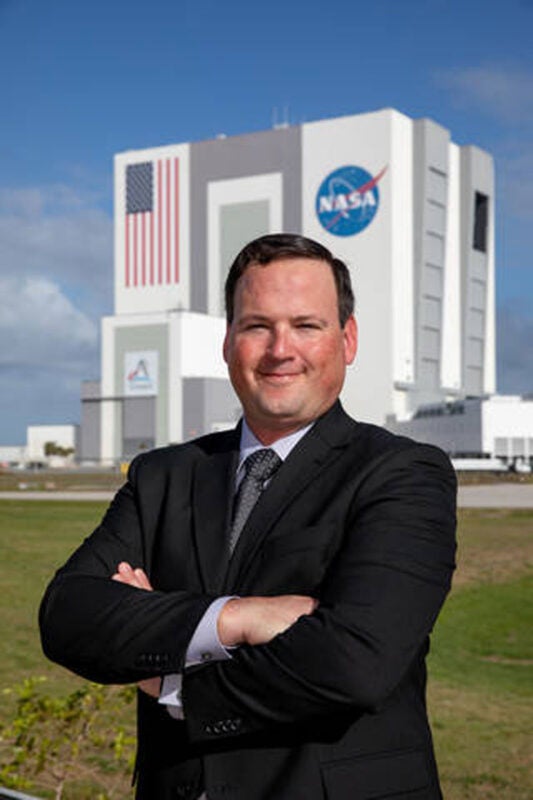 THE GRANDSON: WES MOSEDALE '07MS
Position: Senior test director
Major: Industrial engineering
This has always been a dream of mine.
I grew up on the Outer Banks of North Carolina, not far from Kill Devil Hills, where the Wright Brothers tested their first planes. Most of my interest, though, came from my grandfather. He flew Air Force One for President Kennedy. In fact, he brought President Kennedy to the Cape during the height of the space race. He passed away years ago, and I wish I could hear his stories again. I could tell him a few stories from my perspective, too.
At the moment, I'm wearing two hats.
We're applying lessons we learned during years of work on Artemis 1 to the Artemis 2 mission. A lot of us are increasing the scope of our work because a crewed mission is so complex. This time I'm involved in ground system testing and the integration of support teams as well as launch training. We'll create a launch-day atmosphere for about 30 countdown simulations, including worst-case scenarios, to make sure everyone is in sync for the real thing.
There's nothing more exciting to me than launching rockets.
Before Artemis, I had the opportunity to support close to 30 shuttle launches, but these rockets are now the biggest ever built. I can walk over to the vehicle assembly building (VAB) and see first-hand the magnitude of what we're doing. Sometimes I go there as an engineer to familiarize myself with the systems and hardware. Other times, the kid in me just wants to look at that rocket.
UCF came to me for my master's degree.
Two nights a week, professors would drive out and teach engineering management classes at our visitors center so we could complete the accelerated program while focusing on our full-time jobs here. It's a smart program because we learned without leaving this work environment.
I still use one of the first lessons from that program.
Dr. Tim Kotnour instructed us on PDSA: Plan, Do, Study, Act. It's the same process we use for Artemis. We launched the first rocket to test and validate systems, and now we're distilling everything we learned into actions for Artemis 2. Dr. Kotnour was on a Teams call with us a year ago. I hadn't seen him in 14 years, and the first thing I said, was, "Hey, Dr. Kotnour: PDSA, PDSA."
Artemis 2 has multi-generational meaning for me.
I have two daughters — 8 and 5 years old — and this mission is helping to lay the groundwork for their generation to sustain life away from Earth. But there's also the connection with my grandfather. He played an indirect part in us getting to the moon the first time and now I have a role in getting us back there, with bigger goals beyond.
THE LOCAL GIRL: PARIS BISHOP '19
Position: Test conductor and recovery operations manager in Pacific Ocean
Major: Aerospace engineering
I'm among the lucky few to be part of both ends of the Artemis 2 mission.
Because of my dual certifications, I'm involved with Artemis flight hardware processing, testing and rollout before launch … and then I'll manage the landing recovery in the Pacific Ocean. It's hard to believe that I'll see this historic mission first-hand from pre-launch to splashdown.
For Artemis 1, I was in multiple places, too.
On launch day we had about 90 people in Firing Room 1. When we reached t-minus-12 hours my responsibilities were complete. Instead of taking up space in the Firing Room, I drove home to watch with my family. That's how I watched shuttle launches growing up near the Cape — with the windows of our house rumbling. For Artemis 1, I watched from our yard. Then I tried to get some sleep because I had to fly to San Diego the next day and prepare for the ocean recovery.
We're already practicing Artemis 2 recovery on a big Naval ship.
Our support teams go out for seven days at a time, pulling a capsule just like Orion from the Pacific Ocean. There's so much public attention on the launch, but the landing recovery is sensitive, too. We were out there when the unmanned capsule from Artemis 1 came out of the sky. That was amazing. But the capsule for Artemis 2 won't be a training article. There will be people in it.
My job at a local restaurant led to this job.
During college I worked the 6 a.m. shift as a server to pay for tuition. People from the Cape would come in for breakfast and encourage me to think big. One of them connected me for my first interview. Here I am.
I still can't believe I'm here sometimes.
In community college, I considered all kinds of careers: marketing, TV production, even acting. I didn't know what an engineer did, but I did like math. When I enrolled at UCF, I decided to get back into math and give this program called "aerospace" a try.
My roles say something about how far the space program has come.
This used to be for someone with multiple degrees and more experience. My first week on the job, though, I saw women in prestigious leadership roles. Working around all these great women inspired me to learn more and dream bigger.
Being an astronaut is always in the back of my mind.
I'll need to earn my master's degree and put the work in. But Artemis 2 is the first of a lot more launches to come. So sure, send me to the moon.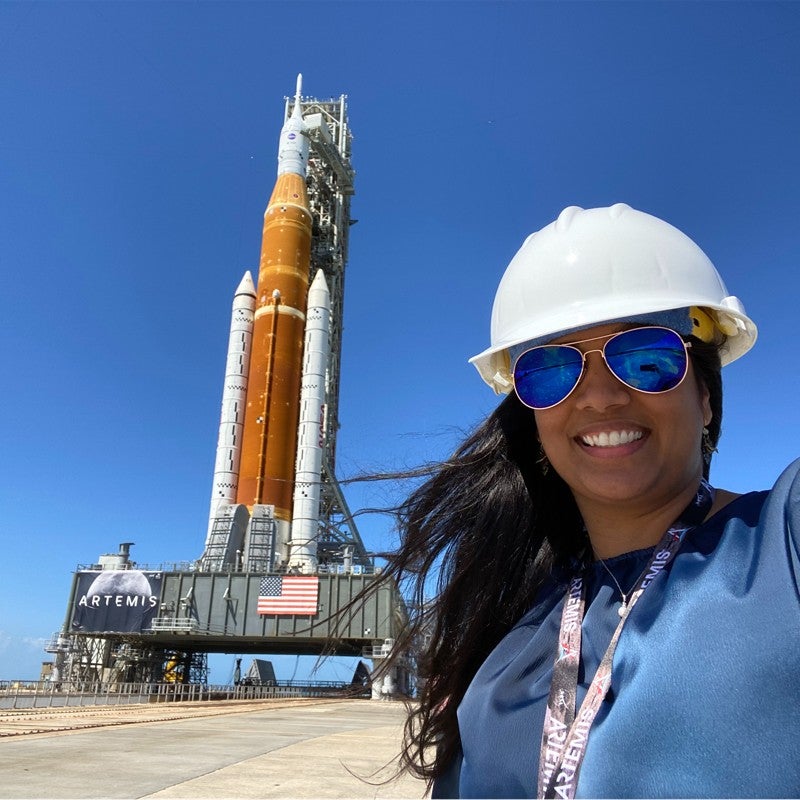 THE NEW MOTHER: LAURA POLIAH '10 '12MS
Postion: Orion test engineering lead
Majors: Aerospace engineering and mechanical engineering
My life has changed since Artemis 1.
Three months after the mission, I gave birth to my son, Isaiah. We live in Merritt Island, so whenever there's a launch now, I seize the opportunity to take him outside and feel the rumble. I know he'll appreciate it more as he gets older. Someday, when he sees future Artemis missions, he'll say, "My mom helped to create the capability for getting humans to space."
See the very top of the rocket?
That's the Orion spacecraft, which is comprised of the crew module, service module and launch abort system. It's what our team tests — every system, one at a time, and then again after it's all integrated. The testing ensures the spacecraft can withstand a trip into space and back. Some of the tests include vacuum and thermal tests to simulate extreme differences in pressure and temperature, acoustic tests to see there's no loss of function from intense vibrations at liftoff or throughout the mission and end to end tests to double-check that the systems work after they're assembled. The tests are critical to make sure everything holds together for the astronauts for Artemis 2 and beyond.
No one knew the name of the Artemis mission when I started 12 years ago.
The shuttle program was ending and a new excitement was starting to grow about something else — something big. I started working on Orion when the first structures for Artemis 1 came in, and that's when it hit me: I was working on hardware that would someday be in space. We're always worked ahead. When Artemis 1 launched, our test team was already performing Artemis 2 and 3 testing.
My interest in space started with books.
As a child I loved reading — books, magazines, cereal boxes, anything with words. One day I was picking up some books off the floor of the library and saw a cover with multiple galaxies. It looked interesting, so I opened the book and saw a question: "How do you know if there are planets and other solar systems?" I thought it was amazing that people do this as a job.
Mom had different ideas for my future.
She and my dad are of Indian heritage and grew up in Trinidad. They preferred I become a doctor or accountant. When I told mom I wanted to go into aerospace engineering at UCF, she jokingly said, "What are you going to do with that degree? Are you going to take me to the moon?" I distinctly remember that conversation now and smile because I do have a role in sending people back to the moon, and she's very supportive of my career.
What we're doing is instrumental for the future of society.
I've had the amazing privilege to see the Orion spacecraft come together, piece by piece, from the beginning. The Apollo missions gave us tremendous benefits, like advances in medicine and technology. We've already learned so much from the first Artemis launch that I have no doubt these missions will enrich lives for generations in ways we cannot yet comprehend.