I remember my experience of Woodstock like it was yesterday. It was August 1969 and I was 19 years old.
That four-day experience opened my mind to a lot of things going on in our country and the fighting in Vietnam. I lost a classmate during that time. He was fighting for our freedom.
I'm from Saratoga Springs, New York, and my younger sister, Edie, and best friend, Barbara, were vacationing on Cape Cod, Mass., where we met three boys from Connecticut. They were nice and we had fun hanging out with them on the beach.
Woodstock Music and Art Fair, considered one of the most pivotal events in music history, took place when an estimated half million people converged Aug. 15-18, 1969, near Bethel, N.Y., to hear 32 leading and emerging performers.
On Thursday, Aug. 14, they told us they were leaving Cape Cod to go to Woodstock on Friday and asked us if we wanted to go along with them. We had no idea what Woodstock meant. They told us that Woodstock was going to be the greatest and largest music festival ever. There would be great musicians performing and lots of people our age.
To me it was just something to do at that time during the summer. I was young, impressionable – and bored. I didn't know any of the bands before going to Woodstock.
Edie, Barbara and I got in my VW Bug and followed them to the festival. It took us more than eight hours to get to the festival about 270 miles from Cape Cod. The traffic on the New York State Thruway was bumper to bumper and moving slowly. The cars were full of young people all heading to upstate New York where Woodstock would be held. In spite of the traffic jam, everyone was friendly, smiling and seemed to be happy, including us.
When we finally arrived on the road leading to the festival grounds just a few miles off of the New York State Thruway, traffic just stopped and no one was going anywhere, so I pulled off the road and parked my car behind other cars.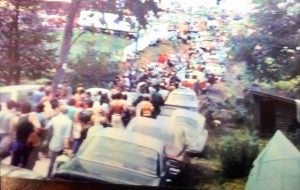 It remained there for three days.
It was a beautiful warm sunny day when we arrived and everything around us was green. I cannot remember how far or how long it took us to walk to where the music was being played, we just happily followed the crowd.
Barbara was the only one who had a ticket to get in. She bought it for $17 from one of the boys we met in Cape Cod. When we got to the gate, we found that the fence had been torn down and it was now a free concert. Edie and I were relieved, but Barbara was mad that she got "robbed." However, she still has the ticket today.
We felt like we arrived. There were so many young people enjoying each other's company.
We found a place to sit, which was halfway up the hill and dead center of the stage. We felt like we arrived. There were so many young people enjoying each other's company.
Richie Havens sang and played his guitar about three hours. My favorite song of his was Freedom, (Motherless Child). It was mesmerizing.
We did not bring any food with us but heard that there was a place at the top of the hill called the Hog Farm, where we could purchase food. After fighting the crowd to the Hog Farm we were told they were out of food, so we decided to go home, but on our way back to my car we spotted an Army helicopter. They were airlifting supplies to us hungry kids. All I can remember is how thankful I was for peanut butter and jelly sandwiches and water. To my recollection, that is all we ate for three days.
The boys we followed to Woodstock had disappeared into the crowd and we never saw them again. Fortunately, Edie, Barbara and I managed to stay together.
Back on the hill, everything was going well until it started to rain off and on, and the beautiful green grass on the hill became muddy. We stayed on the hill even though we were wet, dirty and smelly, because we didn't want to miss any of the performances. However, at night we did go to my car to sleep.
As time went on, the conditions worsened day and night. The rains continued and it got very muddy and the Port-o-Sans were disgusting.
In spite of the horrible conditions we enjoyed the music. Performances by Arlo Guthrie, Sly & The Family Stone, Santana, The Band, Jimi Hendrix, and Crosby, Stills, Nash & Young were our favorites.
We never saw anyone in the crowd who was having sex, high on drugs or smoking pot. However, the concert organizers warned us repeatedly over the loud speakers that there was bad acid going around and for us to not take anything from anyone.
My husband tells everyone we meet on our travels around the globe that I went to Woodstock – but mischievously adds that if they had ever seen the picture of a young girl with the long brown hair swimming naked in the lake, it was me.
I was young and crazy but not that crazy.
Adele LaBrake Spann '97 is both a UCF alumna and former employee of 35 years. She began working in the College of Business in 1979, followed by a few years in the College of Education (now College of Community Innovation and Education), and then 30 years in the Department of Music, where she retired in 2014 as the administrative assistant. During her tenure at UCF, she earned a bachelor's degree in liberal studies.