Longtime professor and renowned modern artist Walter Gaudnek died Sunday, Oct. 23, at the age of 91. Gaudnek taught in the art department at UCF for 50 years before retiring in 2020. Throughout his extensive professional career, he received worldwide acclaim as one of the main representatives of pop art that uses religious imagery.
Gaudnek was born in 1931 and endured forced labor as a child in Czechoslovakia following World War II. He later studied at the Academy of Fine Arts, Munich, and in 1957, received a Fulbright Scholarship which brought him to the United States. As an artist in New York amidst the art movements of the 1960s, he proclaimed his philosophy of polymorphism — the idea that a painting is never finished and can be continuously evolved.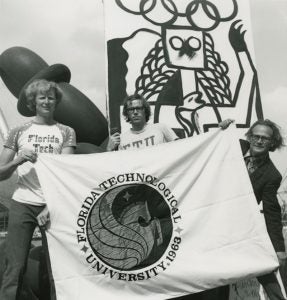 He emerged in the public eye after being featured in the New York Museum of Modern Art (MoMa) New Talent Exhibition, and later received a "best show of the year" review from the New York Times for his installation, Unlimited Dimensions. Gaudnek received a doctorate from NYU before he began teaching at UCF in 1970, where he helped establish the art department and taught for the next five decades.
Gaudnek's work has been featured in exhibitions around the world, from Sao Paolo to Florence. Today, his work is held in permanent collections internationally, including the John C. Hitt. His large series of paintings titled The 10 Commandments were donated to Pope Francis, and he founded several galleries and museums internationally, including the Gaudnek Museum in Altomünster, Germany, where he received a Public Service Medal in 2011.
Throughout his teaching career, Gaudnek received numerous awards from UCF. In 1990, he was granted the Distinguished Researcher of the Year Award and received a 50 Year Service Award in 2020. In 2021, he was awarded Professor Emeritus. Before his retirement from UCF, work from throughout Gaudnek's career was celebrated at the UCF Art Gallery with a solo exhibition, GAUDNEKOLOR POP, curated by Gaudnek and his daughter, Yve.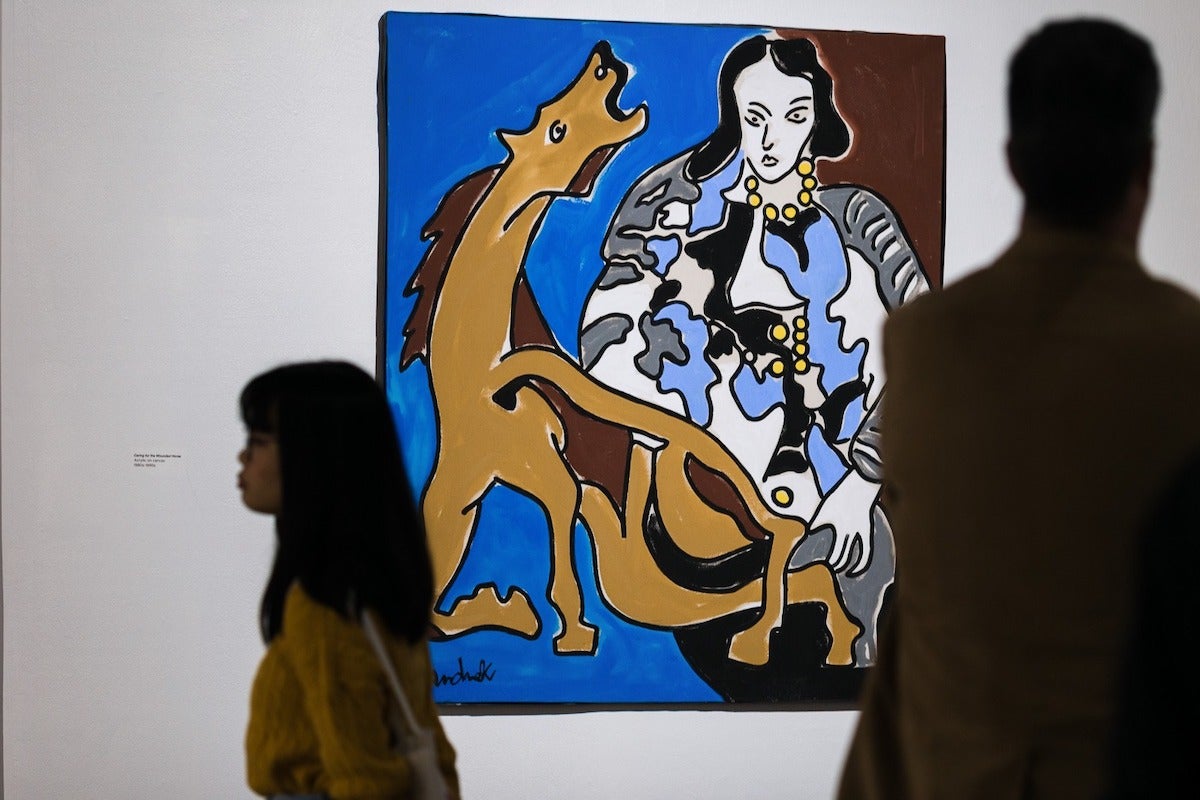 Gaudnek is remembered by his former students and co-workers as a unique artist and professor. He encouraged students to fulfill their artistic potential while promoting diversity and openness, challenging students to see from different perspectives.
In a 2020 article by Matt Palm from the Orlando Sentinel, Rudy McDaniel, director of the UCF School of Visual Arts and Design said of Gaudnek, "Because he's one of a kind, I think he recognizes students as individuals. Art is most powerful when it is personal. His ability to bring that out in students makes him not only a great artist but a great professor."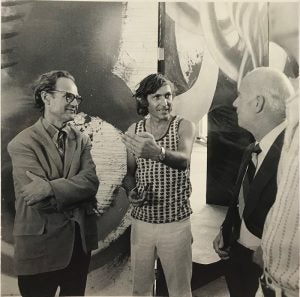 Former student Jean-Claude Rasch remembers Gaudnek as one of his most inspiring teachers.
"He taught me how to be an artist, not just a painter," Rasch says. "He definitely opened my eyes as to what it takes to push myself as an artist."
Robert Rivers, current art professor, remembers Gaudnek as a cornerstone of the art department at UCF. He recalls a quote about Gaudnek from Mark Price, former director of the School of Visual Arts and Design.
"Walter overcame an early family tragedy as a boy in Europe, brought on by World War II. With talent and just the right measure of eccentricity and willpower, he became a recognized New York artist," Price said. "He then brought his adventurousness and enthusiasm to help birth a dynamic art program at the tiny new university that would become UCF. Thank you, Walter."
UCF honors Gaudnek's contributions to the School of Visual Arts and Design as a founding member of the art department, an innovative artist and a beloved professor for many generations of students.