UCF will host a series of interactive events this week to raise awareness about safety and well-being.
Safe Knight Week, which runs March 2-5, is an opportunity to learn about self-care, violence prevention and emergency preparedness. The goal for the week is to provide health and safety-related learning opportunities that will be useful during the following week's spring break and beyond.
Safe Knight Week carnival kicks off the festivities and will showcase safety and wellness services at UCF and throughout the community.
The carnival will be from 11 a.m. to 2 p.m. Monday at Memory Mall. There will be activities to de-stress, a showcase of emergency response vehicles and tools, and prizes to win.
Tuesday's highlights include a Let's Be Clear dessert party that will give attendees the opportunity to learn about the UCF campaign that works to prevent and address sex and gender-based discrimination, harassment and violence. The Title IX team will also be available, while students enjoy delicious treats.
Wednesday's events include a Shield Yourself Pool Party at the Recreation and Wellness Center lap pool from 11 a.m. until 2 p.m. The pool party with feature fun games, while also teaching the importance of shielding yourself from the sun and UV rays to protect against the threat of skin cancer. Later that night, Let's Be Clear will host Trivia Knight at Burger U from 6-7 p.m. Bring a friend and take the Let's Be Clear challenge — how much do you know about healthy relationships and staying safe on campus? Participants can earn Let's Be Clear shirts and other great prizes.
Thursday's will feature an #Adulting session at UCF Downtown from 11 a.m. until 2 p.m. Stop by the Seneff Plaza courtyard to learn about important resources and tools to help on the path to becoming a functioning adult.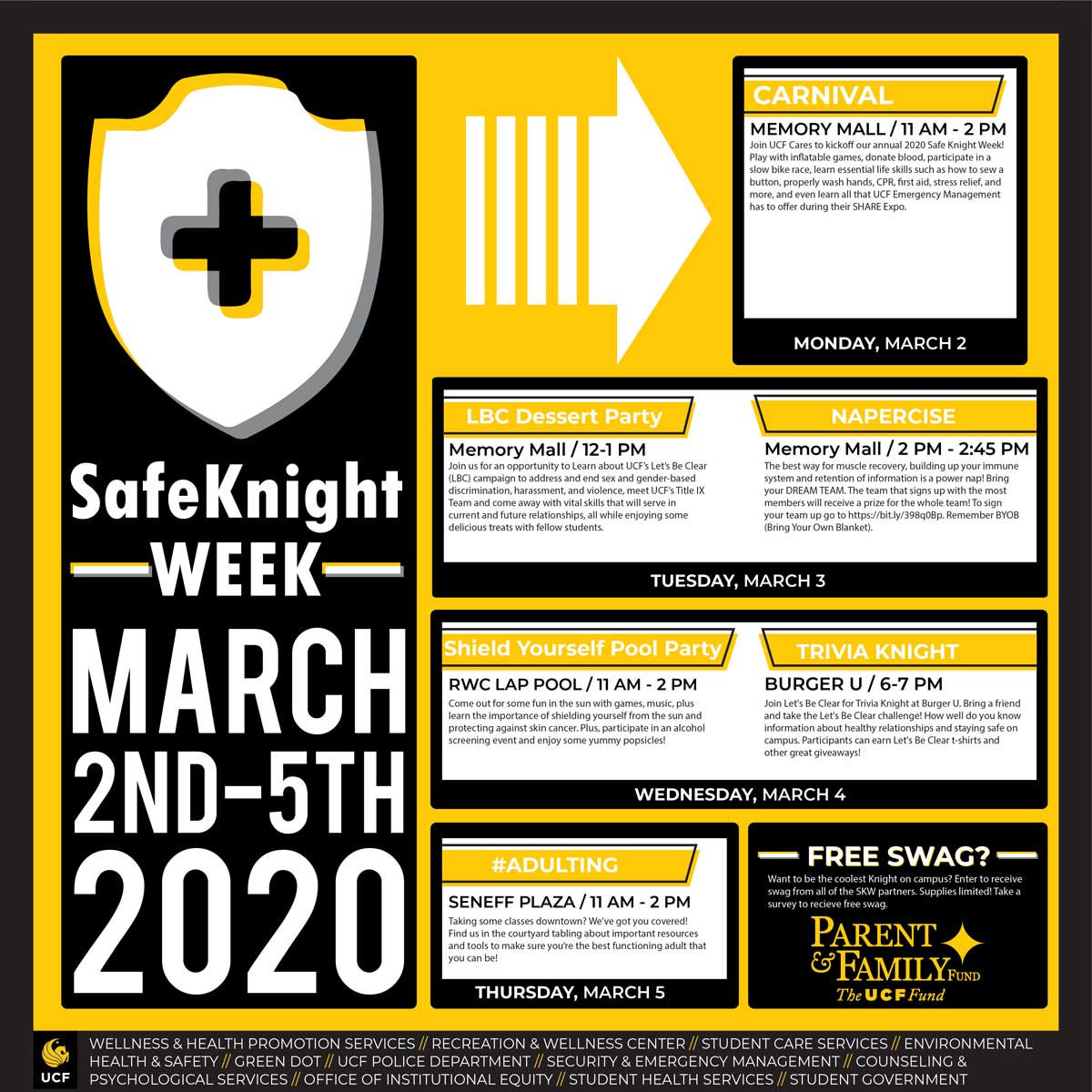 View the UCF Event Calendar for a full listing of the week's activities.
Safe Knight Week 2020 is a collaboration among Wellness and Health Promotion Services; Recreation and Wellness Center; Student Care Services; Environmental Health & Safety; Green Dot; Student Health Services; UCF Police Department; Department of Emergency Management; Counseling & Psychological Services; Office of Institutional Equity; and Student Government.