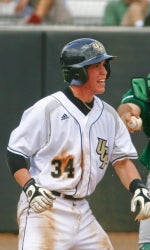 Already with the most homers in a single-season, senior Chris Duffy (Orlando, Fla.) tied UCF's career home run mark Saturday to help guide the Knights to a 17-6 run-rule victory at Tulane in the final game of the 2010 campaign. Duffy launched a two-run shot before crushing his first-collegiate grand slam in his last at-bat as a Knight in the seventh and final inning, giving him 21 dingers in 2010 and 43 in his four years in Black and Gold.
UCF closed out its season with a 33-22 overall record and a 10-14 mark in Conference USA, which goes down as the most C-USA victories by a UCF squad since joining the league in 2006. The Knights also ended the Green Wave's chances for a postseason berth Saturday as Tulane completed its campaign with a 32-24 record and a 10-14 mark in C-USA.
"I've been working so hard, and just to have a big game like this and go out with two homers was great," said Duffy. "There is not a better group of guys than this team and especially these seniors. We fought to the end and gave it all we had. We fell a little bit short but we have nothing to hang our heads about. In this last game, we showed what type of team we are and what type of team we can be in the future. It's been a blessing to play with these young guys. I'm very fortunate to be on a team like this."
Seniors Duffy, Shane Brown, Matt Goodyear, Matt Manning and Cory Weech all donned the Black and Gold uniform for the last time Saturday. And Duffy and Brown finished as one of the top UCF hitting duos of all-time.
Duffy went 3-for-3 with six RBI, a double, two homers and three runs in the finale. That enabled him to finish with a .447 batting average, the highest by any Knight in school history while it also gave him the C-USA regular-season batting title. On the UCF single-season chart, Duffy finished first in batting average (.447), homers (21), RBI (81) and slugging (.850), and also in the top-10 in hits (92), total bases (175) and on-base percentage (.539). For his career, Duffy stands in first place in homers (43), fourth in slugging (.585), fifth in RBI (182) and total bases (416) and ninth in hits (235).
Possibly the most consistent hitter ever in a Knight uniform, Brown of course ended his collegiate career with a 14-game hitting streak as he notched his sixth double of the series vs. the Green Wave Saturday. The Winter Park native had the fourth-highest batting average ever by a Knight with a .428 mark this year, while he also ranks in the top-10 in hits (89), doubles (25), total bases (144), slugging (.692) and on-base percentage (.541). In four years as a Knight, Brown posted a .363 career batting average, good for the sixth-best at UCF. He would also rank among the top-10 all-time in slugging (.565), on-base percentage (.464), runs (152), hits (251), doubles (63), homers (25), RBI (148), total bases (391), sac flies and HBP (first with 55).
And on the hill, Goodyear, Manning and Weech combined for 93 total appearances during their careers. In 2010 alone, the trio struck out 31 batters in 38.1 innings.
"Today's game was a testament to the five seniors and how they have done a tremendous job of leading this team throughout the entire season," said second-year head coach Terry Rooney. "Today was a great way to send off these five guys who have given so much to this program over the last four years.
"From a program standpoint this was a very large win because for the second year in a row we set the record for the most wins we've ever had in the history of Conference USA. Even though we fell a little bit short of making the C-USA Tournament, the No. 1 thing you are looking for when you're continuing to build a program is progress. And we certainly have progressed when you look at our overall record. To have consecutive years of breaking the record for C-USA wins and with the number of returning players we have coming back, those two things definitely proves that this baseball program is on its way back to the national level."
Saturday was a fitting way to end the season as UCF outhit Tulane 19-11, showing that from game No. 1 to game No. 55 that its offense was easily one of the best in the country. In terms of UCF history, the 2010 Knights broke school records with a .343 team batting average, 78 homers and a .538 slugging percentage.
Even though the seniors will be missed in 2011, there will be a lot to forward to next year. The Knights' unanimous top-10 national recruiting class finished its first go-around of Division I baseball and proved it has a ton of talent.
UCF's freshmen had 47 stolen bases this season in 61 attempts. Last year, the Knights squad had just 24 swipes in 45 total stolen base attempts as an entire team. And UCF serves as the only school in the country to have five freshmen make at least 35 starts in the batting order.
The freshmen produced with the aluminum in a big way as well. Chris Taladay, Ryan Breen, Darnell Sweeney, Ronnie Richardson and Austin Johnston combined to go 308-for-940 for a .328 batting average among them. That includes an incredible 5-for-5 day with four runs scored by Sweeney Saturday. The shortstop dominated Tulane, boasting an .846 average in the three-game set with 10 RBI and eight runs.
On the hill, Joe Rogers and Brian Adkins went 8-5 together with eight saves and 76 strikeouts in 97.2 innings.
And in 2011 there are several returning sophomores and juniors that will join the freshmen. That list includes catcher Beau Taylor (.354, 7 HR), first baseman Jonathan Griffin (.299, 13 HR), infielder Derek Luciano (.342, 26-for-76), outfielder Alex Friedrich (.295, 18-for-61), catcher Keith Simon, infielder Michael Holmes and outfielder Kevin Vasquez.
Meanwhile, a host of pitchers are set to return, highlighted by Bryan Brown (4.81, 2-2), Brennan Dobbins (5.13, 3-0), Chase Bradford (5.59, 4-3), Nick Cicio (5.64, 4-3), Owen Dew (5.89, 5-3), Johnny Sedlock (5.95, 3-4), Alex Besaw (2-2, out for the majority of the year with an injury), J.M. Blake, Gregg Cooke and Jack Sterritt. And two-way player D.J. Hicks (.301 BA, four wins in 2009) sat out most of 2010 with an injury.
On Saturday, Taylor extended his hitting streak to 21 games and will carry that on into next year. That stretch gave Taylor sole possession of the third-longest streak in UCF history. Also with the stick, Richardson delivered a three-run jack in the first inning as every Knight had at least one hit.
The most powerful offense in C-USA showed up right away as UCF batted around in the first inning. The first six hitters reached, led off with a double from Shane Brown, a single by Sweeney and a three-run blast by Richardson. Taladay and Johnston also produced a RBI, while another run scored on a wild pitch to make it 6-0. Tulane answered immediately, though, plating a pair of two-out runs in the bottom half.
The runs continued to pile up as a Griffin sac fly scored Sweeney in the second and Breen brought in Taylor with a RBI single in the third. The Green Wave added one in the bottom of the third, only to have Duffy pound home run No. 20 to right-center, a two-run job that pushed the advantage to 10-3 in the fourth. Following Tulane's fourth run in the fourth frame, Sweeney produced another hit to score Taladay in the fifth.
Now ahead 11-4, starting pitcher Adkins tried to get through five in order to be in line for the win but was only able to get one out in the fifth before getting into trouble and allowing one run, giving way to Dobbins. Tulane would load the bases and Nick Boullosa appeared to rip a RBI double into left-center, but the UCF defense was shaded perfectly and center fielder Richardson made the line-drive catch to end the threat.
Even with Tulane getting a run here and there, UCF was doing the same and pushed its lead to 12-5 in the sixth on a RBI single from Taylor to permit Duffy to touch home. Another run by the Green Wave in the bottom half did not hurt since the Knights worked their offensive dominance one more time in the seventh. Aided by three walks from Tulane pitching and Sweeney's fifth base hit of the afternoon, the Green Wave witnessed Duffy stride to the plate. Not able to pitch around him since the bases were juiced, the senior had one more home run left in his stroke, hammering his first collegiate grand slam to center field. That pushed UCF's lead to at least 10 runs through seven inning, giving the visitors the run-ruled win.
This summer will feature a lot of updates on the Knights, including postseason awards, the MLB Draft, summer league statistics, Knights in the pros and the release of next year's recruiting class in August. Check UCFAthletics.com often for all of the details