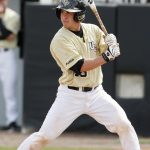 When the final out was made in Tallahassee on Sunday and UCF's season ended with a 12-5 loss to Alabama in the NCAA Regionals, coaches, players and fans were disappointed the ride was over. The 2011 Knights restored what had been a tradition at the school.
That tradition was a good regular season and spot in the NCAA Tournament. And as the team boarded its bus back home late Sunday afternoon, there were dejected players who yearned to play on and yet this year's team might be remembered for establishing the program among the nation's best once again.
Terry Rooney has never hid the fact his goal is Omaha and the College World Series, every year. And what once was a nice sign on a team clubhouse door or a plaque on a the table in his office, Rooney's team now believes that goal is possible and has his returning players anxious to take the next step in 2012.
This past season saw many highlights that included the incredible season of Jonathan Griffin, who belted out 19 home runs. Griffin hit .343 and played spectacular defense. His power mate, D.J. Hicks, finished the year with 14 homers and led the team in batting at .351. Catcher Beau Taylor rebounded from a mid-season bump in the road to finish strong at .325 and become one of the team's hottest hitters in the postseason.
The season saw two big wins over highly ranked Florida and Rice, a season sweep of Stetson and victories over FSU and other NCAA Tournament teams. UCF returned to the national polls during the season and had an RPI in the top 25 and a strength of schedule in the top 30 for the final six weeks of the season.
The 2012 version of the Knights will have a new look. Seniors will move on and the amateur draft will impact several juniors and some key members of Rooney's incoming recruiting class. But there is a sense around Conference USA and in college baseball that UCF has returned to the stage it enjoyed during the 1990s, where it was a regular in the postseason tournament and a team opponents did not want to face.
This offseason will find UCF beginning the first phase of its stadium expansion. The cosmetic work at the ballpark is another sign of UCF's commitment to baseball and its path of growth. The plan to expand the stadium has been part of Rooney's pitch to recruits and fans that UCF's baseball program is a growing power. An expanded ballpark will allow Rooney to schedule more top-notch opponents and host an NCAA Regional.
While this year's ride ended short of Omaha, the Knights have a lot to build on and 2012 should be a strong season and don't be surprised to see UCF a regular in the national polls and back in the NCAAs, where Rooney believes his team should always be.
Knights notes and more: Kudos to the regional organizers at FSU who hosted a great regional. Tallahassee has hosted many times before and crowds were strong and the atmosphere was great. It also highlights the advantage of hosting. There is no doubt an expanded stadium makes UCF an ideal location as a future site…Football season inches closer and before you know camp will open. BYU, UCF's opponent in the fourth game this season, has invited me to their national media day (which I cannot attend) in July in Provo, Utah. The event includes interviews with players and coaches and former BYU Coach LaVelle Edwards. The media day is scheduled for eight hours. That's a lot of time for a media day…ESPN appears to be fully on board with using "UCF" in all of its scores and mentions as was the case this weekend for the baseball regional…Final thought: Ever forget your room number at a hotel and walk up and down a hallway trying several rooms with your key? Yup, that was me this past weekend.
Marc Daniels' From the Press Box runs several times per month on UCFAthletics.com. Listen to Marc during UCF football, men's basketball and baseball radio broadcasts on the UCF Sports Network. Each weekday, Marc hosts The Beat of Sports on ESPN Radio 1080 in Orlando.