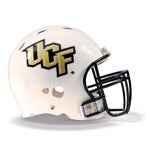 A limited number of tables and individual seats are available for the 2010 UCF Football Countdown To Kickoff Luncheon presented by Bright House Networks, to be held Thursday, Aug. 19 at the UCF Arena from 11:30 a.m. to 1:30 p.m.
Last year's Kickoff Luncheon sold out, and the same is expected for this signature UCF football event.
"Last year's event was the perfect kickoff to our season, and I can't wait to start the 2010 season with the same enthusiasm and community support," head coach George O'Leary said. "Our fans and community supporters are so important to our success, and I look forward to talking about the season and introducing our talented student-athletes. It will be a great lunch."
The Kickoff Luncheon will feature O'Leary and the entire 2010 UCF football team, along with the Marching Knights, UCF cheerleaders, KnightMoves and Knightro. UCF President John C. Hitt and Bright House Networks Central Florida President Chris Fenger will host the event.Tables of eight can be purchased for $500 and individual tickets are $50.
Table purchases include up to two players and/or coaches sitting with guests during lunch. Please call UCF at (407) 823-3901 to make your table reservation. More information on this event is available online at UCFAthletics.com.
Registration will open at 11 a.m. and parking is free for attendees in the Garage D, which is adjacent to the UCF Arena.
Proceeds from the UCF Football Countdown To Kickoff Luncheon will benefit scholarships for student-athletes.