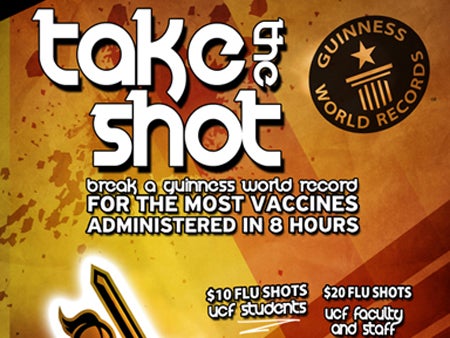 Students, faculty, staff and the community are invited to roll up their sleeves inside the UCF Arena today, Wednesday, Sept. 30, from noon to 7 p.m. They can be part of a world record attempt while also helping to keep themselves healthy during the flu season.
The first 500 adults (age 18 and older) and the first 500 children (age 17 and younger) will receive their flu shot free-of-charge. Thereafter, vaccines will be given at a discounted rate of $10 for all UCF students (student I.D. required) and $20 for all others. An additional 1,500 free vaccines will be available for pre-identified students of financial need. Flu shots will be given on a first-come, first-served basis while supplies last.
Centra Care and Get Healthy Florida hold the current Guinness World Record for most flu vaccines given in one day, currently at 3,271.
Those who get vaccinated at the Sept. 30 event can enter a drawing to win tickets to two upcoming performances at UCF Arena: a Radio City Rockettes show or a Sesame Street Live performance. Two Radio City Rockettes will be on hand Sept. 30 from 12:30 to 1:30 p.m. to help promote the mass vaccination event.
Parking Information: Event parking will be free in Garages D & F; and shuttle parking from Lots E6 & E7. Click here for a map and directions.