For Kennedy Raffa '19 and Lauren Lamontagne — along with the 93 other speech-language pathology graduate clinicians — the time away from campus means they are missing more than their face-to-face classes. They are missing their clients.
Under the supervision of licensed clinical faculty, the graduate students work with clients of all ages on a variety of speech, language and hearing disorders in the UCF Communication Disorders Clinic.
When the clinic was closed due to COVID-19 precautions, faculty and staff worked to make sure students continued their clinical studies by implementing Simucase, a patient simulation software, where students continue to earn clinical hours by assessing and recommending interventions for simulated patients.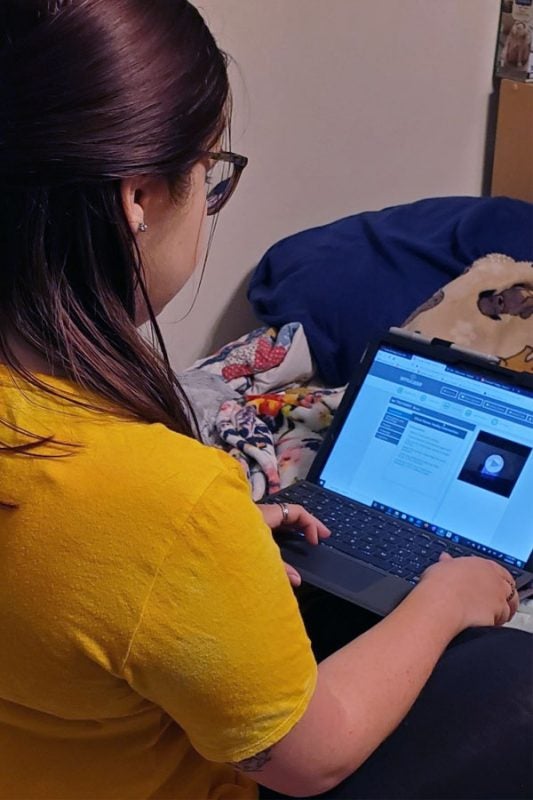 "Although we cannot physically see clients at the Communication Disorders Clinic, Simucase supplies us with ongoing exposure to assessment procedures, diagnostic findings and treatment outcomes through various speech and language cases," says Bailey Jones '19, a clinician in the communication sciences and disorders graduate program.
Jones, along with Raffa and Lamontagne, says the interactive simulations give them a chance to continue to learn and gain exposure to therapy techniques and approaches from home.
Simulated learning activities like these have been approved by the American Speech-Language-Hearing Association for inclusion in graduate student education curricula.
In general, the location for clinical instruction changes with Simucase implementation, but the learning process does not.
"The online component is new to some students," says Amy Thomas '05MA, a licensed clinical instructor. "But not new to everybody. Our students are so flexible, resilient, tech-savvy and forward-thinking that they picked it up easily."
Thomas says that students continue to receive feedback and guidance from the clinical faculty.
"Clinical supervision remains at a high touch-point," says Thomas. "We discuss the case in advance of 'seeing' the patient and provide feedback on student performance as they work their way through the case experience. Students must also participate in the debrief in order to satisfactorily complete each case."
"We are fortunate to have tools like Simucase available to us and to have a clinical education team that was able to collaborate effectively for an immediate across-the-board implementation of clinical instruction through simulation," says Jennifer Kent-Walsh, interim director of the School of Communication Sciences and Disorders. "We are thrilled to see our students continuing to progress well in meeting required clinical learning objectives."
The students are happy to be charging on, despite the challenging time.
"Although I miss working with our clients in the clinic, I am grateful for this platform to allow me to continue to earn clinical hours and opportunities," says Lamontagne. "I am proud to be a Knight and am especially thankful for our faculty and staff who are working diligently to ensure our education in this difficult time."