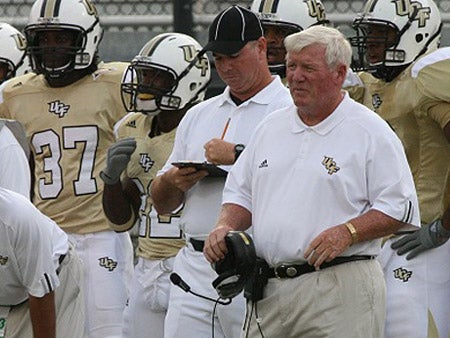 Rob Calabrese had just six incomplete passes in Saturday's Black and Gold Scrimmage, but one in particular let UCF head coach George O'Leary know that the junior-to-be should be the Knights' starting quarterback coming out of spring drills.
With a screen pass called from the coaches and the defense aligned in a man-to-man set, Calabrese wisely threw the ball away rather than force a pass in that could have easily resulted in an interception.
"As soon as Rob came to the sidelines he said, `Coach, I would have checked out of that play because they were in man defense, but I couldn't," said O'Leary, referring to the scrimmage's rules for quarterbacks. "That's something he didn't see last year. That tells me he's getting it now."
Clearly, after a solid spring game at Bright House Networks Stadium on Saturday, Calabrese gets it now. A part-time starter each of the past two seasons, Calabrese went out and displayed the poise and playmaking abilities to make him the winner of the spring quarterback competition.
He completed 11-of-17 passes for 126 yards and a touchdown and had a 66-yard sprint for another score as UCF's first-stringers beat the second and third units 28-7 before 7,288 fans on Saturday afternoon.
It was the kind of bold statement that O'Leary and offensive coordinator Charlie Taaffe were looking for out of the talented quarterback who has received most of the first-team repetitions throughout spring drills. He edged out freshman phenom Jeffrey Godfrey and should be the starter when the Knights hit camp in early August.
"I played pretty well today, but there were some more throws that I could have made," Calabrese said. "It's a very big for me (to be named the starter). I have to be a leader for my teammates in the weight room. It just makes me excited for next year. I've put a lot of hard work in and I feel like I'm ready."
The Knights concluded three weeks of spring drills with a Saturday scrimmage that O'Leary deemed a big success. The coaching staff kept the game plans on both sides of the ball extremely basic, hoping to see more execution and efficiency than trickery. Seventeen starters are back for the offense and the defense and that allowed O'Leary and his staff to focus more on improvement than installation this spring.
"I'd say a `B' and I'm a pretty tough grader," O'Leary said of the grade he's give his team for its work this spring. "We wanted to get better as establishing the line of scrimmage and I think we did that. We were very displeased leaving that Rutgers game (in the St. Pete Bowl). When you get hit in the mouth you have to fight back and I think our guys will do that."
The day also featured several Knights football alumni in attendance, headlined by new Miami Dolphins wide receiver Brandon Marshall and All-Pro cornerback Asante Samuel. Joe Burnett, Paul Carrington, Alex Haynes, Marquette Smith were also in attendance and signed hundreds of autographs for Knights fans.
"This is probably the warmest welcome I've gotten coming back to UCF," Marshall said. "It feels really good."
Godfrey, arguably UCF's most acclaimed recruit in years, ran for a 24-yard score late in the day and passed for another 55 yards. Playing behind the second-string offensive line, he did throw two interceptions, one of which was returned 21 yards for a touchdown by cornerback Darin Baldwin.
But Godfrey, who graduated early from high school so that he could compete for the starting quarterback job this spring, proved to the coaches that he is more than capable of running the offense. He has the arm strength of a player much bigger than his 5-foot-11, 176-pound frame and maturity well beyond his years, O'Leary said.
"I just left out of the locker room and he was arguing with the defense that they never would have tackled him on that (touchdown) run," O'Leary said. "He's just a high school senior and he's an impressive kid. He plays much stronger than he looks and he just has an air about him."
Brendan Kelly and Jonathan Davis split carries on Saturday in place of the injured Brynn Harvey, who is expected to miss half of next season with a knee injury. Kelly ran for 46 yards and a score, while Davis ran for 37 yards and had a nice 11-yard burst.
And UCF's experience-laden defense also played well throughout the day. Bruce Miller, Conference USA's Defensive Player of the Year last season, had two sacks. Outside linebacker Derrick Hallman had a team-high seven stops. Chance Henderson, back from a knee injury that caused him to miss all of last season, returned and had five tackles, while Freshman All-American Josh Robinson recorded six stops.
"We didn't allow the offense to score, so that was a good thing," said Miller, the top returner in the country in sacks. "With us having so many people back and having that chemistry already, we've been able to get through a lot of our installation already. We haven't taken a step back at all from where we were last year."
As for Calabrese, he feels he's taken a major step forward as far as his poise and patience in the pocket go. Wide receiver A.J. Guyton, who had four catches and a 20-yard TD on Saturday, described Calabrese as "jumpy" last season, but said the quarterback has become more of a calming influence on the offense. Calabrese gives some of the credit to last season's starter, Brett Hodges, but also some of it is because of his maturity under center.
"I'm better mostly with my poise and staying calm out there," Calabrese said. "If I make play I don't worry about it so much and I just try to make a better one the next time. After two years of experience I really understand what I have to do now. I've taken this opportunity and run with it."
John Denton's Knights Insider appears on UCFathletics.com several times a week. E-mail John at jdenton@athletics.ucf.edu.