On Oct. 29, 1969, in the final of a series of cases, the U.S. Supreme Court ordered all public school segregation to cease immediately with its decision in Alexander v. Holmes County Board of Education — forcing southern school boards that had yet to adhere to its Brown v. Board of Education decision 14 years earlier to finally comply with the law.
That same day, the Black Student Union was formed at Florida Technological University with the goal of supporting its black students and bridging the gap between a white and black world, according to one of its founding leaders, Roland Williams '71 '78MS.
"We all thought that the world was changing and everything was going to change and be better," says Wiletha Williams '70, who was one of UCF's first graduates, an early member of the BSU and Roland's eventual wife. "We were very hopeful. I guess maybe every generation is hopeful that we're going to be the ones that change the world. That everything is going to be different."
"I guess maybe every generation is hopeful that we're going to be the ones that change the world. That everything is going to be different." — Wiletha Williams, UCF alum
Finding Their Way
Roland, who grew up in Mount Dora and says he was part of the integration of Mount Dora High in 1966, transferred from Florida A&M University to UCF when it opened in 1968 to study physics.
His commute to campus took him through Sanford and the sleepy town of Oviedo and road construction before he saw the university's library peeking out atop the trees.
"It was almost like a sci-fi movie. You see this gigantic thing with nothing else around there that was even near that size," he says. "I was the first person in the registration line for that fall term."
He met Wiletha in passing — or at the cafeteria — depending on who is telling the story.
"It was a small campus. Everybody got to know just about everybody, or know the face, anyhow," Roland says.
Wiletha grew up in Oviedo, which at the time had just one blinking stoplight. The daughter of two college graduates, she attended the University of Miami for two years but intended on transferring. When her mother told her a university was being built down the road, it sounded like the perfect choice for the English major.
"I thought it was exciting and cool because [I was] coming from the University of Miami, which was so big. You didn't get to know people. So it was very appealing to get to know people and interact with your professors," she says.
"We never did have a major incident, a clash between white and black. It was always that we were trying to grow together. It was a time for everyone to grow and to understand each other more." — Roland Williams on UCF/FTU's culture in the late 1960s
The pair agree that from the start, UCF's campus — which welcomed 1,948 students in the first year — fostered a civil and cordial environment.
"We never did have a major incident, a clash between white and black," Roland says. "It was always that we were trying to grow together. It was a time for everyone to grow and to understand each other more."
Nevertheless, he says it was clear that more representation was needed for the university's black community in many areas, from classes to required reading to faculty.
"We're here at this university. We've been accepted. Now, we've got to pass these courses, which was enough for most people at that time. But now, we don't have any representation in the classes and a lot of African American history is not properly taught. It's not even talked about. It was just, 'Yeah, we had slavery and then Abraham Lincoln came in 1865 and wrote the Emancipation Proclamation,' and you know, those kind of things," Roland says. "But there was a lot more information in between there."
BSU Leads the Charge
According to Special Collections and University Archives, 16 of the 25 black students at UCF collectively formed the union on Oct. 29, 1969.
Roland served as secretary. He recalls meeting with then-President Charles Millican in his office along with five classmates to address their concerns over the lack of black faculty and black history curriculum on campus.
"At the time there were student sit-ins at Cornell and all the major universities. They were constant, and some of them were fairly big clashes," Roland says. "Dr. Millican, he was a thinker and he listened to us. Everybody was very respectful, and so out of that meeting some of those concerns were considered. One area that we immediately saw some improvement in was the creation of African-American studies."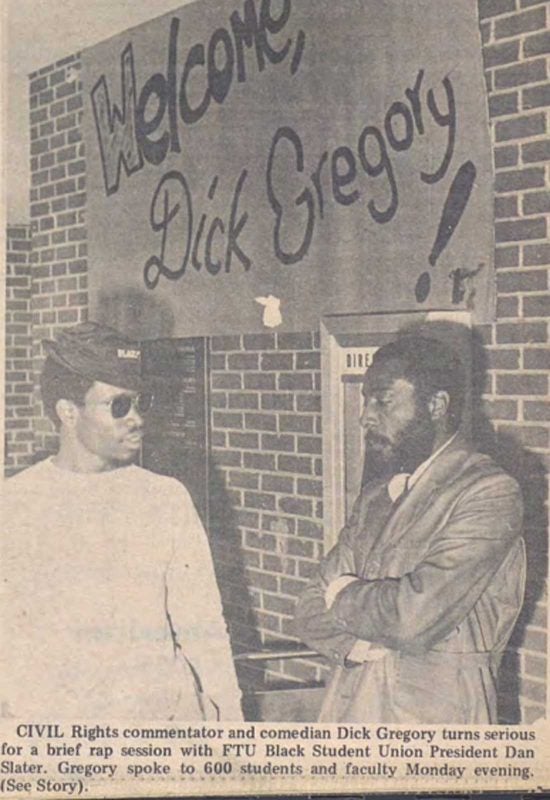 The BSU was also successful in inviting and welcoming civil rights activists Ralph Abernathy and Dick Gregory to campus and later worked more closely with the Student Union to create events on campus for students to attend.
This past October, the BSU celebrated its 50th anniversary. It has grown to 120 members. Africana Studies is now offered as a minor with more than 30 classes related to black history and culture.
"We just have to continue to work it. We have to be fair-minded and conscious of where we are going and where we're trying to go," Roland says.
50 Years Strong
After they graduated, Roland and Wiletha built their careers and a life together.
Roland worked as an engineer for Martin Marietta and Rockwell International, which was later sold to the Boeing Corp. While with Boeing, he worked on missiles and defense systems, and in 2000, he signed on to the space-systems team to perform structural analysis for the space shuttle.
"I received one of the best educations that one could possibly get. I was well prepared for when I started my career because of my broad training in physics," says Roland, who also earned a master's degree in environmental engineering.
In 1978, Roland was appointed by then-Gov. Reubin Askew to serve on the Seminole County School Board, becoming the first black person to serve on that board. He was twice re-elected and served as chair before resigning to move to Atlanta to pursue his engineering career.
After she graduated from UCF, Wiletha earned her master's degree from Rollins College in 1979 and worked in elementary education as they raised their children. But she would later set out on a different career path after their daughter contracted meningitis at age 2. Wiletha taught herself about natural and herbal remedies in order to help her daughter rebound from the illness.
"Pretty soon I became the go-to person in my circle. I knew more about health than anybody," she says.
She went back to school to the Clayton College of Natural Health and became a doctor of naturopathy and has been practicing since 1996.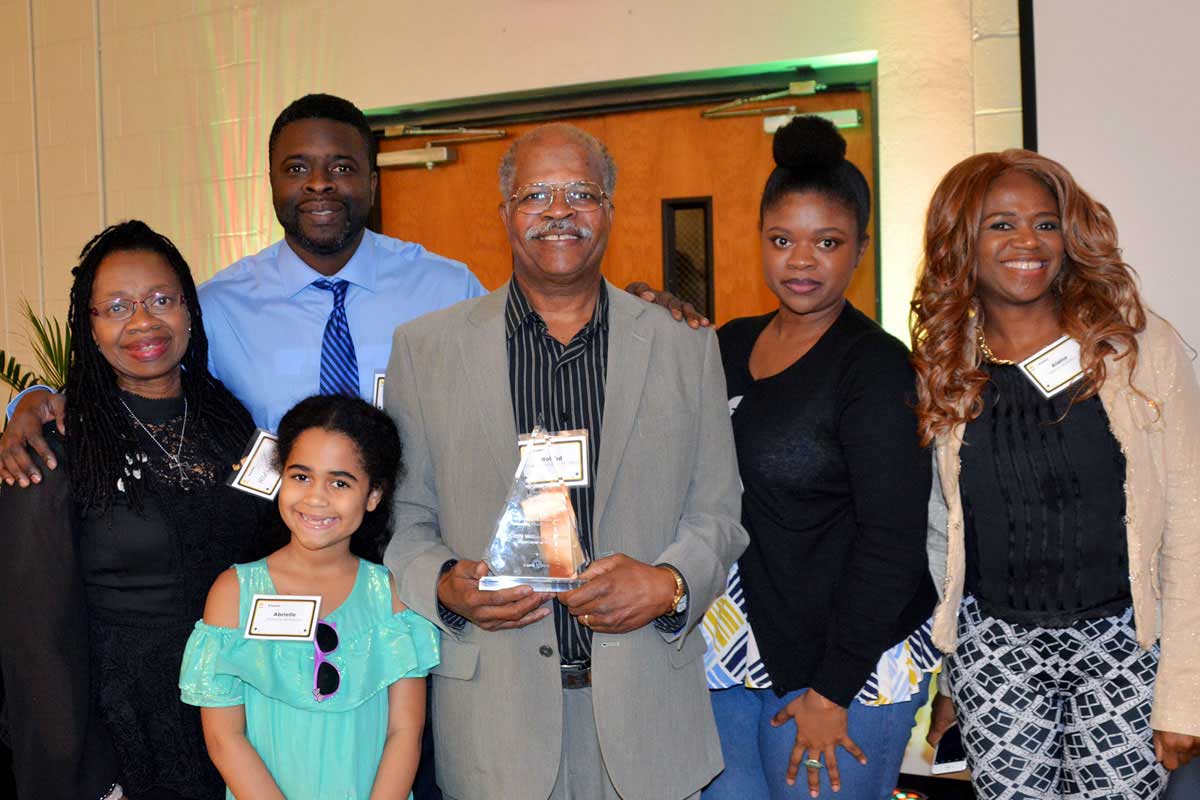 The couple will celebrate their 50th wedding anniversary in August. They raised three children and are the proud grandparents of four grandchildren. Although the couple has lived in Atlanta since 1984, they still remain connected to UCF.
Roland serves on the College of Sciences Dean's Advisory Board. They attended the Peach Bowl and the Fiesta Bowl to cheer on the UCF football team. They visit campus from time to time and do their best not to get lost.
They both say they are immensely proud to see the growth and evolution of that small, intimate campus they set foot on five decades ago.
"It's a great feeling to know that the campus has grown as it has, and it's even better to know every group in some kind of fashion is represented throughout the university," Roland says. "I think UCF is building a great model for how university systems can be organized and structured. And you can continue to improve on that model as we recognize where we started from and where we should be going."