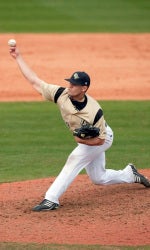 UCF claimed its first Conference USA road sweep since joining the league in 2006, edging out Southern Miss, 9-8, Sunday in Hattiesburg. The victory also improved the Knights' record to 22-12 on the year (5-4 in C-USA), which already ties their entire win output from 2009.
The Knights took a 9-4 lead into the eighth and held off a late Golden Eagle (16-14, 1-5) rally to secure the sweep, as Matt Manning notched save No. 4 by leaving the tying runner at third in the ninth.
"I was just trying to throw strikes but that wasn't happening since I hit a couple guys and walked another," admitted the senior righty. "I just had to bear down against a lot of right-handed batters, which I throw mostly sliders to. I had to get that pitch over and fortunately in the end I got the strikeout. This is my third year here and we've never done anything like this. It's good to get our confidence up, especially going into next week vs. Stetson and Rice."
UCF has reached five wins in C-USA quicker than any other year. Meanwhile, the last time it swept a conference opponent on the road was at Atlantic Sun foe Belmont in 2005. The only C-USA sweep by the Knights before this weekend was at home against Tulane in 2007.
With 13 overall hits, UCF's four through seven batters, Ryan Breen, Chris Duffy, Jonathan Griffin and Chris Taladay combined to go 8-for-16 with eight RBI and five runs. Griffin also belted his sixth homer of the season in the fifth inning.
As Manning closed the door, he also enabled reliever Chase Bradford (3-2) to get the win after 3.2 innings on the hill, surrendering just one run, no walks and striking out four.
Facing senior lefty Jeff Stanley, UCF placed two runners on in the first thanks to a pair of walks but could not capitalize. The Golden Eagles also had a scoring chance with one out in their half vs. Alex Besaw, and they converted by plating three runs.
After the Knights could not take advantage of a one-out double from Shane Brown in the third, they tried again in the fourth. Stanley issued a four-pitch walk to Breen to start it up and Duffy gave his team runners at the corners by way of a single to right. This time UCF got on the board, as Griffin smoked a 1-0 offering to the wall in left for a RBI double.
Now with a pair of Knights in scoring position and still nobody out, they could only muster one more run on a fielder's choice with Austin Johnston at the plate. USM did recover in its version of the fourth on back-to-back two-out hits, including a RBI double from Tyler Walker, to make it 4-2.
UCF would strike back with two-out hitting of its own in the fifth. Reliever Josh Jones entered and picked up two outs sandwiched around a single by Brown. Jones then plunked Beau Taylor before Breen hammered a RBI single to right. A wild pitch placed runners at second and third, where Duffy ripped a 3-1 pitch to right for two RBI and a 5-4 lead.
Already with three two-out runs to its credit, UCF was not done. Seth Hester was brought on for a righty-righty against Griffin, but the Knights first baseman battled back from being down 0-2 to launch a two-run homer to left with the count full.
One inning later and the lead grew. Digging in with two runners on board and one away, Breen cranked a groundball RBI single into center. Eventually with the bases juiced and two down, Cody Schlagel strode in from the pen to issue a free pass to Taladay, stretching the UCF cushion to 9-4.
Just like Saturday's game, though, the eighth inning would be a struggle for UCF pitching. Joe Rogers had worked the previous 3.0 innings with just one hit against him, but the Golden Eagles delivered a three-run frame. They brought the go-ahead run to the plate with one out only to see Manning induce a 6-4-3 inning-ending double play to preserve the 9-7 advantage.
Needing only three more outs for the sweep, Manning sat down the first hitter yet added a walk and two HBP to allow the Golden Eagles to get the winning run on base. Tyler Koelling came through with a sac fly to make it 9-8, which also pushed the tying run to third. Knowing that a single would tie it and an extra-base hit it wins it for USM, Manning struck out Travis Graves on a 1-2 pitch on the outside part of the plate, giving UCF the victory.
With the road trip wrapping up, UCF will start preparing for an eventful week at home. The Black and Gold will host Stetson Tuesday at 7:05 p.m. live on Bright House Sports Network before welcoming No. 25 Rice to town Friday-Sunday during Hall of Fame Weekend.