Jerusha Cavazos '14 has spent the last week and a half flip-flopping between furiously studying her lines for her upcoming project, and sitting in complete silence to soak in the gratitude she feels for this homecoming she has eagerly awaited.
The musical theatre alum and Central Florida native, who got her start on Broadway as an original cast member of the Tony-nominated The Prom, will be starring as Esmeralda in The Hunchback of Notre Dame on May 20-21 at the Dr. Phillips Center for the Performing Arts.
She explains that this is a dream role for the younger version of herself who was instantly drawn to the character who had "brown skin just like me" in the 1996 Disney film adaptation. But more than that, this project is particularly meaningful because of the mission behind it.
The William Daniel Mills Theatre Company — dedicated to honoring the life of its namesake by working to make theatre more inclusive — is producing the show.
Cavazos has a similar passion for fostering accessibility into the arts community, especially among youth. It's an added bonus that a strong contingent of Knights are involved with this production.
When she had the opportunity to combine all her passions, it felt like a no-brainer to say yes.
"As a kid, I watched how hard my parents had to work so we could afford dance classes to allow me to pursue the arts," Cavazos says. "I started to get frustrated in high school when I saw other kids who were so hungry for the arts, but they didn't have the opportunity for financial reasons. And there was still so much I had to figure out about navigating the system and making connections when I moved to New York.
"So now I make it a big goal to send the elevator back down. If I'm on floor five, I can send it back down to one and have them come meet me on five, instead of making them take the stairs really slowly," she says. We can move so much faster as a community, especially in Orlando, in making it accessible. The William Daniel Mills Theatre Company is working to do that, so it has truly been a pleasure to be part of this movement."
Art from Tragedy
William Daniel Mills, son of UCF Board of Trustees vice chair and Tony-nominated Broadway producer Harold Mills, was 16 years old in May 2020 when he died in a boating accident.
His loved ones, including UCF lecturer Roberta Emerson — who taught Daniel at Montverde Academy — were inspired to honor his life through action. Nothing seemed more fitting than to create a resource, a space, and a community that promoted inclusivity in the arts for the next generation of talent.
"He didn't believe that anybody should be kept from doing theater," says Emerson, who serves as a director in the company and describes Daniel as a dynamic force. "He wanted people to always find a home because I think he was able to find his own home within theater. It was something he always talked about. So we knew he wanted to do something that created access in his legacy."
The first step established a scholarship for both Montverde and District XII Thespian. The next step was forming an apprenticeship program, which offers free training to young adults along with the opportunity for paid work on stage and behind the scenes while collaborating with theatre professionals.
Which is how the William Daniel Mills Theatre Company was born.
"The dream just keeps getting bigger, but it all kind of surrounds Daniel and what he wanted; the idea of creating a space that is inclusive and safe and daring and does some real work because that's what he was about," Emerson says.
Now comes their latest undertaking. It's what Emerson and WDM Theatre executive director Felichia Wright '16 are calling the company's welcome-to-the-community party: A live production of the Hunchback of Notre Dame at the Dr. Philips Center for Performing Arts, featuring the Orlando Philharmonic Orchestra and an inclusive lineup of talented lead actors (including Broadway performers) with ties to Orlando.
So, yes, the dream is certainly daring. And everyone is completely committed to ensuring it's a success.
"I am delighted to work with such an incredibly talented team in this effort," Harold Mills says. "They work tirelessly to turn a nightmare into a dream for our family and our arts community."
Knights Get It Done
Wright and Emerson felt the Hunchback of Notre Dame encapsulated perfectly the mission of WDM Theatre and Mills' spirit. It was also one of the last shows he performed in, playing Quasimodo during his high school career.
Emerson says they started the early stages of planning last summer, but rehearsals themselves only just started a week ago.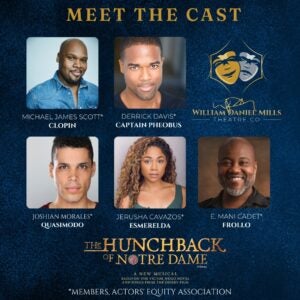 More than nine participants in the WDM Theatre apprenticeship program and an additional four UCF students have been working on the production alongside the professional crew and cast, which includes Michael James Scott, best known as Genie in Disney's Aladdin musical on Broadway.
Joshian Morales '13 was excited when Emerson reached out to him to consider joining the project as Quasimodo. The opportunity has allowed him to reunite with his collegiate scene partner, Cavazos.
Morales and his wife, Kayla Kelsay Morales '12, started a casting company based in Central Florida with a similar mission to WDM Theatre of promoting inclusivity in the arts and entertainment industry. In fact, Kayla Kelsay helped cast several of the actors in this production.
"I think the pipeline that Theatre UCF provides is vital to the arts community in Central Florida," Morales says. "It's not just acting, but it extends to directing and business administration in theatre, all aspects. Any organization you look into here in Central Florida, you're going to find someone who went to UCF."
As they all continue to prepare for this weekend's performances, Morales believes Hunchback's underlying message will resonate with audiences.
"I keep coming back to this lyric, which is one of the last lines we sing," Morales says. "The world is cruel, the world is ugly but there are times and there are people when the world is not. And at its cruelest, it's still the only world we've got."
"In spite of the crazy things that tend to happen in our lifetime," he continues, "I think it's important to remember that it's the only one that we've got and try to see the best in people and the light inside them."