Below are my top-10 highlights of the 2010-2011 athletic year. Note, there were many worthy moments in all UCF sports but the ranking is based on games which I broadcast from September through June. Also, games are ranked on many factors including excitement factor, not just importance of win.
10. Jonathan Griffin launches grand slam to beat FSU: On a hot and humid night in Tallahassee on May 7, UCF broke a 6-6 tie with sixth-ranked FSU with a seven-run seventh inning. The inning's highlight was a crushing grand slam homer by Jonathan Griffin. The blast came one pitch after FSU coach Mike Martin made a trip to the mound and opted to leave his relief pitcher in. One pitch later, Martin was back out to make a change. UCF won the game 14-10 and it took nearly four hours to get the victory.
9. UCF men's basketball wins first game as ranked team at UMass: Just days before Christmas and with its top scorer wearing a walking boot nursing an ankle injury, UCF's stay in the poll was expected to be a short one as they faced a hungry UMass team on the road. Marcus Jordan was not going to play and in the first half, Donnie Jones lost two more players with ankle injuries, but the Knights kept the game close. At halftime, Jordan told Jones he was playing the second half. While Jordan scored just one field goal, his presence was a big factor as UCF moved to 11-0 with a 64-59 win.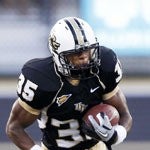 8. Weaver runs for 180 in shootout win against East Carolina: It was the biggest regular season conference home game at Bright House Network Stadium. The high-powered offense of ECU came rolling into Orlando putting up big numbers. In the end, the Knights put up a bit more. Ronnie Weaver ran over Pirate defenders all day en route to a 180-yard performance and two touchdowns as UCF took control of the Conference USA East Division race with a 49-35.
7. Knights win matinee game at UTEP: After having its first game in El Paso postponed because of a snow storm, UCF returned to play a President's Day game against UTEP, who had become the hottest team in the league. The Knights were already road weary from flying back and forth across the country the previous two weeks. With a sparse crowd at tipoff, UCF hit shots early and often and built a big lead. By halftime, almost 10,000 fans made the Don Haskins Center an atmosphere to remember. Despite a big UTEP rally, UCF handed the home team its first loss in 15 games in El Paso with a 74-68 win.
6.UCF wins second conference title, topping SMU 17-7: The Knights' defense got to shine before the nationally televised audience. Josh Robinson has a big day and the UCF defensive front kept pressure all day on SMU's quarterback. Latavius Murray earned MVP honors and highlighted his day with a 36-yard touchdown run. After the game, the question about where UCF was going was no longer a question. The Knights had secured their second trip to the Liberty Bowl and would face Georgia.
5. UCF baseball rallies to beat fourth-ranked Florida in dramatic fashion: Shortstop Darnell Sweeney's error in the eighth inning broke a 2-2 tie and put the Gators on top headed into the ninth in Gainesville. The sophomore made up for his mistake with a crushing two-run double to center that put the Knights up 4-3. Yet drama awaited the bottom of the ninth as centerfielder Ronnie Richardson came to the mound to pitch and proceeded to strikeout two of the three batters he faced to hand Florida their only loss of the season when leading after eight innings.
4. UCF hoops moves to 10-0 with win over Miami: The game was played in south Florida at the BankAtlantic Center as part of the Orange Bowl Classic and was the first contest before nationally ranked teams Florida and Kansas State squared off. But UCF, by far, had the best performance of all four teams. The Knights, with a large contingent of black and gold supporters executed late en route to a 84-78 win. Marcus Jordan scored 23 before injuring his ankle with 90 seconds left and by the time UCF was back on the bus to Orlando, the team had a legitimate claim at being the best in the state.
3. Key drive at Houston sparks big road win: After seeing Houston's football team score two quick third quarter touchdowns, UCF trailed 24-23. Freshman Jeff Godfrey huddled his team as a key series was about to begin and had a message for them: "We are going to score." And the kid delivered. He converted a third down and then a fourth down and then a huge pass to Jamar Newsome and ended the drive with his own touchdown run. The nationally televised college football world saw Godfrey dazzle, going 15-of-19 for 294 yards and he ran for another 105 yards.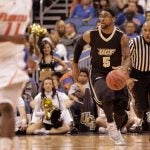 2. Knights top Gators with stunning win: It was supposed to be a nice gesture. The first college basketball game played at the new Amway Center was going to give Donnie Jones a nice night to face his former boss in Billy Donovan and his Florida Gators. A crowd of almost 14,000 got more than a nice night out. UCF fans witnessed something special as the Knights smothered then 16th-ranked Florida defensively and got big shots from Marcus Jordan and Keith Clanton as UCF won 57-54. It set off a UCF celebration that many Knight followers had waited long enough for.
1. UCF beats Georgia in Liberty Bowl and earns first bowl win: No UCF fan could relax until that final pass hit the ground. The wait was over. The mission was accomplished. On a misty, cloudy and gray New Year's Eve in Memphis, Jeff Godfrey battled through an ankle injury. Latavius Murray ran when needed and the UCF defense made one lasting impression. The 10-6 win over Georgia placed UCF in both major voting polls and the school also earned its first BCS ranking. The record setting season was, and still is today, celebrated by UCF fans young and old and those memories will last forever.
Final thought: While shopping for a card for a special occasion I came across selections with pictures of people on the card. Why would anyone buy a card to give to someone that has a picture of complete strangers on that card?
Source: Marc Daniels' From the Press Box runs several times per month on UCFAthletics.com. Listen to Marc during UCF football, men's basketball and baseball radio broadcasts on the UCF Sports Network. Each weekday, Marc hosts The Beat of Sports on ESPN Radio 1080 in Orlando.