Ray Sturm '89 '98MS was not your typical faculty member in the College of Business. The senior finance lecturer and two-time UCF graduate could often be seen on campus — like many of his students — skateboarding to class in a T-shirt and jeans.
Sturm, who died Nov. 12 at age 58, taught both finance and accounting since returning to his alma mater in 2000 as an adjunct instructor. He was an avid musician and had recently started a band called Ray and The Storm Surge.
"Ray was such a talented person, so full of life. An academic 'switch hitter' who was as much at home with accountancy as with finance and was hugely popular with his students," says Ajai Singh, chair of the Department of Finance and Director of the Dr. P. Phillips School of Real Estate at UCF. "It is so difficult to believe that Ray is not with us any longer. He will be sorely missed by all his colleagues and students."
A Central Florida native, Sturm grew up in Winter Park and graduated from Winter Park High School in 1981 before enlisting in the United States Army. After serving in the Army, he earned his bachelor's degree in accounting and master's in taxation at UCF before completing his Ph.D. at Florida Atlantic University. He started out teaching on UCF's regional campuses and spent the latter part of his career on main campus. Prior to his teaching career, Ray was a partner of Sturm and Sturm CPA in Winter Park with his father and owned Ten Talents Assets Management, Inc.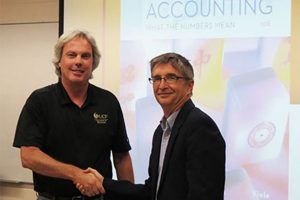 "Ray was a teacher at heart, intellectually curious, and like all passionate people, hardheaded at times," says Paul Jarley, dean of the College of Business. "Like a lot of us, he was a down-to-Earth professor who believed in higher education's promise of upward social mobility."
Sturm was a Certified Public Accountant and member of the AICPA. He published regularly in the Journal of Behavioral Finance and was actively pursuing several research projects.
"Ray was on the search committee that brought me to UCF," Jarley says."He was the coolest two-time grandfather I know. He was a surfer, rock band member and faculty advisor to the Young Investors Club."
Sturm is survived by his wife, Laurie, daughter, Nicole Gardner, and two grandchildren. A celebration of life service will be held at 2 p.m., on Friday, Nov. 19, at Winter Park Presbyterian Church, 400 S. Lakemont Ave., Winter Park, Florida, 32792.
In lieu of flowers, memorials may be made to the American Heart Association, UCF College of Business Dean's Excellence Fund or Hound Haven, Inc.