Three billion. That's about how many pizzas are sold in the United States every year. This year, UCF Rosen College of Hospitality Management alumnus Dylan Pittman '22 plans to serve hundreds of pies through Pizza Pitt Stop, a food truck he recently launched.
Pizza Pitt Stop currently serves customers across Jacksonville and St. Augustine, Florida. Among its signature offerings is the Talladega, Pittman's personal favorite, which has a green flag sauce, combining the flavors of Alfredo and pesto with chicken and bacon.
"Ever since I was a kid, I have always wanted to have my own restaurant," says 21-year-old Pittman. "It wasn't until a few years ago that my mind moved from a traditional brick-and-mortar to a food truck. I just saw a lot of fun opportunities for a situation where every day at work was unique and would never get stale."
To turn his dream into a reality, Pittman earned his bachelor's in restaurant and foodservice management from UCF Rosen College of Hospitality Management in May 2022. While at the college, he quickly completed his general education classes to concentrate on his primary goal: learning about the food and beverage industry. He completed his degree in three years.
"My favorite class was Foodservice Operations, where we were in charge of our own pop-up food event on campus for our peers and professors to participate in," he says. "My group developed a pop-up event entirely based around dumplings, where we would use dumplings as a fun and unique vessel for other foods like chicken parmesan."
"It was great to be able to talk to someone in the industry that could provide a professional yet personal discussion about the idea of putting together a food truck." — Dylan Pittman '22, UCF alum
It was during that class that Pittman connected with chef Jay Judy, a senior instructor in the Department of Foodservice and Lodging Management. Judy turned out to be a great mentor for Pittman and his pizza food truck business.
"Chef Jay Judy did a great job supporting our ideas and is just a good leader. I was always able to come to him with questions and ideas," Pittman says. "I took this class in the last semester of my senior year, so I was really starting to make moves with the truck."
Pittman considered a few different cuisines to build a food truck around, but realized pizza just made sense.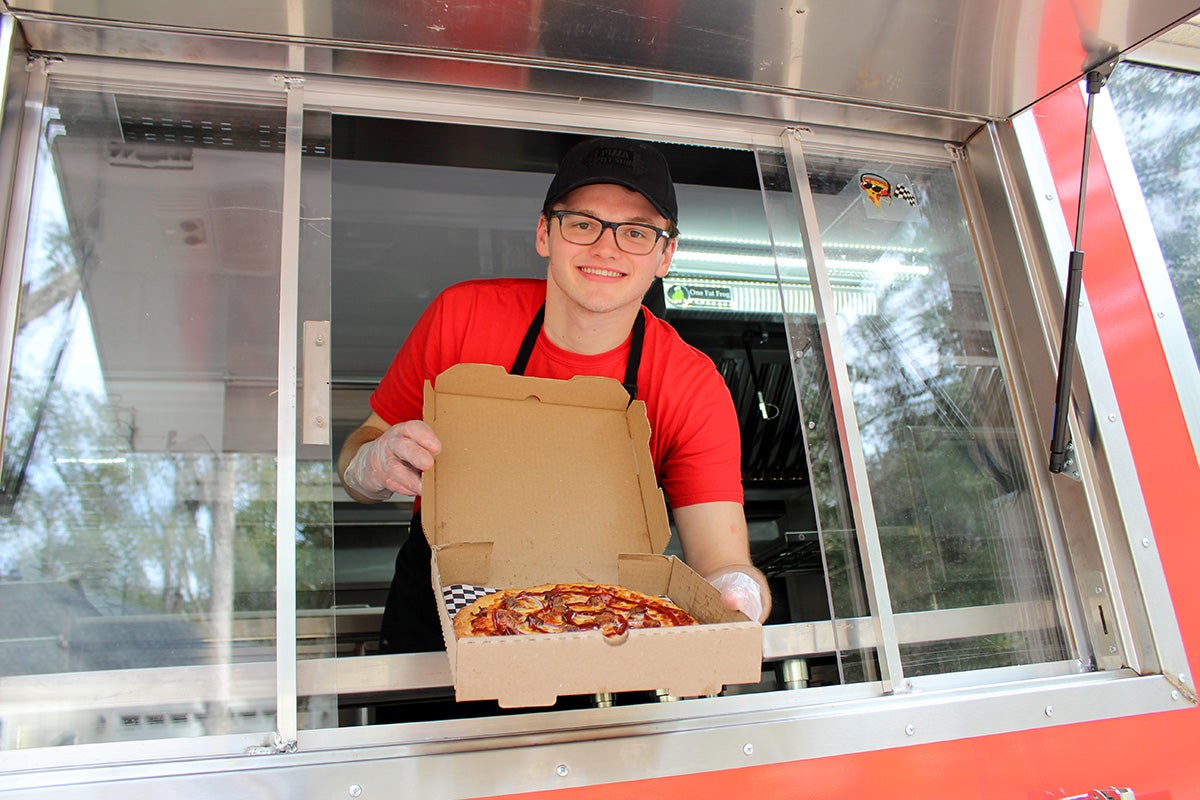 "After the food was set, I moved onto the name to really nail the type of pizza concept I was going for. I wanted to include my family's name in the truck, but it was a brainstorming session with my two dorm roommates, Tommy and Tyler, that spawned the name Pizza Pitt Stop."
In addition to Judy, Pittman also had mentorship guidance through Global Leadership Enhancement and Mentorship (GLEAM), a nonprofit volunteer network providing mentorship and leadership development to underserved communities in the restaurant and foodservice industry. Associate Professor Cynthia Mejia was chair of the Department of Foodservice and Lodging Management when Pittman was a mentee in the GLEAM program.
Mejia says students in the GLEAM program identify their "one big thing" they would like to work on under the guidance of an industry mentor. Students spend four months working on their project, and present different aspects of their project to their cohort.
"Dylan's 'one big thing' was to open a food truck. He was really passionate and professional about achieving his goal, and I remember the seriousness with which he approached the weekly task," Mejia says. "And he did it in real life! I'm so proud of him, and really inspired by him."
For someone as young as Pittman to achieve his goals as an entrepreneur may seem unusual, however Mejia says she noticed a particular spark in him.
"Being an entrepreneur has a good amount of risk involved. I'm not sure to the extent that most people, let alone recent graduates, have the tolerance for risk," she says. "When you talk with Dylan, he exudes a quiet confidence, yet an openness to do what needs to be done."
While Pittman is committed to his pizza food truck, he knows the road will not always be smooth.
"I've definitely faced challenges throughout the truck build-out process, and I'm sure there will be more challenges now that the truck is open," he says. "But I can't hope to make this a meaningful venture if I'm not prepared to face those challenges head-on. I knew this wasn't going to be easy, but nothing worthwhile ever is."
"My goals for the business now and forever will be to provide a good, quality product with excellent service. Pizza shouldn't be complicated, and my business won't be either." — Dylan Pittman '22, UCF alum
Pittman has an encouraging partner in his pizza entrepreneurship business. Emily Davis '22, who is also a UCF Rosen College graduate, has been by his side while also managing her own business, Lemonly's Bakery.
"Ironically, I am actually dairy-free," says 22-year-old Davis, "but Pizza Pitt Stop has vegan cheese on the menu. My favorite pizza is the Daytona, which is a barbecue brisket pizza. Dylan actually smokes his own brisket."
Davis' skills as a baker and digital marketer were noticed by Mejia and other faculty during her time as a student at Rosen College.
"We learned that [Emily] ran a baking business, and this was particularly impressive during the pandemic," says Mejia. "She has excellent social media and marketing skills and built a following. We found her story uplifting and inspiring, and wanted to share her achievements during the early part of the pandemic to inspire fellow Rosen College students, faculty, and staff."
Davis plans to use her digital marketing skills to boost Pizza Pitt Stop's profile, and like Pittman, has a five-year plan.
"I plan to continue helping with the branding, social media and digital media aspects of Pizza Pitt Stop. Also, in five years I hope there are plans to build on what we've established. Dylan has some great ideas, and I can't wait to see what happens," Davis says.
Genyth Travis, senior assistant director of UCF Undergraduate Admissions and adjunct instructor for strategies for student success, taught Pittman when he was a freshman. She saw his determination to unleash his potential even then.
"I don't know how many of our graduates open their own business in less than a year after graduation, but it doesn't surprise me that Dylan surrounded himself with people and resources to make his dream a reality," says Travis. "I know he credits the classes and Rosen College for their support in helping him reach his goal, but Dylan worked hard — earning excellent grades and taking advantage of opportunities presented to him while he was a student. I love that Dylan is taking a risk on himself at the start of his career, surrounding himself with a good team to help his food truck be a success."