A UCF College of Medicine biomedical sciences major investigating the link between processed food and autism will present her findings at the State Capitol Feb. 10. Aseela Samsam is one of four UCF students chosen to represent student research at the Undergraduate Research Posters at the Capitol event.
Samsam has been part of a potentially groundbreaking study that found high levels of a food preservative called propionic acid (PPA), that are consumed by expectant mothers, could increase the chances of autism in their children. The study, led by the College of Medicine Professor Saleh Naser, found that high concentrations of PPA lead to an imbalance in how neurons in the brain form. That causes a decrease in neural cells and damages the development of fetal brains. The results of the study were published in Scientific Reports in June 2019 and received news coverage worldwide, including Forbes magazine.
The Tallahassee event is designed to highlight undergraduate research and invites young scientists from colleges and universities across Florida present their findings to lawmakers and state officials.
"It is an absolute honor to be selected to go to the Capitol," says Samsam, who credits her mentors, Naser and postdoctoral scholar Latifa Abdelli '14MS '15PhD, for their guidance and encouragement. "It's an experience that I will learn from, hopefully garner support on for this study and raise awareness of autism at a state level. I'm happy to take the research out of the lab and UCF to a greater audience."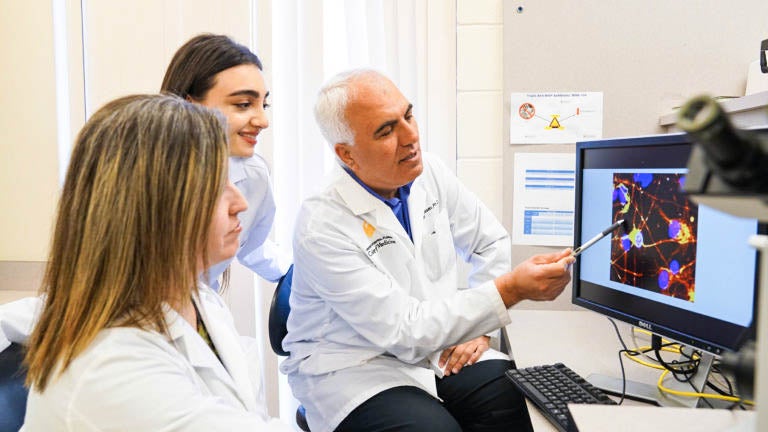 With 1 in 59 children affected by autism, the need to understand the factors that cause the condition is more urgent than ever. According to the Autism Society, more than 3.5 million people in the United States live with an autism spectrum disorder, which can affect communication, behavior, movement and social development.
Samsam became interested in autism as a high school student when she participated in a Peer Inclusion Team that worked with special needs children.
"I became more and more interested in understanding and treating neurodevelopmental disorders, including autism spectrum disorders," she says, "and wanted to see if there are ways to prevent or treat it."
The Burnett School of Biomedical Sciences senior says her inspiration to pursue science and medicine come from her parents, Mohtashem Samsam and Raheleh Ahangari, both professors at the UCF College of Medicine.
"We are so proud of Aseela," Naser says, "to be able to represent our lab and UCF – and to show how young researchers can really make a big impact."
Samsam has already been accepted into medical schools for next fall and is looking forward to continuing her work on autism.
"I know there has to be more clues to discover so it's a stepping stone to find more factors linked to autism," she said. "It's like putting pieces together and then making sense of it and how it is important to the world."