A University of Central Florida researcher is part of a multi-national team who have confirmed a previously unproven mechanism tied to climate change.
Denisia Popolan-Vaida, an assistant professor in UCF's Department of Chemistry, and the research team recently published their confirmation of the "Korcek Mechanism" in the international edition of the journal Angewandte Chemie.
The Korcek Mechanism involves the formation of organic acids as the result of the decomposition of γ-ketohydroperoxide, a complex organic molecule formed in the low-temperature oxidation of organic compounds.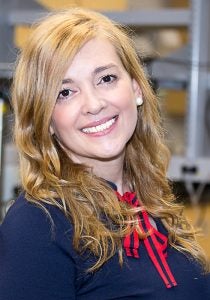 "This research could open new avenues in understanding complex chemical oxidation reactions that are occurring in the atmosphere and lead to the formation of secondary organic aerosol particles, which have big impacts on air quality and Earth climate change," Popolan-Vaida says.
In addition, the results of this study provide experimental and computational bounds that enable the construction of more realistic and accurate chemical kinetic mechanisms for low-temperature oxidation systems, not just for atmospheric oxidation, but also biofuel combustion, lipid peroxidation, and polymer degradation.
The researchers explored the mechanism after observing the formation of organic acids as the result of previous experiments.
"We became interested in the Korcek mechanism after we systematically detected important amounts of organic acids while investigating the low-temperature oxidation of various hydrocarbons, which could not be predicted by any of the existing chemical kinetic models" Popolan-Vaida says.
Using advanced mass spectrometry methods and tunable synchrotron ionization the team was able to confirm their hypothesis.
"This work was a team effort that involved two complementary experimental approaches, theoretical calculations and kinetic modeling," the researcher says. "We were thrilled to finally be able not just to find the origin of acids detected in our experiments but also to prove the validity of the mechanism proposed by Korcek more than 40 years ago and provide an estimated upper limit for the rate coefficient of γ-ketohydroperoxide decomposition."
Study title: Formation of Organic Acids and Carbonyl Compounds in n– Butane Oxidation via γ-Ketohydroperoxide Decomposition
Popolan-Vaida joined UCF's Department of Chemistry, part of the College of Sciences, in 2017. She received her doctoral degree in physical chemistry from University of Ulm in Germany and worked as a postdoctoral research fellow at University of California, Berkeley, and Lawrence Berkeley National Laboratory before coming to UCF. She is the co-author of over 35 peer-reviewed scientific articles and has presented her work at local, national, and international conferences. She is the recipient of Department of Energy Early Career Award and of several international fellowships.