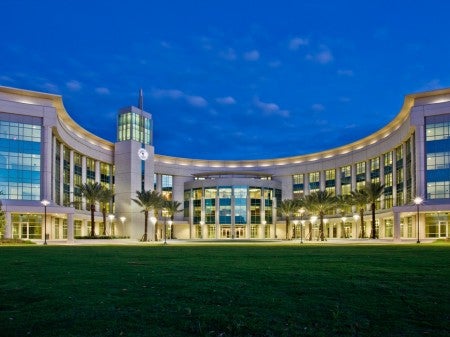 The UCF College of Medicine has established a Learning Collaborative with Geisinger Health System, a Pennsylvania-based, not-for-profit health services organization nationally known for developing innovative models of care. Through the partnership, UCF and Geisinger, in collaboration with other local and national partners, will develop and model new approaches to health care and clinical education.
Through public-private partnerships, the college and others at Medical City at Lake Nona are looking to establish a "green field" of innovation that combines medical education, research and patient care. As part of that effort, Geisinger and UCF will leverage Medical City as a natural laboratory for developing a variety of initiatives, including patient-centered wellness programs, public health initiatives and best practices in medical education and advanced health information technology.
As part of the Learning Collaborative, Geisinger will provide advice and expertise on ways to create seamless health care delivery options in an environment of education and research that improve quality and decrease costs.
"Geisinger and the UCF College of Medicine share a common commitment to transforming health care in this country," said Glenn D. Steele Jr., M.D., Ph.D., president and chief executive officer of Geisinger Health System. "In order to do that, we must find new ways to coordinate and organize care within the constructs of medical education and patient engagement. We believe this collaboration will be a source of positive change within the health care community and for the residents of Central Florida," said Dr. Steele.
"This community helped create the UCF College of Medicine," said Dr. Deborah German, vice president for medical affairs and founding dean of the medical school. "Our focus is to provide a health care resource for Central Florida that addresses community needs and complements and integrates with existing providers. This partnership will help us train doctors and scientists to be health leaders for the 21st century."
Now in its fourth year, the College of Medicine is a founding partner of the new Medical City at Lake Nona. Academic excellence, innovation and community partnerships have been defining themes of the young school, which has seen student enrollment grow from 40 to 280 in just four years.
The UCF College of Medicine's vision is to be a national leader in innovative medical education, research and patient care. A year ago, the college opened UCF Pegasus Health, its physician practice, which offers primary and specialty care for patients ages 16 and up. UCF has also purchased land next to the medical school at Lake Nona for a teaching clinical enterprise and is discussing ways to partner with local hospitals.
Geisinger, a physician-led health system, serves more than 2.6 million residents in 44 counties throughout central and northeastern Pennsylvania. The system includes a multispecialty group practice (more than 1,000 physicians), six hospital campuses, a robust research program, a sophisticated information technology platform and a health insurance provider, Geisinger Health Plan (over 310,000 members).