The Women's Executive Council of Orlando has named Deborah German, UCF's vice president for health affairs and founding dean of its medical school, as the organization's 2023 Central Florida Woman of the Year.
The organization's mission is to encourage and recognize women leaders and students to serve the Central Florida community.
In accepting the award on Oct. 12, German said she came to Orlando in 2006 to build a top-tier medical school that would anchor an emerging Medical City just minutes from one of the world's most visited airports. The goal was to create what would become a global destination for medical research, patient care and education "for all of us," she says.
Under Deborah German's leadership, the UCF College of Medicine has graduated more than 1,000 physicians.
"I wanted to have a great adventure, a life project, so that when I was 90 years old like my parents — who are now 96 and 93 — I could look back and say, 'Good job,'" she says. "I have so much for which to be grateful."
Under her leadership, the UCF College of Medicine has graduated more than 1,000 physicians and welcomed its 15th M.D. class this fall. Thanks to community donations, UCF was the first medical school in U.S. history to offer full four-year scholarships to an entire class — the charter class of 2013. Since that time, UCF's College of Medicine has created one of the fastest-growing graduate medical education programs in the state — with 550 residents and fellows training in UCF-HCA Healthcare programs from Orlando to Pensacola.
The college is unique nationally because it includes the Burnett School of Biomedical Sciences, which provides undergraduate, masters and doctoral programs. Biomedical Sciences is UCF's third most popular major. Burnett School faculty researchers focus their discoveries on the diseases that plague humanity — such as cancer, cardiovascular, infectious and neurodegenerative diseases. UCF Health, the College of Medicine physician practice, has two locations — in East Orlando and Lake Nona — and provides primary and specialty care to patients across the community. The college has also begun a clinical trials program to advance translational medical research and recently partnered with NASA to conduct space medicine research that will impact the health of space travelers and those on earth.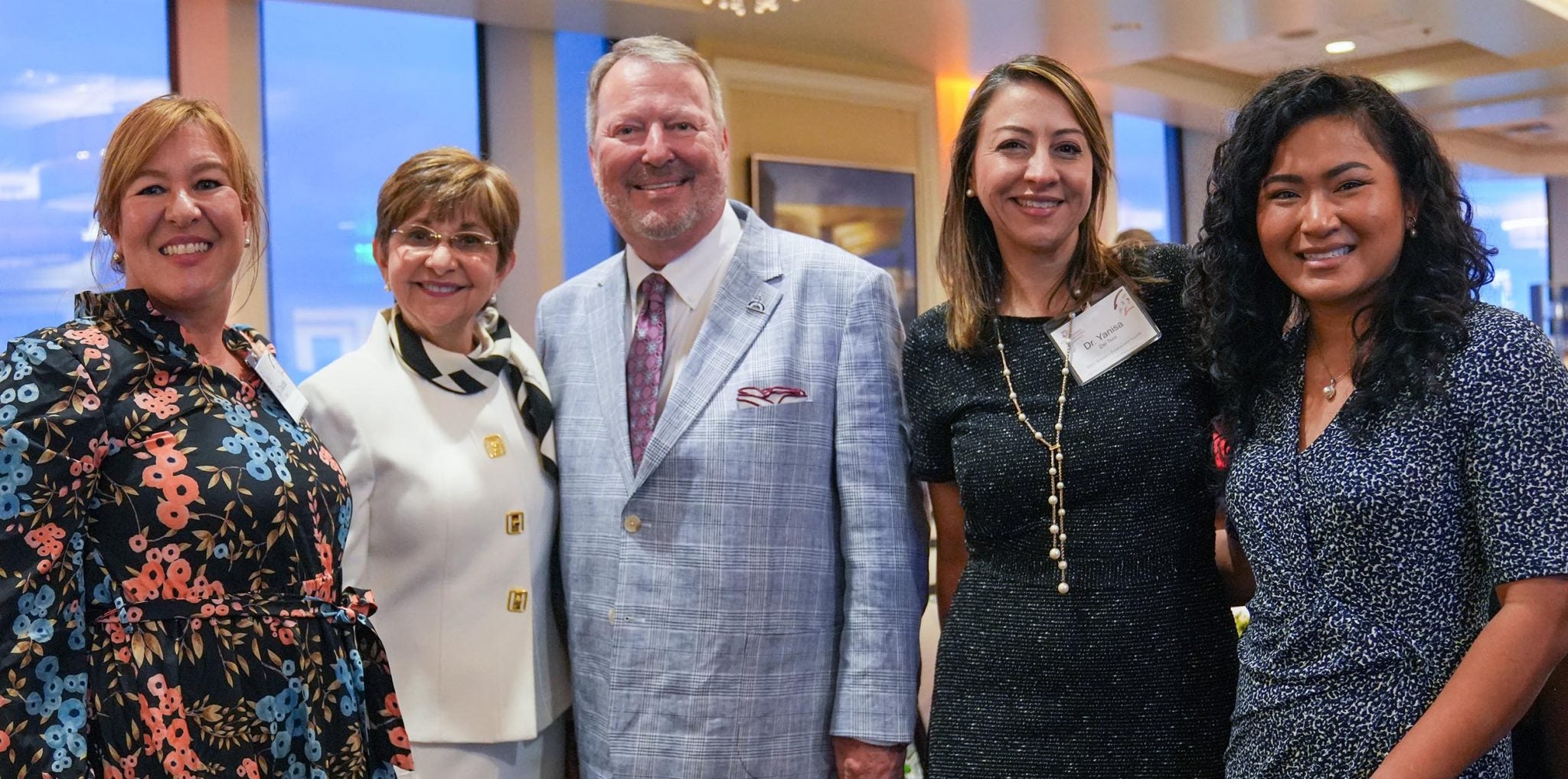 UCF Lake Nona Hospital, a College of Medicine partnership with HCA Healthcare, opened in 2021 next door to the medical school and is training UCF medical and nursing students sooner than anticipated. UCF Lake Nona Cancer Center, a new model of cancer research and patient care, opened the same year. Those facilities have helped create UCF's new Academic Health Sciences Center in Lake Nona. The center incudes UCF's Colleges of Health Professions and Sciences, Medicine and Nursing, along with Student Health Services.
Eventually the university hopes to locate many of its clinical training programs in Medical City for increased interdisciplinary medical education, research and patient care. A new UCF College of Nursing building will break ground next to the medical school in Lake Nona in January 2024.
"Don't be afraid to pursue your dream," German told community leaders and other attendees at the awards banquet. "It's what you were born to do. Don't be afraid to make mistakes. They are really lessons and … also guideposts pointing you in a better direction."