Visitors to the international Pompeii exhibit currently running at the Orlando Science Center (OSC) will get to see frescos from the city buried under ash — as well as frescos made by first, second, and third graders living in neighborhoods around downtown Orlando.
Through the UCF Center for Research and Education in Arts, Technology, and Entertainment (CREATE)'s Extended Classroom Experience program, three classes from Lake Eola Charter School learned about the art and science of making frescos, a painting technique common in ancient Italy that involves plaster and pigment.
The new 10,000 square foot immersive exhibit at the OSC opened earlier this month and will wrap up in January 2021. "Pompeii: the Immortal City" provides a look at the archaeological site destroyed by the volcanic eruption of Mount Vesuvius in 79 AD. From interactive mechanical devices to artifacts from the time and an erupting volcano display, the exhibition captures the Roman life of and recreates it for today's audiences. It is a must-see international exhibition with Orlando being its third and final stop in the US.
Each child created a tile out of plaster and hand painted it using powdered pigment. When the pigment is applied to wet plaster it binds and becomes part of the material. This helps frescos withstand the test of time.
"Art is science," says CREATE STEAM instructor Chealsea Anagnoson. "You cannot separate them."
The frescoes depict plants and animals similar to some of the frescos found in Pompeii. The tiles are exhibited in three separate frames, one for each participating class. The mezzo frescos are currently on display on the third floor of the OSC alongside original Pompeiian frescos.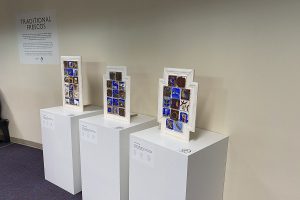 UCF launched CREATE out of the university's downtown campus to provide a space where science, technology, engineering, arts and mathematics (STEAM) become perceptible and understandable to K-12 students in the surrounding community. The center conducts multidisciplinary projects, and research-driven initiatives. CREATE's affiliated faculty, students, and staff explore a myriad of educational research and creative topics while promoting community awareness.
The OSC provided UCF a grant to help local children make the connection between art and science.
"If you are creating an experiment, that is artistic design," Anagnoson says. "If you are engineering something, that is designing. Design is art and requires the creative thinking and problem-solving skills that are learned in art classrooms."
For example, in one of her classes at UCF CREATE, she gave students the opportunity to play archaeologist and dig up Pompeiian artifacts while making scientific observations about what they saw. They also had a group discussion in which they imagined what they might have left behind if they were a Roman citizen in Pompeii before designing and creating their own artifacts using a 3Doodler 3D printing pen.