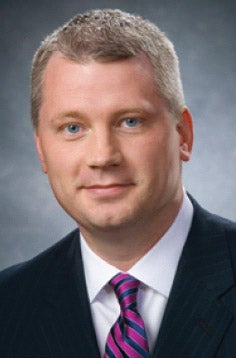 The Associated Press picked University of Central Florida economist Sean Snaith to serve on the panel for the inaugural AP Economy Survey, released April 12.
The new survey, which will be conducted quarterly, compiles forecasts of 44 leading private, corporate and academic economists on a range of indicators, including employment, inflation and home prices. It is available online.
Snaith, the director of UCF's Institute for Economic Competitiveness, was named earlier this year to The Wall Street Journal's forecasting panel. In 2008, Bloomberg News named him one of the country's most accurate forecasters for his predictions about the Federal Reserve's benchmark interest rate, the Federal Funds rate.
Snaith is a national expert in economics, forecasting, market sizing and economic analysis who authors quarterly reports about the state of the economy.
He is also a member of several other national forecasting panels, including the Western Blue Chip Economic Forecast panel, the National Association of Business Economics Quarterly Outlook Survey Panel, the Federal Reserve Bank of Philadelphia's Survey of Professional Forecasters, Bloomberg U.S. Economic Indicator Survey and the USA Today Economic Survey Panel.
The UCF Institute for Economic Competitiveness's mission is to expand public understanding of the economy by convening business leaders, scholars, policy makers, civic groups and media to discuss critical issues.
Source: Orlando Business Journal and American City Business Journals Inc.; UCF economist tapped for national panel