Michele Gill founded the Galileo School for Gifted Learning to create a learning environment where children can thrive.
"All children can learn given the right circumstances. I wanted to create a school culture where students and teachers could learn and work in a safe, nurturing environment that gave them 'voices and choices' in the learning process," says Gill, a professor of educational psychology within UCF's College of Community Innovation and Education (CCIE). "Children are naturally curious, active learners. Through Galileo, I wanted to create a space to encourage their interests, build on their natural strengths, and truly excel."
Located in East Seminole County, the Galileo School is a K-8 charter school, celebrating the 10th anniversary of its opening later this year. Over the course of the last decade, the school has been honored — both locally and nationally — for its innovative approach and commitment to educational excellence.
The Galileo School has twice been recognized by the American Psychological Association (APA) for its use of science-based psychology to boost student achievement and wellbeing.
The Florida Department of Education recognized the School as an A-Rated Institution, a High Performing Charter School, and a School of Excellence. Additionally, Galileo has won multiple awards from such local entities as PLAYGROUNDmagazine and the Sanford Business Hall of Fame.
Currently, Gill serves as the chair for the Galileo School's governing board, where she continues to realize her core goal for the institution. This includes ensuring the alignment of the curriculum with the school vision, overseeing the hiring of instructors and staff, and spearheading strategic planning and development. This past fall, due to overwhelming parent demand, the School added a second Galileo campus in Sanford.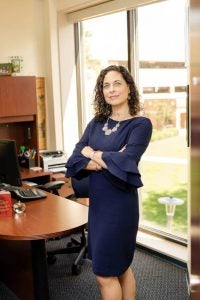 Gill's leadership role with the Galileo School is in addition to her responsibilities at UCF, where she is the coordinator for a CCIE doctorate program in curriculum and instruction. Her academic research examines the core beliefs that teachers have about how and why children learn. By challenging unproductive misconceptions that teachers may have about learning processes, Gill specializes in teaching teachers how to be better educators.
"I reject the fallacy that some children just 'can't get it.' In reality, it's not that kids 'can't get it,' it's that the school, or classroom culture, or method of instruction hasn't engaged them," says Gill, whose research in these areas have been shared in notable publications, such as the Journal of Experimental Education, Policy Insights from Behavioral and Brain Sciences and the Journal of Science Teacher Education. "The key is making the teacher and students equal partners in the learning process and meeting students where they are now—cognitively, socially, and emotionally— in order to help them learn effectively. These are the fundamental principles by which Galileo, and my work in education, are built upon."
Gill's work in education has been recognized with several notable honors and distinctions. In 2018, she was named an APA Citizen Psychologist – a designation that recognizes community-wide leadership — for her work with the Galileo School.
In 2015, she was granted the UCF Women of Distinction Award, the UCF Women Making History Award and the Seminole County Public Schools Dividend of the Year Award for Galileo. She currently serves as a representative to APA Council, the governing body for the American Psychological Association. In addition to being a member of APA, Gill is part of the American Educational Research Association (AERA), and she has served on the editorial boards for four academic journals.
"I am constantly thinking about how we as a society can better teach our children to learn and thrive. This has been my professional passion since I was an undergrad," Gill says. "The idea that we can change the way education is administered in this country guides Galileo's mission and almost everything I do in this world."