In honor of National Inspire Your Heart with Art Day on Jan. 31, five University of Central Florida faculty members share how they use their offices to display their own variants of art – handmade masks, paintings, even skeletons – to inspire themselves, students and coworkers to continue learning.
Maria Cristina Santana, program director and associate professor, Women's and Gender Studies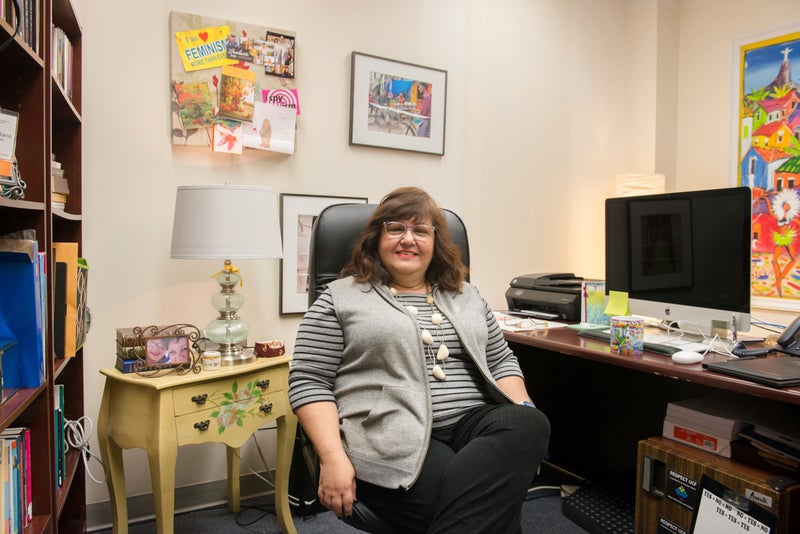 Vibrant colors pop from every corner of Maria Cristina Santana's cozy office, despite her keeping the lights dimmed most of the time.
A lime green table runner with red, blue and purple peacocks, feathers and flowers that was handmade in Chiapas, Mexico, lays across her circular meeting table. A 6-by-5-foot canvas painting of a Rio de Janeiro village Santana picked out from a Brazilian street vendor hangs above a bench she found years ago abandoned in a hallway on campus. A book shelf that spans the length of her office's back wall is filled with her doll collection, with pieces from Cuba, Russia and the Dominican Republic, plus books, pictures and wedding announcements from her students.
"The theme is about me and my travels and my students," Santana said. "It's all connected to me being an educator."
Some pieces also come straight from her own home. A pale yellow vintage Victorian night table with painted purple roses and green vines sits next to her desk. It's her "soft, emotional" table. She keeps a picture of her mother on it.
"I wanted to make my office look like a sitting room," she said. "There are conversation pieces everywhere. It's more comfortable for students, and I feel happy and relaxed. Who can say that about work?"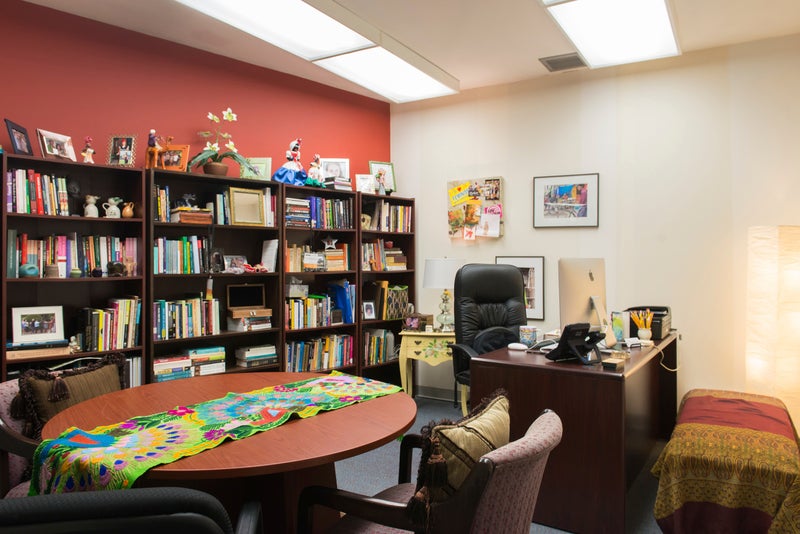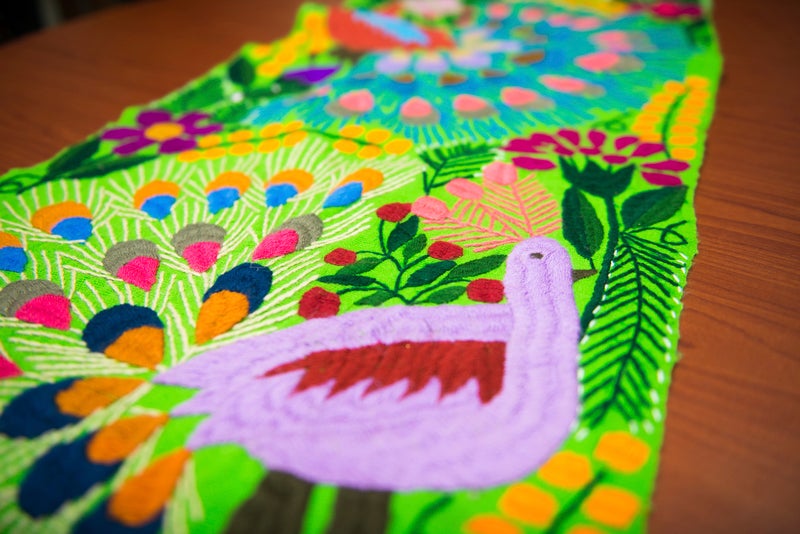 Huaixiang Tan, costume and make-up design professor, Theatre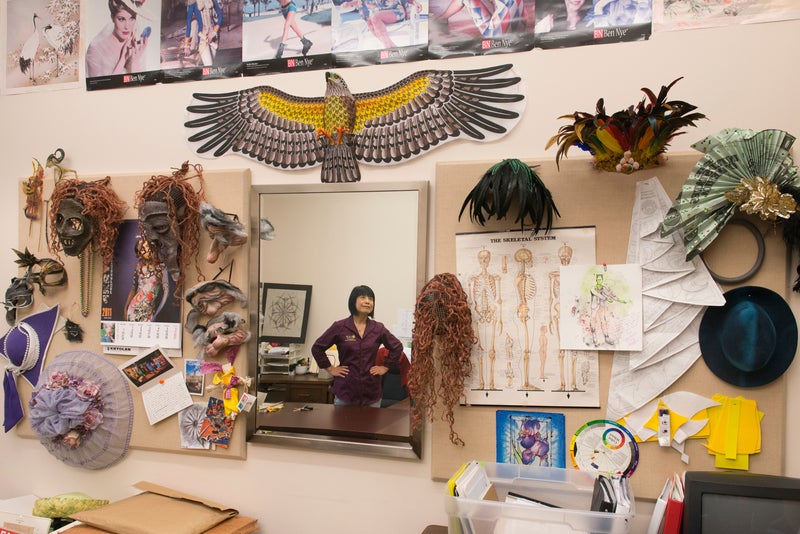 Huaixiang Tan's office is a testament to recycling: Hats, masks, jackets and more she's handmade for theatre productions during the past 20 years now hang from the walls and ceiling, and adorn filing cabinets.
"I base it [office décor] on what I have," she said. "I just like art. I don't have any famous paintings, but all crafty things that are associated with my work."
A 15-plus-year-old sheer purple hat with flowers hangs to the left of her desk – one of about 15 costume items pinned to a bulletin board. A bright yellow hat designed after Chinese architecture sits front and center on a filing cabinet amid a collection of about 15 other hats, all made by Tan or her students through the years.
"I keep these for two reasons. When I have class I have something to show my students how things are made. Plus, everybody comes in and says 'Wow!'"
Although a majority of the year the pieces are decorations, they still have a practical use: The first day of her costume-design class she brings her students to her office so they can look around at what can be made and to be inspired.
One of the biggest teaching-pieces-turned-décor sits in the corner. A skeleton, bought years ago with a teaching grant, is wheeled from her office to a classroom to show her costume design students how the human body's bones are structured and move.
"You need to understand how the body moves to make the clothing sketches more lifelike and not just stick figures," she said.
When not in use, a multicolored leather jacket Tan made keeps the skeleton warm.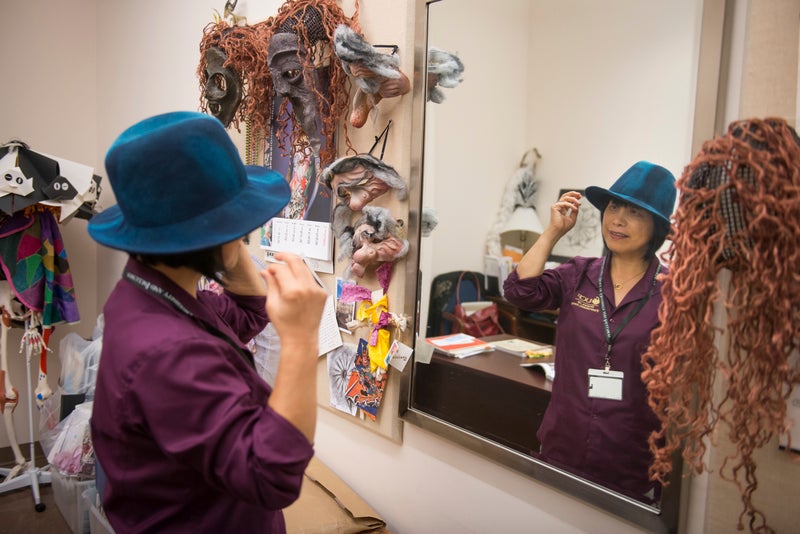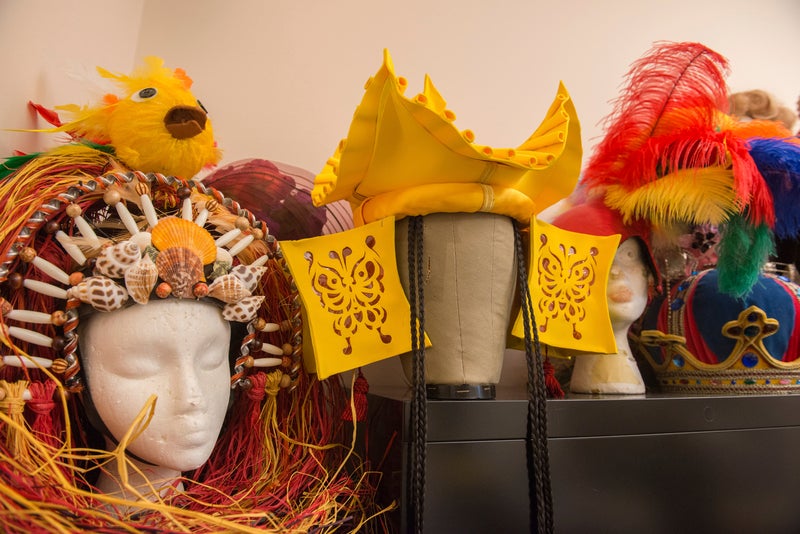 Kevin Haran, assistant director and associate professor, School of Visual Arts & Design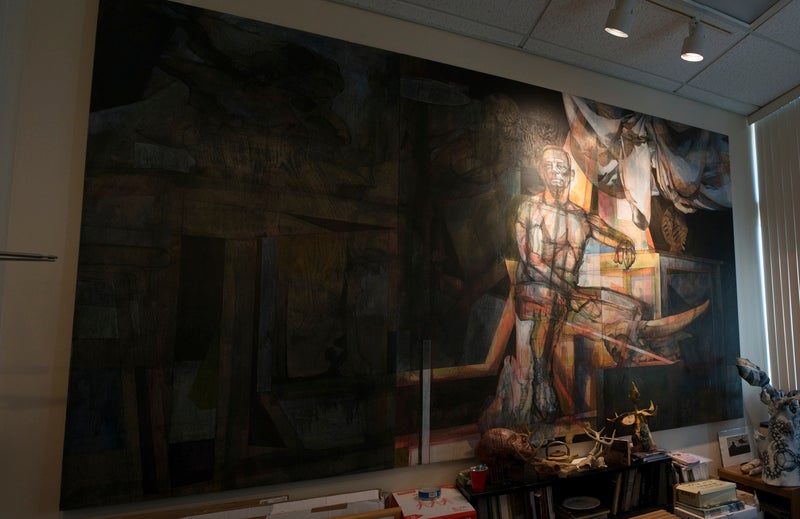 An environment that both inspires himself and his students – that's what Kevin Haran aims to have with his office that, from top to bottom, is filled with about 50 art pieces including drawings, paintings and sculptures.
The most striking and obvious is a 12-by-8-foot drawing of a sitting man, made with charcoal, acrylic, India ink and colored pencil. His largest piece of art, it was made in 2008 by putting together three separate wooden panels. "I wanted something large scale and heroic," he said.
Working next to the drawing all these years has helped keep Haran inspired to continue making art. Plus, for his students, it's turned his office into a minigallery of possibilities where pieces are constantly moving in and out.
"It's important for students to be aware that we [professors] are professionals in the field and practice the craft. They see I'm an active artist and not just someone behind a desk," Haran said. "For me, I enjoy coming in and being surrounded by things I've made because it inspires me to keep making art even when I'm tending to administrative matters."
Other pieces include six black-and-white tree sculptures made from tape, wire and paint. They sit at the window sill to form a "little forest." Other pieces are more sentimental, like the self-portrait he made in the '80s when he was an art undergraduate student at UCF. Another, a watercolor painting of a World War II picture that shows his father at Fort Sill, Okla., firing a gun hangs above his desk. It reminds him of his late father and how he loved to talk about his war experiences.
However, this décor is just temporary: "Artists like to display their latest creations. If there was a time-lapse video, you'd see work coming and going from here for the past 20 years."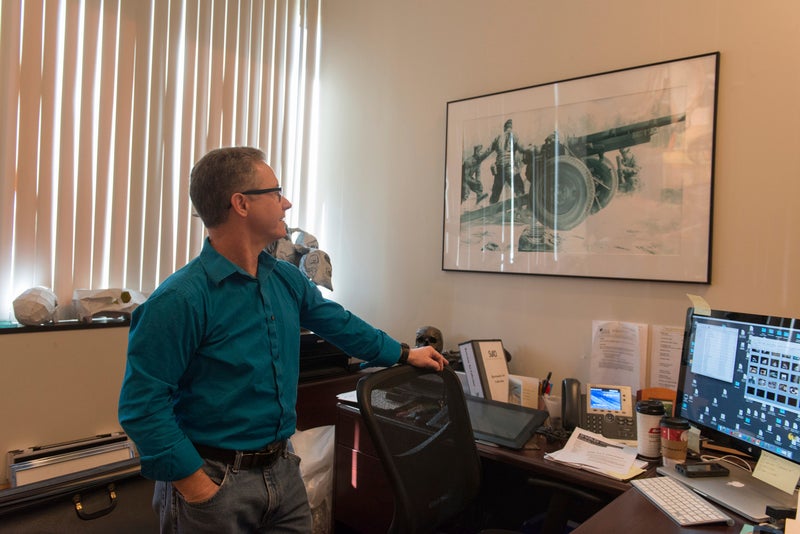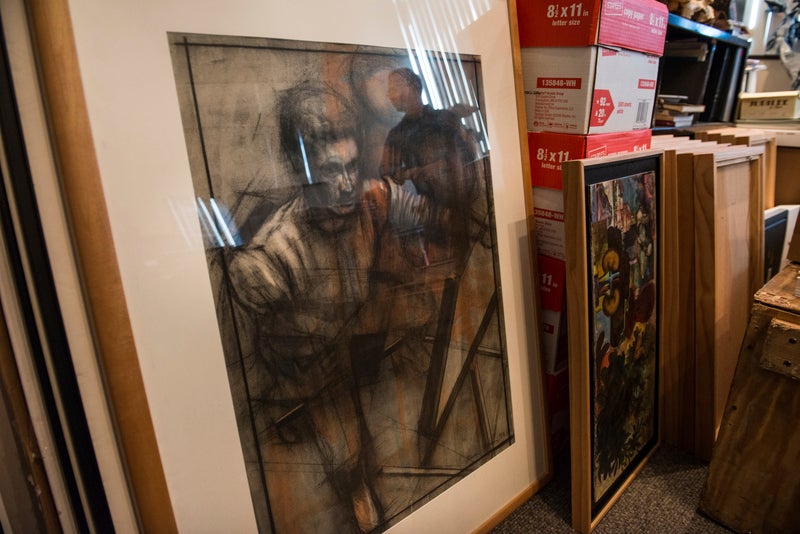 Thad Anderson, assistant professor, Music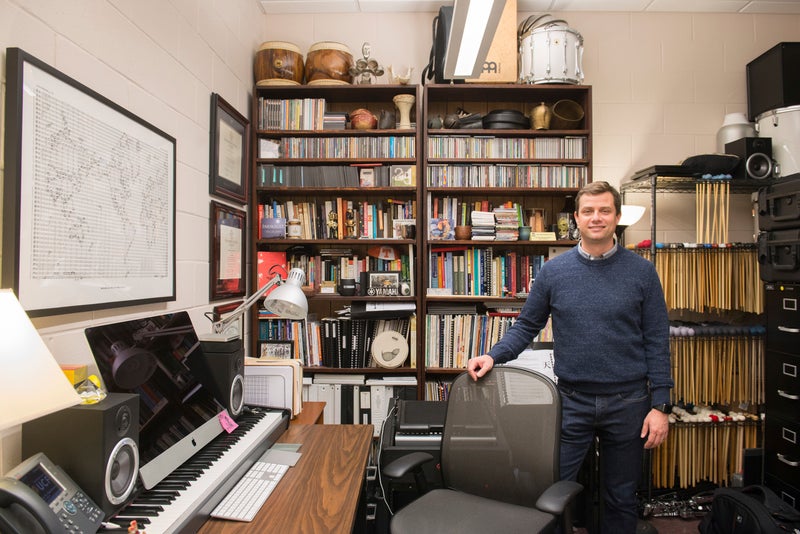 Packed from Thad Anderson's floor to ceiling are percussions, accessories for instruments, musical books, CDs and more. His office has become somewhat a storage closet, Anderson said, which really brings the space back to its roots.
"I used to have an office upstairs," he said. "Upstairs the offices are less closet-like than this one, but four years ago I requested to be here because I wanted to be directly across from our percussion studio. Before I moved here, this actually was a storage space."
Music has since encompassed every inch of his storage-closet-turned-office, so much so that even his desk has two keyboards: for his computer and a digital piano. In the back right corner stands a three-tiered shelf with nearly 70 pairs of percussion mallets hanging from it. The wall opposite his desk is lined with five filing cabinets, only two of which actually store papers instead of musical accessories.
"There are things [instrument accessories and tools] in here from high school that I still use today and are an integral part of what I do," said Anderson, a UCF alumus. "They will probably be with me my entire career."
But perhaps the most striking things in Anderson's office are the two impressive, roughly 10-foot-tall bookshelves against the back wall that are the first things you see when you walk in. They are filled with books, CDs and trinkets that remind him of different things: a CD signed by composer John Luther Adams; a University of Texas, Austin, baseball cap from his graduate school days; two shelves worth of percussion methods books; even a case of Teavana tea a former student bought for him.
"I'm constantly rediscovering things in here," he said.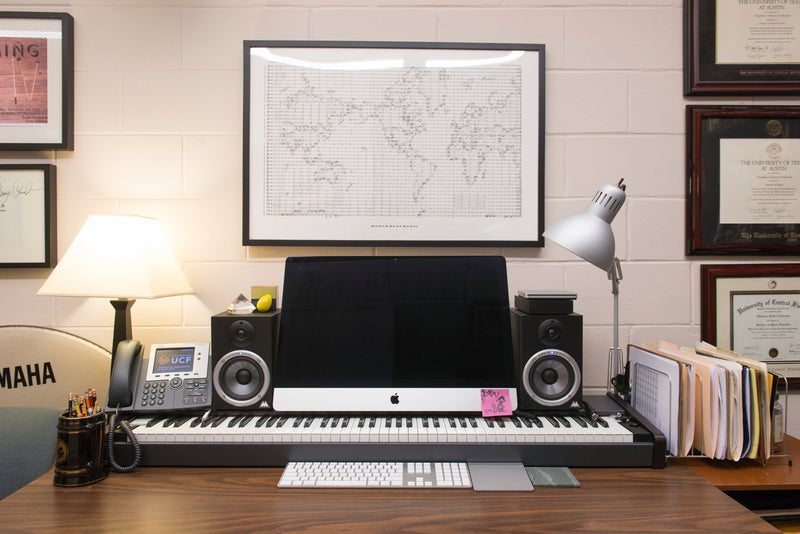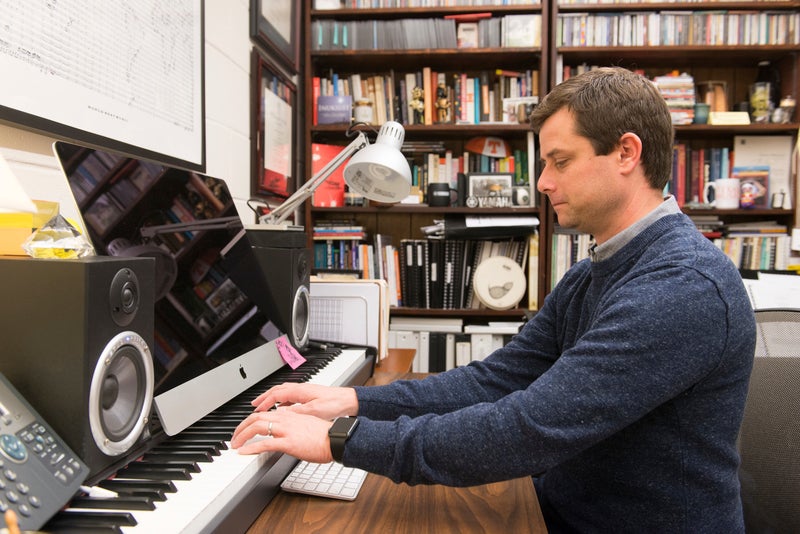 Graham Worthy, department chair, Biology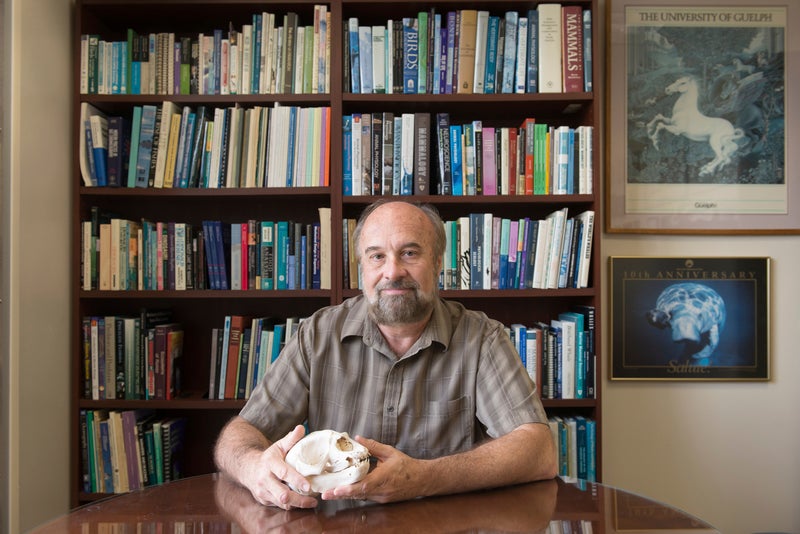 Graham Worthy's office is like a minimuseum for marine biologists. Skulls, fossils, teeth and vertebrae from manatees, seals, a fin whale, dolphin and more sit in every corner. Each piece reminds him of a story.
The largest, a skull cast of a 3,000-pound, 16-foot-long northern elephant seal, sits atop Worthy's minifridge. Named Gem, the seal returned the same time every year to a beach north of Santa Cruz, Calif., where Worthy and fellow marine biologists studied Gem and his pack for three years.
"Gem is my favorite," Worthy said. "He was the top bull, the alpha male. He and the other seals would return to the beach each year around Christmas and stay until the end of April. We saw him every year."
Gem died on the beach near Santa Cruz around 13 years old. Worthy and his teammates recovered his body and gave his entire skeleton to the University of California, Santa Cruz. Even the cast of Gem's skull Worthy displays now shows so much detail, a bite mark from a fight can be seen.
Gem is just one of more than 20 artifacts Worthy has collected in his office, all from his personal research of marine mammals and "how they make a living," he said.
"It's who I am; it's where I come from. If you're going to personalize your office, which I think you should in a role like this, it's not just a place you go to hide away and write," Worthy said. "That's part of what we do, but here, I'm also projecting a vision for the department."
Plus, each artifact helps him teach more clearly and creatively. The details of each skull help his students learn how to recognize different species based on their distinct features.
"It's fun, too, because I can bring personal experiences and stories to go along with the teachings," he said.
Those stories stretch to Russia, Antarctica, Canada, California, Texas and more. And although skulls and vertebrae may not traditionally be considered art, they are creative and inspirational in Worthy's eyes.