Zoe Williamson began the evening of June 12, 2016, partaking in a police ride-along with the Orange County Sheriff's Office. By the end of the night, she would be one of the many unsung heroes of the Pulse nightclub shooting.
Moments after arriving on the scene of Pulse — alongside her assigned deputy sheriff — Williamson knelt down and compressed the gunshot wound of a victim, who had just escaped the club. With screeching police sirens all around them, she applied pressure onto the wound until emergency officials could relieve her. While paramedics administered care, Williamson sat with the victim's friend — a person she did not know and would never see again — keeping them calm with small talk.
"I wasn't the only person giving aid that evening. Seemingly, everyone there was doing something to help someone who was hurt. Practically everyone at Pulse was a hero that night," says Williamson, who was bestowed an Award of Merit from the Orange County Sheriff's Office for her, "calm demeanor, leadership and bravery in the face of danger."
This week marks the fourth anniversary of the Pulse shooting, where 49 individuals were killed and 53 others were wounded. The shooting took place on Pulse's Latin night, and the majority of those killed were amongst Central Florida's LGBTQ+ and Latinx communities. At the time, it was the deadliest mass shooting in American history. The victims included UCF pre-finance major Juan Ramon Guerrero and alumnus Christopher Andrew "Drew" Leinonen '07 '09MS, who earned bachelor's and master's degrees in psychology.
Williamson is now pursuing a dual master's degree program in public administration and criminal justice at UCF. In the summer of 2016, she was an undergraduate student from the University of Gloucestershire in England, visiting Orlando through an international exchange program. Contemplating a career in the field of law enforcement, the ride-along was the part of the trip that Williamson had most looked forward to.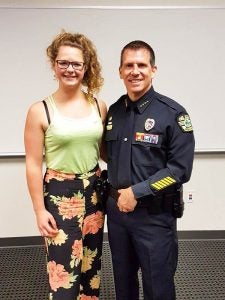 As Williamson and the deputy were conversing over his experiences, a Code 43 active shooter alert came through the dispatch radio. Having no time to return Williamson to the sheriff's office, the two headed directly to Pulse. Williamson says she recalls not comprehending the gravity of the situation until the deputy pulled over to retrieve a rifle from the trunk. For Williamson, that firearm, which was positioned between the two of them for the duration of the drive to Pulse was like a wall between two worlds.
"Guns aren't a major aspect of life in the United Kingdom. Most police officers don't carry guns, and I know very few people who own one," says Williamson, a native of Tiverton, a rural farming community in southern England. "Because gun culture is essentially nonexistent in the U.K., I had no one in my social circles who could relate to this experience when I returned home. That was very difficult."
Williamson says the Orlando-area police officers who responded to the shooting epitomized the traits of what she considers ideal police work: heroism, selflessness and a compassion for the communities that they serve. However, she does not see herself using lethal weapons to confront a perpetrator in the same manner the first responders to Pulse had to. She now aspires to work in humanitarian aid or international-emergency response.
"I want to make a positive impact in people's lives. … That type of work is truly a calling that I want to be a part of."
"I want to make a positive impact in people's lives," says Williamson, who has continued to both study law enforcement operations and visit police agencies in Europe and North America. "I love being a part of communities, watching them grow and helping them get back on their feet. That type of work is truly a calling that I want to be a part of."
After earning her undergraduate degree in the U.K., Williamson came to UCF in August 2019. She joined a university community that remembers Pulse through a series of annual events and memorials. In the days following the shooting, more than 1,000 students, faculty and staff members assembled for a candlelight vigil in the Student Union to pay tribute to those killed and wounded. In 2017, the university installed a mural featuring the likenesses of the two UCF victims. That same year, the UCF Art Gallery debuted Resilience: Remembering Pulse, a collection of more than 80 pieces of art from local artists.
Additionally, the UCF community bands together annually to host a Pulse remembrance ceremony near the incident's anniversary. In 2020, UCF's virtual remembrance ceremony will be comprised of a university-produced memorial video and a series of video messages from UCF President Alexander N. Cartwright, Orlando Mayor Buddy Dyer and others.
"That night I saw the people of Orlando fight hate with indescribable acts of bravery and selfless compassion, and that gives me hope."
Williamson still often finds herself thinking about the tragedy of Pulse. She remembers not being able to sleep the night of the shooting. She says she had difficulty sleeping for more than a year afterward. To this day, Pulse remains a difficult subject for her to broach.
"If it were simply sadness or only anger, I could describe it as such. It's all of those things together as well as so many other strong feelings that are hard to put a name to," says Williamson, who is currently residing in her hometown in England, due to COVID-19. "Hope is definitely one of those feelings, though. That night I saw the people of Orlando fight hate with indescribable acts of bravery and selfless compassion, and that gives me hope."