Exhausted and filled with nerves, Brandie Hollinger '07 looked toward the stage in front of UCF's Student Union as the sun poured down in the late afternoon.
Hollinger's name rung out through the speakers. After so much campaigning and hard work, she made UCF history.
Her entire team — donning their red campaign shirts — let out a huge shout of celebration. Hugs abounded. As Hollinger became the first woman to be named UCF Student Government president, relief swept over her.
But only for a few seconds.
"Immediately I had this feeling that it's time to get to work," says Hollinger. "That was in the back of my mind: Great, you won. But now it's time to make good on the promises that you made to the students."
Hollinger, who served as SG president in 2007 alongside her vice president, Logan Berkowitz, is still compelled by that same drive today. Whether she is working with the UCF Board of Trustees as a voice for the student or in the pediatric intensive care unit as a voice for the patient, Hollinger is always looking to stand up for others.
"My mom told stories of me playing doctor when I was young — I always wanted to help others," says Hollinger, who now works as an assistant unit director for the Pediatric Intensive Care Unit at the UCSF Benioff Children's Hospital in San Francisco. "Certain things are just innate, and you can't be untethered from that. I can't be untethered from wanting to help someone, to make an impact, to see meaningful change happen. It's important for me that the effects are not about me, that they're about helping someone else and that brings me great joy."
Shannon Fitzpatrick, director of pediatric critical care services at Benioff Children's Hospital sees this mindset come to life.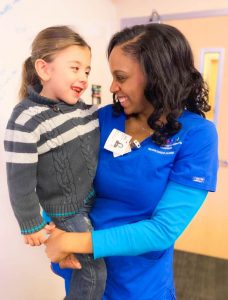 "Even since her early days at the bedside, Brandie has been known as a fierce advocate for children and their families," says Fitzpatrick. "Brandie possesses a seemingly effortless ability to build trust and rapport with people. This allows Brandie to meet families where they are and work through tough issues during what is, conceivably, the most difficult time of their life.
"As a bedside nurse, Brandie often took on the role of primary nurse for patients that others had a hard time caring for. In fact, this is when she really shined. Brandie never shied away from tough issues and always ensured that the voice of the patient and their family was heard."
Hollinger took a post-baccalaureate year and pursued SG leadership after earning a bachelor's degree in nursing in 2007. After leaving campus, she went on to work in the special care unit at the Orlando Health Arnold Palmer Hospital for Children and pursue a health care policy internship in Washington, D.C. before eventually pursuing her master's degree and moving to San Francisco.
But before she made it to the steps of the Supreme Court and the Golden Gate City, Hollinger made an impact — and history — during a formative time for UCF.
"From a woman's perspective, knowing that I would be the first woman SG president and being seen as someone who could empower others and give other women encouragement — that meant a lot," says Hollinger. "And empowering others to be in student government regardless of gender was really important. That wasn't the impetus for going for the position, but it was a special, special moment.
"The year that I became student body president was a huge year for our school. We were opening up a stadium (Spectrum Stadium) and the convocation center (Addition Financial Arena), there was a lot of changes happening, and I really wanted to create a positive experience for the students."
Once again, Hollinger felt the need to advocate for others.
"For a lot of students, despite it being a big year of change, there were simple questions that had complex answers," says Hollinger. "For example: 'When I pay my tuition, what am I paying for? What are these fees? Where does it go?' I really wanted to be the voice for students and hear concerns that come up in the moment and really do something about it."
Hollinger helped lead the student body during a transformational year and paved the way for multiple women to lead as SG president down the line. But it was also an important season for Hollinger personally. She's relocated to the west coast, but still carries those experiences with her today.
"Student government was fantastic with creating strategies, goals and how to achieve the goals. I use that even now," says Hollinger. "I had to tell students why they should buy into my platform, and now I have to do that with my staff here. Just letting people know that you're not a cog in the wheel, and you're a part of the greater vision — that's the same thing I was trying to do as student body president."