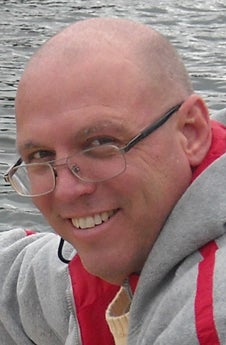 Since graduating from the University of Central Florida in 1995, Christopher Carl has worked as a high school history teacher. Now he also is a non-traditional student earning his master's degree in Social Science Education at UCF.
The two-time UCF student can add senior fellow to his list of accomplishments. One of 50 recipients nationwide, Carl was awarded the James Madison Fellowship after applying for it last summer through the James Madison Memorial Fellowship Foundation. Each year, only one fellowship applicant is chosen from each state.
"The more I learn, the more I realize how much I don't know, and that drives me to want to learn more," Carl said. "The ability to inspire others to want to learn more is exactly what I hope to do as a teacher."
Carl's desire to learn and inspire translated into his participation in workshops with the Lou Frey Institute of Politics and Government at UCF. At the workshops, he was introduced to the fellowship opportunity.
Carl spent 10 years working in retail management while raising a family before coming to UCF. In 1995, he graduated with a bachelor's degree in Social Science Education. Within weeks, he was hired as an American History teacher at Melbourne High School in Brevard County, where he currently works.
"Earning a degree from UCF has opened doors of opportunities that would have otherwise been closed to me and strengthened my confidence," he said.
Seeking to become a better teacher, Carl returned to UCF last fall to begin graduate studies. He anticipates completing his master's degree by summer 2012.
As part of the fellowship, Carl has committed to focusing his studies on the U.S. Constitution, and he will participate in a four-week, intensive study at Georgetown University in Washington, D.C., in summer 2012. Credits from the study will transfer to UCF, completing his master's degree.
Senior fellowships are awarded to working teachers who are completing a graduate degree.
Eligible applicants must be U.S. citizens who demonstrate a commitment to civic responsibilities and to professional and collegial activities with graduate standing at an accredited university. Fellowship applicants must be committed to teaching American history and government full time to seventh- through 12th-grade students.
Fellowship recipients receive free tuition, books and room and board at the graduate school of their choice. They receive up to $24,000 in scholarship money over the period of study.
"I have confidence the College of Education has talented and knowledgeable instructors who will help develop in me the skills necessary for teaching in the 21st century," Carl said.